Alexej von Jawlensky: the enigmatic image
[23.07.2021]

Russian artist Alexej von Jawlensky, who died 80 years ago, had a strong influence on key developments in Modern art, a fact the art market appears to be waking up to… not just in Germany.

Apparently, Alexej von Jawlensky (1864-1941) had a strong spiritual experience in front of a church icon when he was about ten years old… an experience that contributed to the future painter's work being substantially imbued with spirituality and religiosity. JAWLENSKY grew up and attended school in Moscow and studied with the Russian Realist painter Ilya Repin in St. Petersburg. But he became increasingly disenchanted with Realism, and, after meeting artist Marianne von Werefkin, he moved to Munich.

In 1905, six of his paintings were exhibited in the Russian section of the Salon d'Automne in Paris. That year, the nascent Fauvism movement disconcerted critics, some of whom described their works as "Shapeless mottling…" and "delirious paintbrushes". Jawlensky frequented the group which included Henri Manguin, Albert Marquet, André Derain, Charles Camoin and Henri MATISSE, all pushing back the limits of pictorial representation. Fauvist color liberation played a decisive role in the artistic evolution of the Russian artist who went on to build a kind of bridge between Fauvism, Expressionism and Abstraction.

Back in Munich, Jawlensky became friends with the monk and painter Nabi Jan Verkade, as well as with Paul SÉRUSIER. He bought a painting by Van Gogh (in 1908) and met the Russian dancer Alexandre Sakharoff who became his close friend. He also worked with fellow traveler Wassily Kandinsky in the group Le Cavalier Bleu (1912), frequenting Paul Klee, August Macke, Franz Marc. He was at the heart of the avant-garde and the 'pictorial revolutions' of the beginning of the 20th century and took part in several exhibitions at the time, including the first exhibition of the Munich Secession in 1914.

"I was born Russian, my Russian soul has always been close to the art of ancient Russia, Russian icons, Byzantine art, mosaics from Ravenna, Venice, Rome and Romanesque art. All these arts have always traversed my soul with a holy tremor because I have always perceived in them a deep spiritual language. This art is my tradition ". Alexej von Jawlensky

At the start of World War I, Jawlensky went into exile in a small village in Switzerland. At first he painted landscapes, almost empty, and more and more abstract. Later, he started painting faces which became his dominant leitmotif and allowed him to express his deeply religious Orthodox beliefs. The faces were increasingly stylized and did not represent anyone in particular. They were not portraits, but rather expressions of a primordial human experience, close to the icon in structure… but Modern in form. Indeed, for Jawlensky, they were 'modern icons'. Towards the end of his life, he painted dozens of Mystical Heads and Visions of the Messiah, combining the sacred with the profane. Enigmatic, these images – suspended between presence and absence – seem to be trying to make an invisible nostalgia for God visible.

In 1921, he moved to Wiesbaden where he worked until his death. Between 1927 and 1938, Lisa Kümmel helped him to analyze, classify and catalog his work and to transcribe his memoirs. At the same time, Jawlensky continued his work, notably with his Meditations series (1934-1937), faces reduced to a just few essential lines… probably his highest level of artistic abstraction.

"In my later works, I removed the magic of colors so that I could represent spiritual depth even more immediately." Alexej von Jawlensky

Around 1934, Jawlensky began to suffer from chronic arthritis. His paintings abandoned all geometric references and he started using a lot more paint on his canvases. The faces started to look increasingly like traditional Orthodox icons, expressing a painful gravity in accordance with the physical and mystical preoccupations that were on his mind at the time. In 1938, completely paralyzed, he stopped painting and devoted himself entirely to his memoirs.
London competes with Germany

to sell his

best

works
In 1924, Jawlensky joined Lyonel Feininger, Paul Klee and Wassily KANDINSKY to form the Der Blauen Vier group at the initiative of Emmy Scheyer. An allusion to the pre-war Blaue Reiter group, the Blauen Vier was essentially a commercial label used to promote and distribute their works on the American West Coast. The last years of Jawlensky's life were thus devoted to the promotion of his art beyond Europe. These efforts allowed him to be considered one of the great European signatures of the 20th century.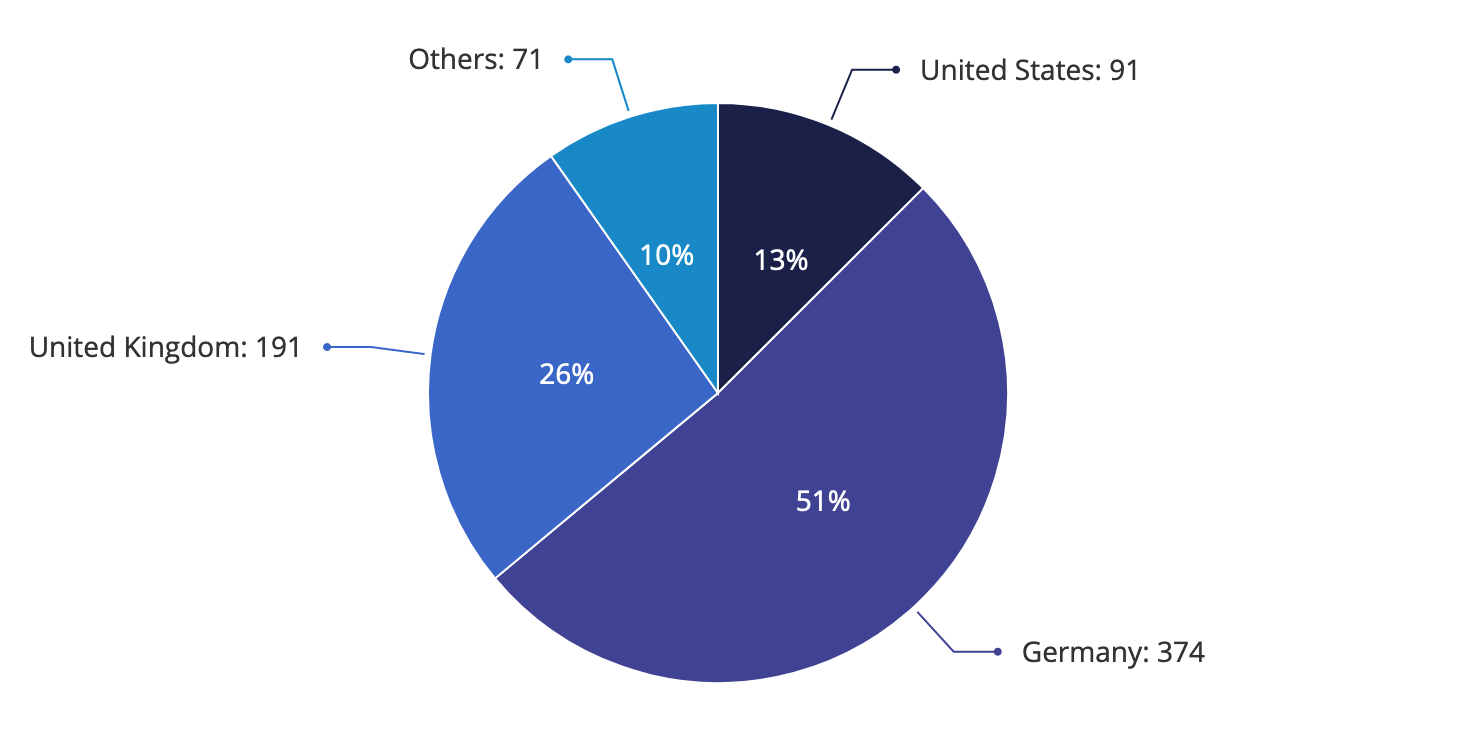 Jawlensky. Geographic distribution (2000-2021). Number of sold lots
.
In France, the promotion of his work was ensured by Wassily Kandinsky on whose initiative Will Grohmann published an article titled "The evolution of the face in Jawlensky's work; From sensual reality to spiritual expression" in the eminent art journal Cahiers d'art. His work began changing hands on a number of markets and its audacity and singularity was soon appreciated at an international level.
Nowadays supply and demand for Jawlensky's work is primarily focused on the German market where Jawlensky is a key signature. One of his works is among the 30 best art auctions results ever hammered in Germany (Head of a Woman with Red Cheeks, 2007, Hauswedell & Nolte). But whereas Germany's top auction result for a Jawlensky painting currently stands at $2.2 million, London has hammered much better results. In 2008, a London auctioneer hammered $18.6 million for a work titled Schokko, a daring fauvist-style portrait of museum quality whose price increased by $10 million versus its previous sale just five years earlier (at Sotheby's New York, 2003). While Jawlensky's spiritual work may seem less well-known than the work of other 20th century avant-garde artists, certain paintings are genuine milestones in our art history. As the market begins to recognise their importance, it may well begin to price these masterpieces in line with their inherent quality…