Artgenève, interview with Thomas Hug
[21.01.2020]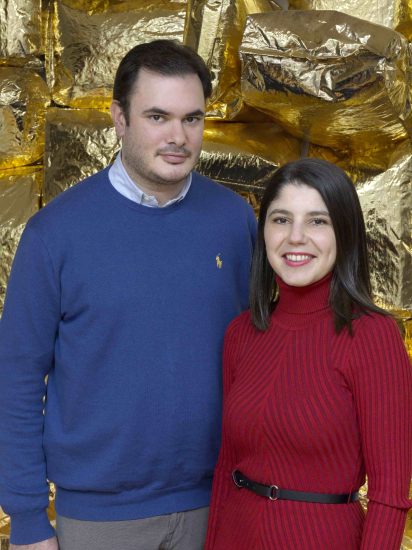 Although Artgenève has continued to grow over the decade, it is still a fair on a human scale compared with the Basel juggernaut. Created in 2012 by Thomas Hug, this event opens its ninth edition on 30 January with just under 90 exhibitors. The return of major galleries (including Gagosian, Hauser & Wirth, Tornabuoni) and the arrival of new vendors (including Lévy Gorvy, Applicat-Prazan, Loevenbruck and Massimo De Carlo) are all positive signals for the attractiveness and dynamism of this fair in French-speaking Switzerland, now one of the leading artistic platforms for Modern and Contemporary art.
We interviewed Artgenève's Director, Thomas Hug, to discuss the specificities and the challenges of this Geneva event with international ambitions.
What are the advantages of Geneva for hosting a fair like this?
Despite its name, Artgenève aims to attract visitors from well beyond the city… from the Lake Geneva region and all of French-speaking Switzerland… from Lyon to the mountain resorts. The entire region is home to a large number of serious and surprising collectors and we are seeing new ones every year… people who are usually quite discreet. The proximity of Geneva to Zurich, Paris and Milan, as well as the business connection with London is also a great asset for an international fair like ours. The institutional landscape is also in constant development. I am thinking in particular of the new Lausanne museum building (Plateforme10), the appointment of Marc-Olivier Wahler to the Museum of Art and History and the wonderful work conducted by Lionel Bovier at Mamco.
More generally, Geneva is an easily accessible international city and the fair's end-January timing takes full advantage of the arrival of numerous VIPs in the region for skiing related activities. It's an opportunity to make Geneva attractive to international audiences, an aim we also achieve with our new open-air summer biennale that occupies the Sculpture Garden, in collaboration with the city's authorities.
How would you define the DNA of the fair today?
I believe Artgenève is distinctive and has a clear personality and trademark: a top-notch fair, but on a human scale… with a strong programme of institutional exhibitions. We foster a genuine dialogue between the art market and the national and international institutional environment, while retaining a strong and committed regional focus.
Why put video art at the heart of this edition?
It seems to me important – alongside Artgenève's rather established offer – to also be forward-looking and contemporary with initiative's of this kind in fields that generally get less exposure at art fairs. There are also important video collections in Switzerland and our initiative has a stimulating impact on them. LOOP Barcelona is in my view the best platform for this kind of proposal. Among the many video surprises, we will be showing films from the Pompidou Center collection as well as works from private collections (e.g. Ringier) and a large David HOCKNEY installation presented by the Pace gallery, which belongs to a Geneva-based collection.
With Artgenève/music, your passion for music is combined with Contemporary art. How did this fusion emerge?
The first part of my life was devoted to classical and experimental music (musicology and piano). When I arrived in the Contemporary art world in Berlin, I observed several initiatives combining visual artists with music. The intentions and ideas were good, but the execution was not adequately specialised in my view. In creating Artgenève, it was vital for me to offer a room for experimentation and development in this area, with a musical "department", and, in the first edition we presented a broad musical 'picture' by Tino Sehgal. Subsequently, I was fortunate to meet Augustin Maurs, an authentic musician who accompanies the artist to overcome this fragility. This year, he is presenting a programme of performances by (among others) Pierre Huyghes, Raymond Pettibon and Saâdane Afif during the fair (in Victoria Hall). For several years now, music has also been an essential aspect of our international events throughout the year, with performances at the Berlin and Venice Philharmonic concert halls for example. And as regards popular music… we will be active in London at Elephant West on 26 and 27 March via our "artgenève / On Tour" festival.
Last year, the fair had a smaller selection of Design vendors. What about this year?
This year we are welcoming the specialised and pioneering video art fair, LOOP. After two years of a fairly classic collaboration, we are somewhat innovative and fresh in this area. As regards design at Artgenève, we note that a good number of exhibitors wished to return. So, in the future we will develop a new format with a strong proposal… but before that, we want to continue innovating and varying the offer by collaborating with specialised trade fairs in other fields, such as photography and architecture – which are significantly present this year via Jean Prouvé and Mario Merz – and with a focus on other regions. And we naturally want to maintain our core focus on Contemporary and Modern Art as well.
Why do you think it is so important to create a link between galleries and institutions?
First of all, I think that a fair these days should function as a mirror of all the various activities and players in the art world. Second, it is interesting that in a city the size of Geneva, the fair brings together these two environments (galleries and museums) on the same platform, with their respective interests. It must also be said that for a non-initiated public and new collectors, it is very qualitatively reassuring to see a link between the market and the museum world.
Finally, I believe it is absolutely vital to try to offer a different experience from other fairs, because many fairs are alike… This year we will receive a large installation from the Royal Academy in London, the Dijon Consortium and the ICA in Milan.
Why offer so many events outside the show (around twenty)?
In view of the traditional discretion of Genevan collectors, the VIP programme giving access to private collections and particularly bank collections is very attractive to major collectors and art lovers from elsewhere. It also attracts them to the fair and it showcases the regions artistic richness and the fair's raison d'être. However, we are careful not to offer this program of side events during the opening hours of the fair, which naturally represents the main offer during the Geneva week.
How do you imagine Artgenève in 2030?
I believe the fair's development is visible from year to year, and we are frequently complimented for this. I can't pretend to see much beyond the next five years, but I would say this: if the fair continues to generate increasingly consistent commercial results – which is ultimately quite rare for art fairs – it is possible that it will grow. It will not be an end in itself, but rather a natural consequence. We also continue to listen to our exhibitors, taking them to new and original destinations – both ergonomic and often curated – as we are doing this year in Moscow, at the Schusev Architecture Museum.
For Artmonte-carlo, the key over the coming years will be the development of its Professional Meeting Forum. Otherwise… as regards artistic innovation at Artgenève… we figure that out on an annual basis!
Finally, if you were a work of art, what would you be today?
I would not pretend to imagine myself as a work of art, but, I must admit while I am not a very gifted interpreter, I could dream of being a whole series of masterpieces written for piano by Chopin, Mozart and Rachmaninov, works that literally pass through my hands and my body (when I play on the piano).
Photo : Thomas Hug avec la co-directrice de la foire Laura Meillet. Photo Annick Wetter. Courtoisie artgeneve