Black portraits are still selling well
Black portraits are still selling well
[22.08.2023]

Enthusiasm for black portraits is still one of the clear trends in the art market and the auction houses are liberally dosing their catalogs with this highly fashionable figurative genre. Artprice by Artmarket takes a look at the artists who are currently experiencing the highest demand in this field.

It is now about ten years since black artists first began to show up in the selections of major galleries. The movement has been particularly strong for artists whose work addresses issues relating to black and/or African identity. David Zwirner's gallery, for example, has been working with Kerry James Marshall since 2013, with Njideka Akunyili Crosby since 2018 and with Noah Davis since 2020. Hauser & Wirth signed contracts with Amy Sherald, Lorna Simpson, Mark Bradford, Henry Taylor and Simone Leigh in 2021, and the Gagosian started promoting Nathaniel Mary Quinn as one of its leading artists at about the same time.

On the auction market early signs of the future success of black figurative painting gathered pace, ultimately leading to a highly publicized auction result for a work by Amoako Boafo that signaled a strong speculative element within the demand pressure and gave a substantial boost to the market value of such works.
The Boafo effect
Known for painting black subjects in traditional 'white portrait' contexts, the Ghanaian artist Amoako Boafo appears to have led the way for black and African artists producing black portraits and it has become one of the art market's most popular genres.
A few months after the first appearance of Boafo's works at the Art Basel art fair in Miami in 2019, the gallery prices of his colorful portraits increased tenfold, from a few tens of thousands to several hundred thousand dollars. But it was the auction sale of his canvas The Lemon Bathing Suit which really set the market on fire: estimated $40,000 – $65,000 at Phillips in 2020, the work went under the hammer at an astonishing $881,500… and it was the artist's auction debut..
Boafo's creations clearly arrived on the market during a major surge in demand for this type of work. But the underlying social and political context was also particularly dynamic for black artists. The major cultural institutions had understood this and were rushing to acquire works before the prices rose even further. This was definitely the case at the Guggenheim Museum in New York, the Lacma in Los Angeles and the Albertina Museum in Vienna, all of which have purchased works.
Meanwhile, from China to the United States, the wealthiest private collectors also immediately queued up to acquire Boafo's paintings. In 2021 and 2022 no less than six of his works fetched auction results above the million-dollar threshold. In becoming inaccessible to most buyers, Boafo helped to launch a major trend for black artists, opening the market to the discovery of other artists from Africa also working with portraits.
This strong trend prompted Christophe Person, consultant at Artcurial for contemporary African art, to remark "we are heading towards a gentrification of the black portrait. Young artists will move on to something more personal about their identity." (interview with Julie Chaizemartin for the Quotidien de l'Art, March 2023).
Amoako Boafo: Geography of his Auction Turnover

Influx of black portraits in auction catalogs
Since the beginning of 2023, auction companies have already offered a wide selection of portraits painted by contemporary African artists. At its New Now sale on 8 March 2023, Phillips offered an impressive number of black portraits by black and/or African artists. The sale – focusing on the most "current" artists – featured no less than 12 artists making black portraits. By the end of the sale, most of them had slightly exceeded their high estimates but none had rocketed. This was a far cry from the exalted value accretions observed two years ago for Amoako Boafo's paintings. Demand is clearly strong, but the acquisitions were not driven by speculative impulses that can prove risky. The time has come to discover new signatures and the future will either tend towards a more selective market, or, on the contrary, towards a much-expanded one.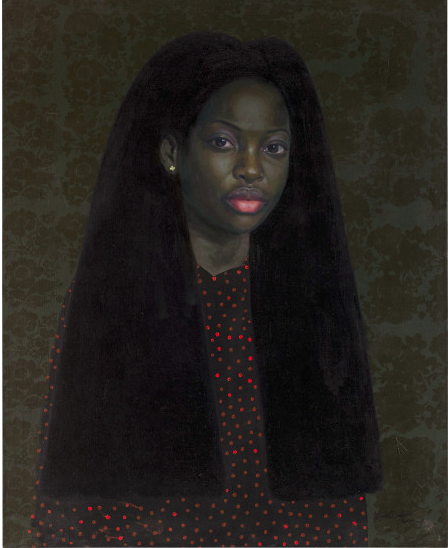 Oluwole Omofemi (Nigeria), Omonalisa VII
.
Examples of black portraits sold by Phillips during the March 2023 New Now session:
Bisa Butler (USA), Whirlwind
Estimated $25,000 – $35,000
Sold $69,850
Adjei Tawiah (Ghana), Red on Black
Estimated $10,000
Sold $30,480
Oluwole Omofemi (Nigeria), Omonalisa VII
Estimated $12,000 – $18,000
Sold $27,940
Victor Ubah (Nigeria), Tyler
Estimated $7,000 – $10,000
Sold $12,700
Zandile Tshabalala (South Africa), Paradise IIIII
Estimated $15,000 – $20,000
Sold $17,780
Rufai Zakari (Ghana), Waiting Room i
Estimated $15,000 – $20,000
Sold $13,970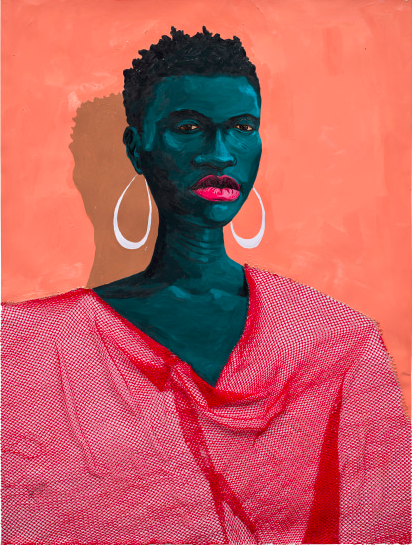 Adjei Tawiah (Ghana), Red on Black
Two months after Phillips' New Now sale, Sotheby's generated 20.5 million dollars from works by black artists at its major New York sales in May. That total represented more than 55% of the total turnover ($37.2 million) hammered at its The Now Evening Auction, itself a veritable barometer of the most exciting artists on the market. The sale set six new auction records, including three for works clearly dealing with African identities: Simone Leigh's Las Meninas II reached almost $3.1 million; the great Henry Taylor's From Congo to the Capital, and Black Again fetched $2.5 million, and Portia Zvavahera's What they have seen reached $355,600 (the young artist from Zimbabwe has been promoted by the powerful David Zwirner gallery since 2021).
Acutely aware of current demand and the importance of spotlighting on African creation, Sotheby's has also organized an exhibition in Tel Aviv with around thirty contemporary works by artists from eight African countries (from the private collection of the Olym brothers).
More than just a trend, the movement is the result of a vast collective project involving real commitment on the part of cultural professionals, including those in the art market, to give visibility to creations from a continent three times the size of the United States. Today, European and North American demand is highly focused on figurative painting that sometimes seems a little formatted: let's hope it is a first step towards more diversified discoveries…