Christie's and Sotheby's kick off Paris sales
[25.10.2019]

Now well established in the Parisian sales calendar, Christie's and Sotheby's both took advantage of the FIAC's power of attraction with international collectors to organize, during the same week, their Impressionist & Modern Art sessions in Paris, offering catalogues that celebrate the influence of the French avant-garde. For the past four years, Christie's has presented the best artists of the 20th century in a catalogue titled "Paris avant-garde". On 17 October last a number of important works by René Magritte, Max Ernst, Jean Dubuffet, Joan Miro, Salvador Dali, Pablo Picasso and Alberto Giacometti changed hands for prices between $280,000 and $3.8 million. But the principal contributor to the session's success was a large painting by Nicolas de Staël that generated almost half of the sale's total allowing Christie's to post its best-ever turnover for a sale dedicated to the Parisian avant-garde (close to €46.4 million versus a previous record of €38.6 million in 2017).
De Stael record…
In line with auctioneer's expectations, Nicolas De Stael's large format painting Parc des Princes (Les grands footballeurs) fetched over $22.2 million (€20 million), adding more than $10 million to the artist's previous record (on 17/05/2018 his Nu Debout fetched $12.1 million at Christie's NY). Inspired by a France-Sweden match in 1952, the 2.5 x 3 meter canvas had never been sold publicly before. But it's a perfectly well–identified piece that has been exhibited at the Pierre Gianadda Foundation in Switzerland and the Georges Pompidou Center in Paris where it featured on the cover of the exhibition catalogue, and its successful sale is an important signal for the development of a Parisian market hoping to find a new balance versus London's predominance.
Nicolas DE STAËL (1914-1955) – Records: chronological progression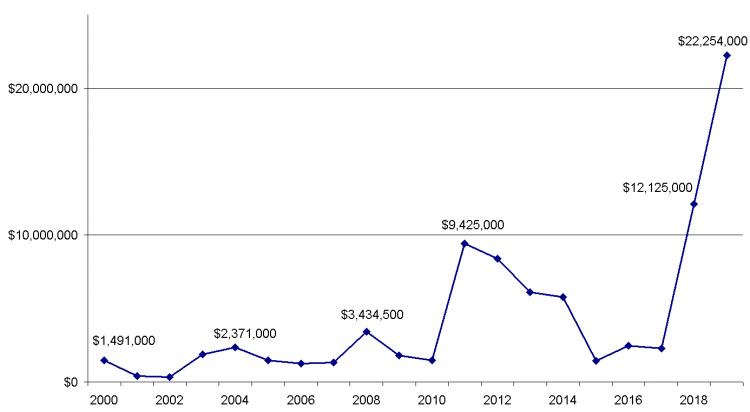 Copyright Artprice.com
Strong demand for abstract works continues
Unsurprisingly, the second and third best result of the sales were generated by Pablo Picasso's remarkable Mousquetaire. Buste which sold within its estimate at $3.8 million and Zao Wou-Ki's 06/02/89 which fetched roughly $3 million. But above all, the sale confirmed strong demand for the great abstract artists who worked in France: Zao Wou-Ki, Serge Poliakoff, Maurice Estève, Hans Hartung and Pierre Soulages all exceeded the high estimates. Important works by Hartung and Soulages both doubled their low estimates (Hartung's T1948-43 sold for more than $1.1 million and Soulages' Peinture 81 x 60 cm, 17 juillet 1955 fetched over $1.3 million.
On the other hand, the star lots in Christie's Modern Art sale the following day, like the Auguste Rodin bronze (Ève, petit modèle) and Pablo Picasso's Compotier, ended not being the stars of the session. It was Paul Signac's landscape, Les Andelys. Soleil couchant, Opus 135, which sold for nearly $1.3 million, more than three times its low estimate, and a superb nabi self-portrait by Émile Bernard hammered down at $868,854, which stole the show on 18 October (Autoportrait au tableau « Baigneuses à la vache rouge » ou Autoportrait aux nus).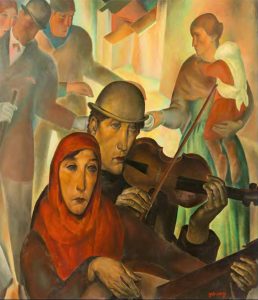 Anto CARTE – Les musiciens aveugles, 1927

Success… and failure at Sotheby's
One of the best works in Sotheby's Modernités catalogue on 16 October was one of Francis Picabia's most sophisticated Transparences. The museum quality Médéa (c.1929) reached $2.9 million against an estimate of $1.6 – 2.2 million. This is the best French result for a drawing by the artist, whose most important paintings are sold in Paris, London and New York. Driven by the excellent retrospective at the MoMA between 2016 and 2017, Picabia's prices have never been so high and are continuing to climb (his price index is up +522% since 2000).
Among the other impressive results at Sotheby's sale: Marc Chagall's Le cirque mauve fetched over $3.8 million (within its estimated range) and René Magritte's L'incorruptible sold for $2.1 million, doubling his low estimate. After the Modernités sale Sotheby's continued with its Impressionist & Modern Art sale which offered a set of nine paintings by the Belgian painter Anto CARTE. Still relatively unknown in France, the artist's work is nevertheless interesting more and more collectors. In March earlier this year Sotheby's Paris sold an Anto Carte painting for a record price of $580,000 (Le Pain, 1921, Sotheby's, 29/03/2019). Only 4 of the 9 paintings by the artist offered on 17 October found takers, including Les musiciens aveugles, generating the sale's fourth best result at $277,500 behind over $600,000 for Henri Eugène le Sidaner's La table dans la verdure, Gerberoy and $546,700 for Marc Chagall's Bouquet rose sur fond bleu. Collectors – who give preference to the most recognized and 'price-stable' signatures – are much more hesitant when it comes to lesser known artists… no less than 39 lots at Sotheby's Paris Impressionist & Modern Art sale remained unsold.
After three days of sales offering works by some of the biggest names on the market, Christie's came out of the duel substantially ahead of its rival. Largely thanks to the new Nicolas De Stael record, Christie's reached a total of $65.4 million from its two sales, compared with $30.5 million from Sotheby's sales.