Design Market – Pierre Paulin (1927)
[23.06.2008]

 

In 2007, Pierre PAULIN celebrated his 80th birthday and 60 years of collaboration with Artifort. He also had a solo exhibition of about 100 pieces brought together under the title "Pierre Paulin: Superdesigner" (Villa Noailles, France). In 2008, the exhibition went to Belgium while two other events highlighted his work in Paris: he was nominated for the "Creator of the Year" award at the Furniture Fair (January 20) and an exhibition entitled Le design au pouvoir (design at the service of government) focused on his forty year collaboration with the "Mobilier national" (French institution for the interior design) at the Galerie des Gobelins, 2 February 2008 to 27 July 2008.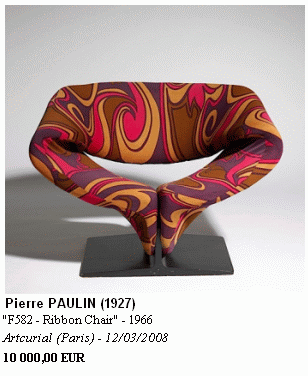 These events all paid tribute to a rich and varied creative career punctuated by prestigious official orders including the creation of furniture for the office of President François Mitterrand (1971-72), the refurbishment of the Grandes Galeries du Louvre (1968-75), the interior design of Airbus aeroplanes (1990) and the dining rooms of the Elysée Palace (1998).
At the start of his career, Pierre Paulin was attracted to the sobriety and modernity of Scandinavian design and the work of the American duo Eames and Florence Knoll. In 1953, the pieces exhibited at the Household Arts Fair – and the following year those produced by Thonet-France – all clearly reflect these influences. Later, the highly colourful designs by his friend Verner Panton also became a major source of inspiration. Side-stepping the gratuitous seduction of Pop design, the only concession Paulin made to 1960s fashions was the bright colours of his chairs. Sticking firmly to his guns, he focused his efforts on functionality and comfort above all, with sobriety and harmony as his second tenet and a somewhat poetic approach as his third concern. He clearly preferred the Modernist spirit over fashion-oriented design and sought the right proportions rather than eye-catching invention.
Today collectors of his works are quick to snap up the chairs he developed for Artifort between 1960 and 1970. These chairs are upholstered with Pirelli foam and pre-fabricated stretch-fabric seat covers. Model n°560, referred to colloquially as the "Mushroom" (1959) and conceived as a restyled antique or "squat" armchair, is particularly sought-after.
On 12 March 2008, Artcurial kicked off its sales of Paulin's works with a set from the emblematic Mushroom series. Consisting of a large "chauffeuse" ("heater" or low chair traditionally set by the fireplace) entitled Big Mushroom, two other smaller heaters and an ottoman, the set fetched twice its estimate, going for close to 15,000 euros. Among the other heaters on offer, a Mushroom with a violet stretch cover (a fabric that Paulin popularized) sold for 3,000 euros, three times the amount generated by its 'small sister' version covered with a green wool fabric.
On average, around fifty lots of pieces created by Pierre Paulin are offered at auction each year. On 12 March, Artcurial demolished this average by auctioning 75 lots in one sale. Of these, 46 sold for less than 5,000 euros each, including fifteen or so that went for under €1,000. The most affordable were very simple pieces in plastic or lacquered metal: a low brown plastic square table (877) produced by Artifort, a suite of three garden armchairs in white ABS plastic, a ceiling light in lacquered and chrome metal, and a couple of chairs from 1955 covered in kaki green vinyl produced by Thonet which sold for less than 500 euros.
Apart from these affordable pieces, prototypes and limited series – direct from the Paulin collection – were also offered to collectors. The 'star' piece of the sale was a prototype Elysée bookshelf designed between 1969 and 1972 and which sold for €90,000. Other more modest prototypes were affordable at between 2 and 10 thousand euros: for example tables and seats with "clover" legs like spread out petals that were typical of the works presented at the Household Arts Fair in 1969 and of the Elysée series.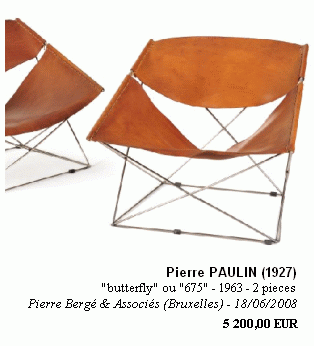 Among the other exceptional pieces, there were two Ribbon Chairs with psychedelic patterns dating from his collaboration with Jack Lenor Larsen that sold for between 10 and 15 thousand euros each. However the famous Ribbon Chair is in fact available for roughly a third of that price in its recent re-edition by Artifort. So what explains the price gap? Apart from the "vintage" aspect, the psychedelic fabric was in fact a pattern created exclusively for Pierre Paulin, making it a veritable collectors' item!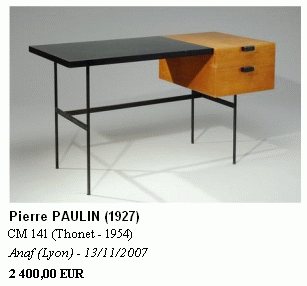 While Paulin has a regular presence on the French auction scene (Paris, Lyon and Marseille), very few of his pieces reach the sales rooms of the UK or the USA. This is somewhat surprising considering the institutional and international recognition that Paulin has enjoyed since 1966 when his F582s (better known as Ribbon Chairs) were acquired by the MoMA in New York. Other works by Paulin are held by the Musée des Arts Décoratifs in Paris and the Victoria and Albert Museum in London. Indeed, in London, his pieces make sporadic appearances at Christie's or Sotheby's: On 26 September 2007 for example, one of his elegant MODEL 545s in white vinyl, produced by Artifort in around 1963, sold for less than 1,500 euros. In New-York, Phillips de Pury occasionally includes some of Paulin's pieces in its design sales: in May 2007, the Elysée floor lamp and the Rosace round table, created in 1971-72, were bought in… the estimates were a little beyond the reach of the average non-professional art enthusiast. In fact, the Rosace table carried a price tag of 35 to 45 thousand dollars! Six months later – at Artcurial in Paris – the same table was on offer for less 14,000 euros including fees!
Although it has been a long time coming, the current enthusiasm for Paulin's work is stimulating the production of re-editions. Back in 2000, Habitat reproduced the articulated snake-shaped Amphys bench (1968-1970), originally produced by the Research and Creation Workshop of the Mobilier national for the French pavilion of the Universal Exhibition of Osaka in 1970, then re-edited by Alpha International after 1991.
Apart from the Ribbon Chair, Artifort has re-edited several chairs from the 60s and the 70s including the "Tongue" armchair which sells for less than 1,500 euros new. Lastly, in 2008, a company callet Ligne Roset has reproduced the CM141 bureau (1954) rebaptised "Tanis", as well as the PUMPKIN range inspired by the chairs that were acquired for the Paintings Room of the Elysée Palace between 1971 and 1974. This is not to suggest that Pierre Paulin lives in the past; for example, he recently designed a new sofa entitled "Toune" for the Mobilier national.