Focus on Sam Francis and his 'abstract fusions'
Focus on Sam Francis and his 'abstract fusions'
[01.08.2023]

In November 2022, a predominantly blue canvas by Sam Francis doubled its high estimate at Christie's to set a new auction record for the artist at $13.5 million. The work (Composition in Blue and Black, 1955) has all the hallmarks of Francis's artistic preoccupations with the shimmering color and light inspired by reflections observed on the ceiling of the hospital he had spent some years in. But, at the time he made this painting, Sam Francis had also developed his interest in color while staying in Paris, where he had fallen under the spell of French colorists like Henri Matisse, Claude Monet and Pierre Bonnard, artists all sensitive to the continuity of space and the hedonism of color. The painting already offers a synthesis between American abstract concerns and European considerations on color. The bidding was also significantly motivated by the provenance since the work had been purchased from the Gagosian gallery by Paul G. Allen, co-founder of Microsoft with Bill Gates, whose collection Christie's sold last November for a total of $1.6 billion. Nevertheless, the result provided an opportunity to re-focus on an artist whose prices still lag substantially behind those of his American abstract compatriots. Sam Francis has peaked at $13.5 million, whereas Clyfford Still and Jackson Pollock have both fetched prices above $60 million.

 

Sam Francis' auction record (copyright artprice.com)

Another form of American abstraction
Sam FRANCIS (1923-1994) expresses another facet of American abstraction. While he is associated with Color Field, Tachisme and Action Painting, he was also influenced by French post-Impressionism and contemporary Asian art. Originally not predestined or oriented towards art, Francis entered into a creative process in order to transcend a traumatic personal experience, and painting did indeed significantly contribute to his healing process. Enlisted in the army in 1943 to undergo pilot training, his plane crashed in the Arizona desert during a training flight. Francis was hospitalized for more than two years, and the doctors diagnosed him with spinal tuberculosis. Partly paralyzed, only able to move his head and arms, he began to paint to combat boredom and depression. He painted what he saw in his hospital room: light and its spectrum, the reflections of the outside world, the variations of light on the walls.
After his hospitalization, Francis met Clyfford Still, a pioneer of informal painting and took classes with Still at the California School of Fine Arts in San Francisco. Also influenced by the instinctive work of Jackson Pollock, Sam Francis approached the second generation of Abstract Expressionists, notably Joan Mitchell and Helen Frankenthaler, although he did not claim to belong to any current.
In 1950, he moved to Paris on a scholarship, trained in Fernand Léger's studio and discovered the work of the great Impressionist and Post-Impressionist artists. In 1952, he had his first solo exhibition at the Galerie Nina Dausset, rue du Dragon in Paris. In 1955, the Kunsthalle Bern in Switzerland showed his work, and the following year some of his works were included in the MoMA's exhibition Twelve Artists in New York. In short, Francis's international recognition was both immediate and international. Time Magazine referred to the artist as "the hottest American painter in Paris these days". After Paris, another major influence came from Japan where Sam Francis stayed in 1957. In Japan, he began to experiment with white space, emptiness, which subsequently became increasingly prevalent in his paintings. It was also there that he became familiar with Eastern philosophies, notably Buddhism, which determined the orientation of his painting towards spirituality. At one point he became interested in creating 'ephemeral paintings' by projecting paint into the sky, and towards the end of his life he began to paint mandalas.
His work therefore went beyond America's Abstract Expressionism of the second half of the 20th century and it built bridges between cultures, a fact that had a direct impact on spreading his works around the world and making his work appeal to international collectors. Today his works are in collections in France, Germany, Italy, Switzerland and Belgium where he made a triptych for the ceiling of the entrance hall of the Theater Royal de la Monnaie in Brussels, but also in Hong Kong and Japan where he exhibited twice in the 1970s. During his lifetime, Sam Francis was considered by gallery owner Martha Jackson as the "first truly international American painter".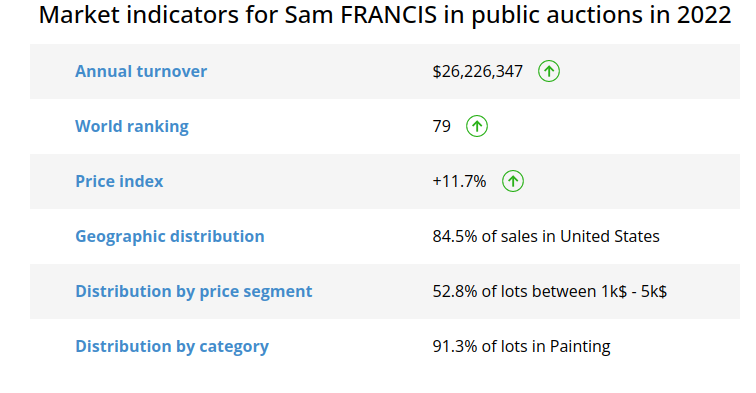 From Painting to Lithography: Sam Francis auction prices
As one of the most important painters of our time, unique works by Sam Francis are now highly sought-after. Small-format acrylics sell for between $30,000 and $50,000 at auction, and works measuring over one meter are easily worth between $100,000 and $500,000, up to multi-million dollar results for his largest works. But alongside this 'high end' production, Francis also explored several printmaking techniques, making original works published in very limited editions (several copies) allowing access to his signature with a much lower budget.
Sam Francis began with lithography. When professional printer, Tatyana Grosman, introduced him to the engraving stone for the first time he was apparently "bewitched" by this very special material and immediately began to use it. He produced his very first series of 60 lithographs in Zurich in 1960, in collaboration with the printer, Emil Matthieu. He produced some 300 lithographs in total, as well as aquatints, etchings and monotypes. These works are kept in some of the greatest collections of museums and institutions around the world. Works costing between $1,000 and $3,000 are regularly offered in auction rooms, but the best, rarest and most virtuoso lithographs can fetch over $50,000.
Sam Francis' price index at auction (copyright artprice.com)