Frieze Seoul is back
[29.08.2023]
Frieze Seoul is back
After the traditional summer break, art market activity is resuming first in Asia with the imminent opening of the Frieze and the Kiaf in Seoul. We take this opportunity to draw up a mini-inventory of Korea's local art auction market, which has enjoyed a number of peaks… and troughs.
Kiaf Seoul, South Korea's largest and oldest art fair, opens on September 6, alongside the highly international Frieze, which opens its second edition in the South Korean capital. The collaboration between the two fairs aims to highlight Seoul as a global art hub. The organizers of the two fairs implemented a co-hosting agreement last year, while maintaining an independent operating policy and their respective names to maintain their unique identities.
The Frieze fair will focus on international creation from antiquity to the 20th century with its traditional Frieze Masters section. The selection is broad and yet sharp at the same time, ranging from Paul Cézanne to Lucian Freud, from Henri Matisse to Helen Frankenthaler, from Jim Dine to David Hockney, to name just a few of the most famous signatures on offer. Several major Korean artists are also to be discovered, including LEE Joon (1919-2021), pioneer of Korean geometric abstraction, RYU Kyung-Chai (1920-1995) in an often more lyrical abstract style. A section titled Focus Asia also provides ample space for solo shows presented by young Asian-based galleries.
Alongside the strong presence of Korean and Asian galleries, the major international galleries have selected – as far as possible – works by the Korean artists they represent in order to meet local demand. The Pace Gallery, for example, is offering works by Lee Kun-Yong alongside those of Lawrence Weiner, while Lehmann Maupin's selection focuses on Lee Bul, Do Ho Suh and Sung Neung Kyung.
The fact that Frieze wants to expand its market into Asia today is no coincidence. The fair follows the movement initiated by several international galleries recently established in Seoul, driven by a boom in the art market as reported by Artprice in its 2021/2022 Contemporary Art Market Report.
Return to calm after the boom in the art market
Over the past two years, South Korea has surprised by the extraordinary vitality of its Fine Art market, posting one of the most explosive growth rates in the world. Between 2021 and 2022, its annual turnover rose from $57 million to $237 million (+310%) and the transaction volume was up 150% over the same period. This growth was essentially driven by sales of artworks by young emerging artists, with Contemporary creation being particularly prized by young local collectors. This year, like most major marketplaces, the momentum has slowed as collectors tighten their budgets in the context of slowing economic growth.
During the first half of 2023, the total turnover from fine art hammered by South Korean auction houses amounted to $43 million, a contraction of 58% compared to the year-earlier period. This turnover places South Korea in eleventh position in our global ranking of countries by art auction turnover, compared to seventh (with $101 million) last year.
Art auction turnover in South Korea (copyright Artprice.com)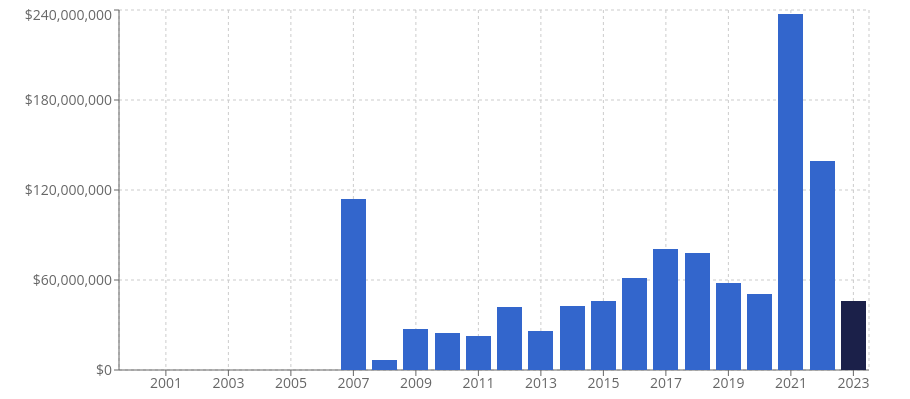 The three works that fetched 7-digit results during Seoul's H1 period were by Yayoi KUSAMA, Whan-Ki KIM and UFAN LEE. But they all sold either within, or below, their estimated price ranges, proving that strong bidding has given way to prudent buying.
7-digit results in Seoul in H1 2023:
Yayoi KUSAMA (twice)
Infinity-Nets Green (TTZO) (2005)
Hammer price: $1,927,500
Estimated: $2,313,000 – $3,855,000. 28/03/2023, Seoul Auction
.
Watermelon (1989)
Price with fees: $1,187,368
Estimated: $705,600 – $1,254,400. 26/07/2023, K-Auction
.
North West 30-VIII-65 (1965)
Price with fees: $1,413,728
Estimation: $1,213,500 – $3,236,000. 18/01/2023, K-Auction
.
Correspondence (2000)
Price with fees: $1,160,107
Estimation: $995,800 – $1,378,800. 29/03/2023, K-Auction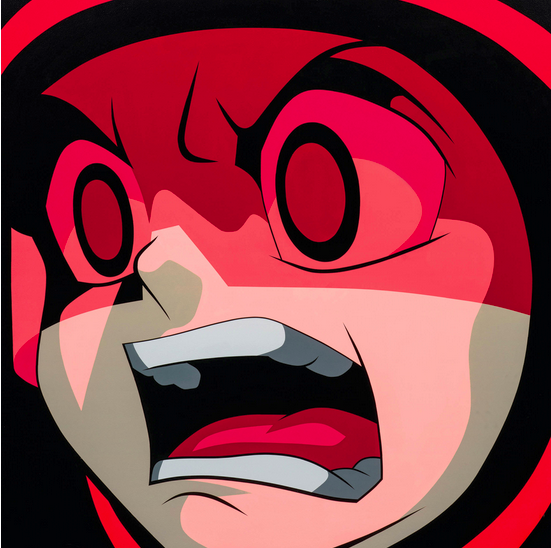 Regarding the younger generation of artists, Korean collectors have again shown a distinct preference for works by MR DOODLE And OKAY, both manifesting forms of comic-book related aesthetics.
Top 3 results for artists under 40 in H1 2023:
MLT Live (2019): $236,500$
28/03/2023, Seoul Auction
.
Mimic (2019) : $80,300
29/03/2023, K-Auction
.
Deadlock (2020) : $70,300
31/05/2023, K-Auction
Artprice's last Contemporary Art Market Report gave South Korea fifth place in the global ranking (after France but ahead of Japan) with a turnover total of $65.5 million between 1 July 2021 and 30 June 2022. In other words, the country was rising as one of the new capitals of Contemporary art on a global scale. But this year, the total of $21 million for the 12 months between 1 July 2022 and 30 June 2023 is less than a third of the previous year's total (down 68%), the sharpest slowdown in the world after the Russian market (down 75%).
.
Kiaf Seoul, September 6 – 10, 2023 (22nd edition):
210 galleries from 20 countries, of which more than 65% are based in Asia.
Frieze Seoul, September 6 – 9, 2023 (2nd edition):
Approximately 120 galleries from 30 countries, of which more than 40% are based in Asia.