Gloomy times for impressionists while modernists triumph
[16.11.2003]

 

The US art market was in fine form at the Impressionism and Modern Art evening sales. Thanks to a number of wealthy American bidders, several major lots went for more than their high estimates. A healthy 75 of 102 lots put up found buyers on the evenings of 4 and 5 November, and total turnover was USD 216 million. This is the highest take since November 2000, when Sotheby's and Christie's between them turned over USD 242 million on the 8 and 9 November.

The big stars of the sessions were the modernists. A careful selection of exceptional works bore fruit as seven records fell: Amedeo MODIGLIANI, Fernand LÉGER, Gustav KLIMT, Henry MOORE, Andreas JAWLENSKY, Georg SCHOLZ and Jean METZINGER.Does this mean the market is back on track as optimism revives?

Transactions split by price levels (data : January – October 2003)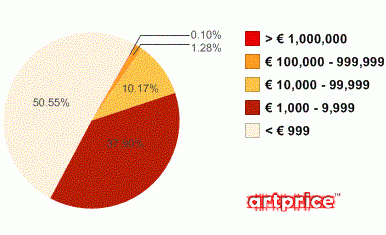 The core and dynamism of the art market lies in works that sell for less than EUR 10,000. These make up nearly 90% of lots sold, and rarely attract media attention. The high-profile million-plus sales actually account for barely one thousandth of transaction volumes. This tiny segment relies on a small coterie of collectors and it is questionable whether their bids for works of highly variable quality, going under the hammer in the space of a few hours, is a reliable gauge of the wider market.
Also, while several pieces were enthusiastically received — Klimt's Landhaus am Attersee (c.1914), a landscape knocked down for USD 26 million at Christie's, Fernand Léger's La femme en rouge et vert (USD 20 million at Sotheby's), and Modigliani's Nu couché, sur le côté gauche, (USD 24 million also at Sotheby's) — several others flopped.
The poor performances were largely for impressionists and post-impressionists. The two Vincent VAN GOGH offered went for well below their estimates. Christie's had estimated L'Allée des Alyscamps at USD 12–18 million but could only find a buyer at 10.5 million. And the watercolour La moisson en Provence, estimated at USD 10–12 million only reached USD 9.2 million, leaving the vendor, who had paid USD 14.5 million for it six years ago, nursing a heavy loss. Note too the modest USD 9.3 million paid for a version of Claude MONET's Nymphéas, estimated by Christie's at USD 10-15 million. The story was the same for Paul CÉZANNE. A still life, Nature morte: pommes et poires went for USD 7.8 million, having been estimated at USD 8-12 million. And his Une Moderne Olympia (La Pacha), sold for USD 5.4 million in 1997, was bought in for USD 4.3 million. Several Renoirs were also knocked down below their low estimates or bought in. It seems these are gloomy times for impressionists.