Gustav Klimt, a Viennese artist who ignites passions
Gustav Klimt, a Viennese artist who ignites passions
[30.06.2023]

A Klimt painting was one of the six lots that sold above $100 million last year. A look back at the story of a birch forest that has become one of the most popular landscapes in the world and of an immense artist who continues to fascinate auctions, including this year!

On 27 June in London, Sotheby's auctioned off the last masterpiece painted by the Viennese artist Gustav KLIMT: Lady with a Fan. Painted a year before the artist's untimely death in 1918 (aged 55), Lady with a Fan is Gustav Klimt's very last painting and one of the rare portraits of the Viennese master still in private hands. The seller acquired the work in May 1994 for just over $10.5 million from Sotheby's New York and kept it for almost thirty years. The high point of the latest sales in London, the precious portrait reached £85.3 million including fees (equivalent to $108.39 million and well beyond the $82 million initially expected for this work). Lady with a Fan has set a new auction record for an artwork in Europe!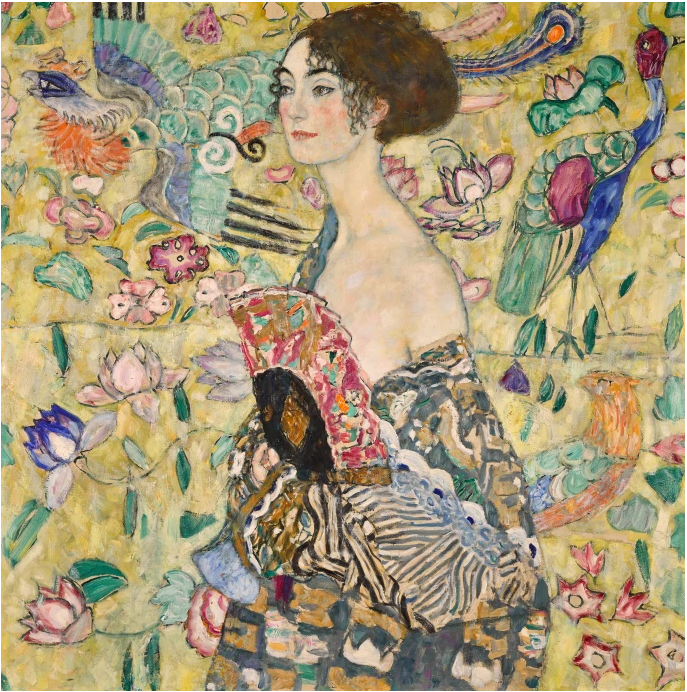 Gustav Klimt, Lady with a Fan
The previous auction record for an artwork in Europe was £65 million ($103.68 million) for Alberto Giacometti's Walking Man I, sold at Sotheby's in February 2010. Claude Monet was second on the European podium thanks to the sale of a painting from the famous Water Lilies series – Le Bassin aux nymphéas – which fetched £40.9 million ($80.5 million) at Christie's in London in June 2008. A René Magritte Empire of Lights painting was (but is no longer) in third place after it fetched £59.4 million ($79.3 million) at Sotheby's last year, currently the artist's personal auction record.
Several extraordinary paintings by Gustav Klimt have already fetched over $100 million in private transactions, but none had crossed this threshold at auction until November 2022 when his Birch Forest (1903) sold for $104.5 million at Christie's in New York. That result revised the artist's previous auction record, hammered 16 years earlier for his famous portrait of Adele Bloch-Bauer when American television host Oprah Winfrey acquired the work for $87.9 million. Oprah apparently resold her trophy in 2016 to an unidentified Chinese buyer for 150 million dollars. Klimt's Birch Forest also experienced a strong revaluation, Indeed, the same day that Christie's sold the portrait of Adele Bloch-Bauers to Oprah Winfrey, (8 November 2006), the Birch Forest painting was also offered for sale, reaching $40.3 million. Sixteen years later, having passed through the prestigious collection of Paul G. Allen, co-founder of Microsoft along with Bill Gates, it sold for 2.5 times that price. So, all in all, Klimt's masterpieces have shown some of the strongest value accretions on the entire art market.


Données enregistrées mi-juin 2023 (Artprice.com)
.
Klimt, a great landscape painter
A remarkable aspect of Birch Forest's tremendous value increase is quite simply the fact that it is neither a portrait, nor one of Klimt's characteristic allegories. It is, as the title suggests, a landscape, a genre that represents only a quarter of the artist's paintings. Depicting a forest of birch trees painted in a square format without any particular focal point, the painting revels in the textures and colors of the tree trunks and the autumn leaves on the ground. Using the visual effects from pointillism that the artist adjusted for his own purposes, the result is both natural and decorative, real and surreal, sober and vibrant at the same time. Birch Forest is a landscape that resists any form of hierarchy, any suggestion of movement or the passing of time. It has extraordinary depth, but it gives the impression of being flat like a wall, allowing the viewer to feel the work either as a profound invitation to eternity or as a sensual mesh of textures and colors evoking lush sensations, or both. With his innovative technique, Klimt opened a new path, inventing a new way of painting and a new way of approaching the classical landscape genre.
Gustav Klimt never trained in landscape painting and he didn't start until his late thirties. He was a fan of pleinairism (outdoor painting) as practiced by the Impressionists, whose influence can moreover be discerned in the technique and the color schemes in Birch Forest. Klimt's landscapes were exhibited during his lifetime, including Birch Forest, which was shown in the 'Secession' exhibition of 1903, then in 1905 in Berlin, and in the first Kunstschau of 1908 (which resulted from a split between Klimt and the other Secession artists) and at the Venice Biennale in 1910.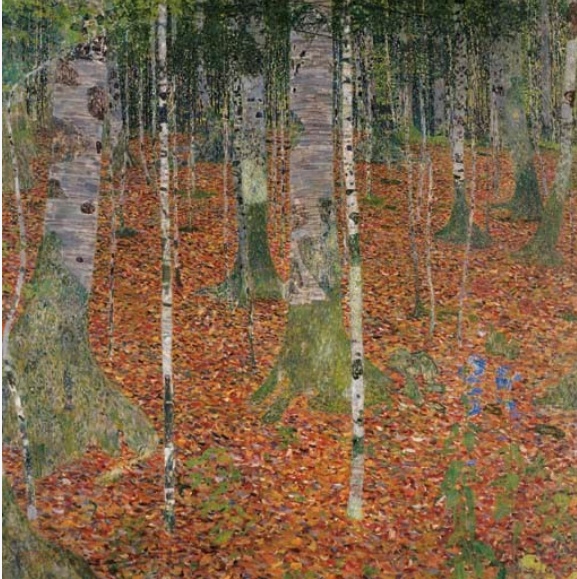 Gustav Klimt, Birch Forest
A turbulent history
Birch Forest was purchased from Gustav Klimt by Ferdinand Bloch-Bauer, owner of Austria's largest sugar refinery, patron and art collector whose young wife Adèle Bloch-Bauer was Gustav Klimt's muse and friend. But when Germany annexed Austria in March 1938, all the Bloch-Bauer family property was confiscated by the Nazis and Ferdinand Bloch-Bauer fled to Zurich. At the end of the 1990s, the last Bloch-Bauer heiress, Maria Altmann (1916-2011), Ferdinand's niece, claimed five paintings by Gustav Klimt that had been stolen from her uncle. Since the war, the masterpieces had been kept in Vienna's Belvedere Museum. Altmann finally won her case after seven years of litigation against the Austrian State and recovered the paintings in 2006. She then sold, as part of a private transaction orchestrated by Christie's, the most important work, the Portrait of Adele Bloch-Bauer I, to Ronald Lauder, a cosmetics magnate and major collector, for $135 million. Considered the "Austrian Mona Lisa", this canvas marks the apogee of Klimt's "golden cycle" and it became the most expensive (known) Klimt work on the public auction market.
The four other works by Klimt returned to Maria Altmann – Birch Forest, Apple Tree I, Houses at Unterach on the Attersee and the Portrait of Adele Bloch-Bauer – were subsequently presented for sale on 8 November 2006 and generated a total of $192 million. It was in that auction that Paul G. Allen acquired Birch Forest for around $40 million and it was also Christie's best-ever turnover total for a single sale at $491.4 million. Sixteen years later – in November 2022 – the world's leading auction house dwarfed its 2006 record with a new single-sale record of $1.62 billion for the dispersal of Paul G. Allen's extraordinary collection. So, for the second time, the canvas Birch Forest played a key role in one of the most significant moments in art auction history.
Last May, on the occasion of the prestige sales in New York, Sotheby's presented another (smaller) landscape by Klimt, Island in the Attersee, a superb canvas offering a view over Lake Atter with impressionist accents. A similar painting is kept at the Leopold Museum in Vienna. Again, using a square format, Island in the Attersee was painted around 1901 and was the centerpiece of Gustav Klimt's very first exhibition in the United States (in 1959 at Otto Kallir's St. Etienne gallery). Sotheby's was entrusted with its sale by a major American private collector whose identity has not been revealed and hoped to obtain around $45 million. The work finally sold for $53.2 million to an Asian collector, like many of the Modern masterpieces dispersed last May. Indeed, the American auction house specified in a subsequent press release that Asian collectors generated more than a third of the total value of its prestige Modern Art sale in May 2023.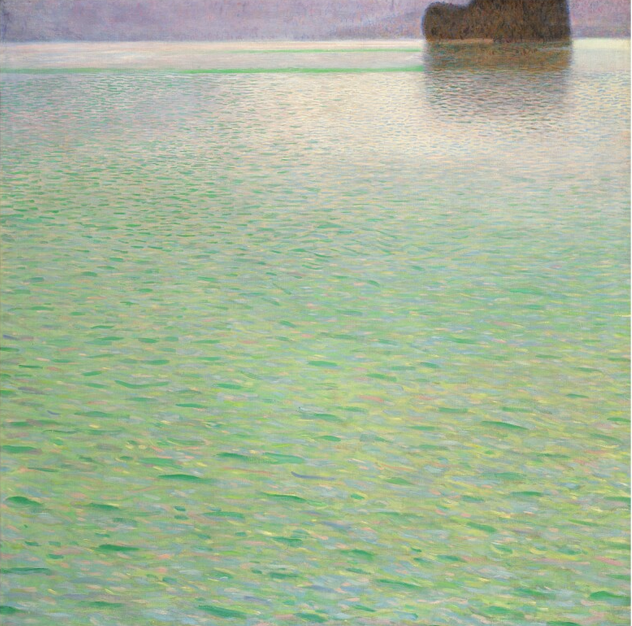 Gustav Klimt, Island in the Attersee