Hokusai: The Great Wave… and beyond
Hokusai: The Great Wave… and beyond
[05.09.2023]

"When I'm a hundred years old, I'll draw a line and that will be life." (Katsushika Hokusai)

HOKUSAI died at the age of 89, unable to achieve his goal of tracing life itself by drawing a line. The "Crazy Old Drawer" – as he often described himself – left behind a prolific œuvre of 30,000 drawings, influenced many of the greatest Modern European artists and initiated Manga and comics. He opened up a whole new aesthetic universe, depicting a range of subjects in the Ukiyo-e movement (Images of the floating world in Japanese) including everyday life scenes, sumo wrestlers, kabuki theater, erotic scenes, ghosts and other demons. An engraver, draftsman, painter and writer, born in 1760 in Edo (current Tokyo) Hokusai's work was therefore by no means limited to his Great Wave of Kanagawa, the 'Mona Lisa' of Asian art, reproduced millions of times, the finest proofs of which are fetching higher and higher prices at auctions.
The Mona Lisa of Asian art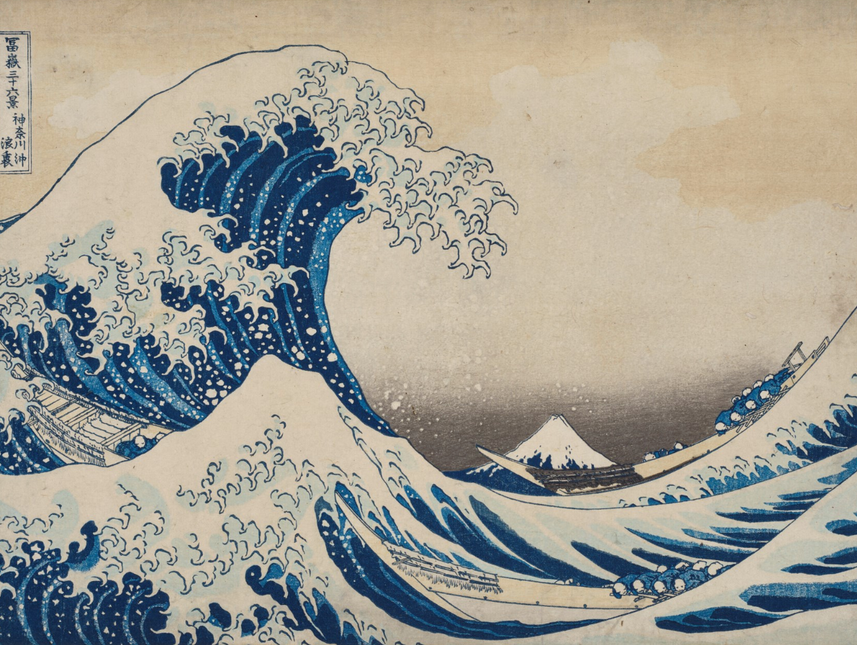 Hokusai created The Great Wave off Kanagawa in 1831 to initiate his series of Thirty-six Views of Mount Fuji, Japan's most sacred volcanic mountain. It is not known how many copies of this image were made, or how many are still in circulation. We know, however, that when The Great Wave off Kanagawa began to circulate on the European market towards the middle or the end of the 19th century, it immediately impressed artists like Claude Monet and Vincent van Gogh and subsequently became one of the most popular images in the world, a popularity that is apparently still growing. Indeed, according to Christie's catalog for its sale of 21 March 2023 – which included one of the finest versions of The Great Wave still in circulation – "whereas Vermeer's Girl with a Pearl Earring yields 1.45 million hits in Google, and Van Gogh's Sunflowers 5.53 million, Picasso's Guernica 12.5 million, and Snoopy 73.7 million, the Mona Lisa beats them all with 129 million hits, but still, the Great Wave will forever … be unbeatable with its 1.04 trillion hits". The print offered was of remarkable quality and freshness and attracted six bidders who pushed the price to $2.76 million (Kanagawa oki nami ura), well beyond the initial estimated range of $500,000 – $700,000. The result added a million dollars to the previous auction record for The Great Wave off Kanagawa, also hammered by Christie's at the price of $1.59 million in 2021.
Although the exact number of prints made is not known, the Great Wave is definitely Hokusai's most sought-after and expensive work. It has become an icon and an emblem of the artist's genius. It is also a work that unites many aspects of Asian art history and, indeed, global art history. For example, it incorporates a Western novelty (at the time): Prussian blue. This fairly expensive import was sought after in Hokusai's day for its intensity and durability over time. Although this prestigious blue is also present in other plates from the 36 views of Mount Fuji, the extent of its presence and the subtlety of its nuances are among the determining factors of the prices that these prints command on the market.
Hokusai: record at auction, in million of $ (copyright Artprice.com)

Blue is the key price factor in The Mishima Pass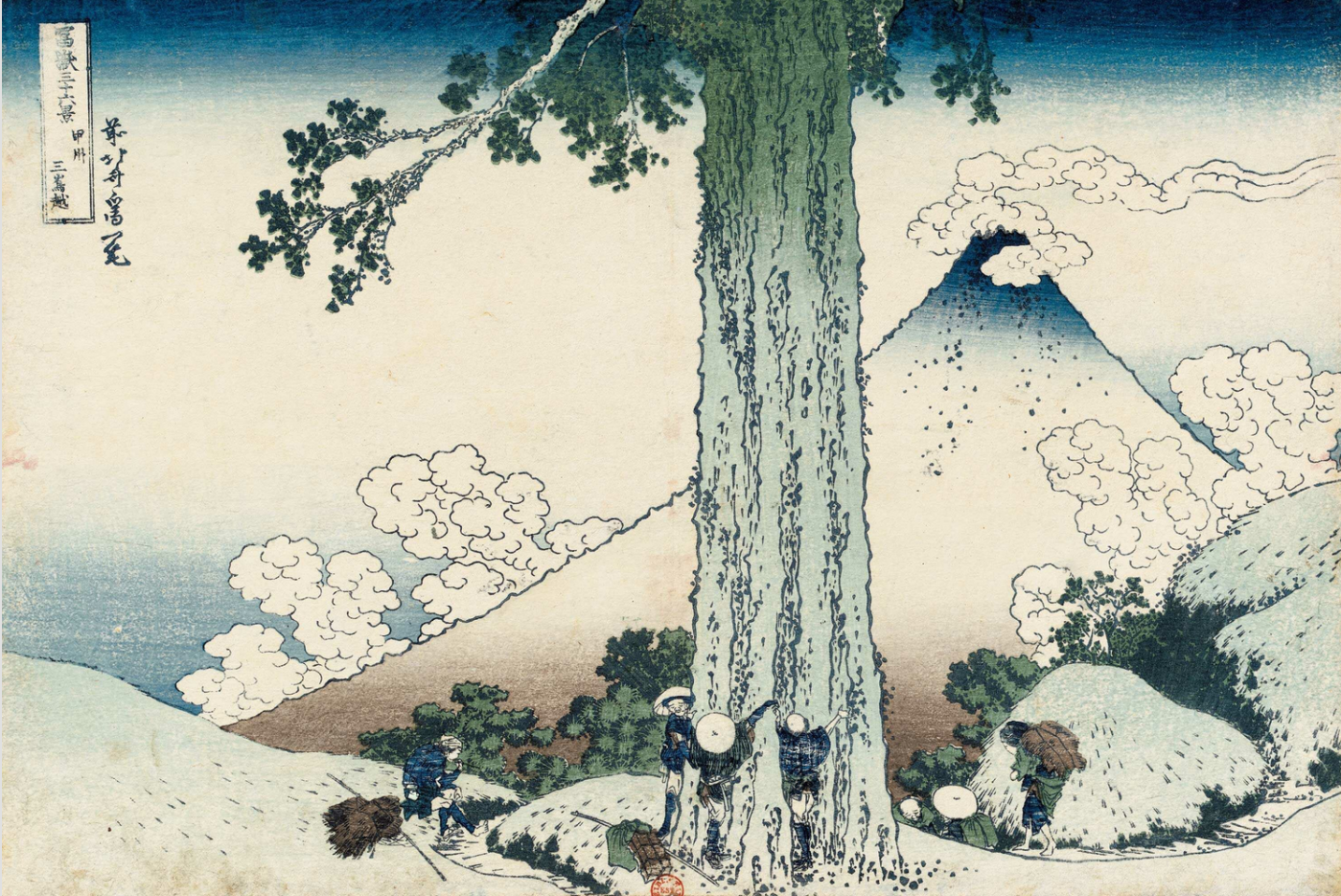 In Mishima Pass in Kai Province, blue is the color used to depict a large cedar tree in the foreground that pilgrims embrace until they blend into the bark, paying homage to the tree according to Shinto tradition, which attributes a divine spirit to the forces of nature. Mishima Pass in Kai Province is a very rare print: only 20 proofs have been auctioned in the last 40 years and prices have risen substantially over time. The print was already selling above $10,000 in the early 1990s when Japanese collectors were very active on the international market. Today, the bluest proofs (those in which the sky area is most widely occupied) fetch over $50,000. In September 2021, Christie's New York set the current record at $62,500 for a print whose blue-in-the-sky is almost as strong as in the two top-quality copies kept in New York's Metropolitan Museum of Art.
Ghost stories come out of the shadows
The series One Hundred Ghost Stories (百物語, Hyaku monogatari) is a lesser known part of Hokusai's œuvre, but it was in fact produced at the same time as the famous views of Mount Fuji. The ghosts and demons in this short series of five prints are among the finest works of his career. They illustrate the superstitions of the Edo period, which were told around a game played at night telling each other stories of ghosts and other supernatural anecdotes by the light of a hundred candles, blown out, one by one, after each story. Once all the candles were out, strange things were supposed to happen… Hokusai masterfully embodied the folklore of the Yurei and yokai, ghosts and demons that had only been described orally until the artist published a valuable series, representing five different stories. One of the most fascinating is that of The Ghost of Kohada Koheiji. Hokusai's engraving depicts the terrifying image of actor Kohada Koheiji slowly emerging from the depths of the swamp into which he was thrown by his own wife, Adachi, and her lover, Otsuki.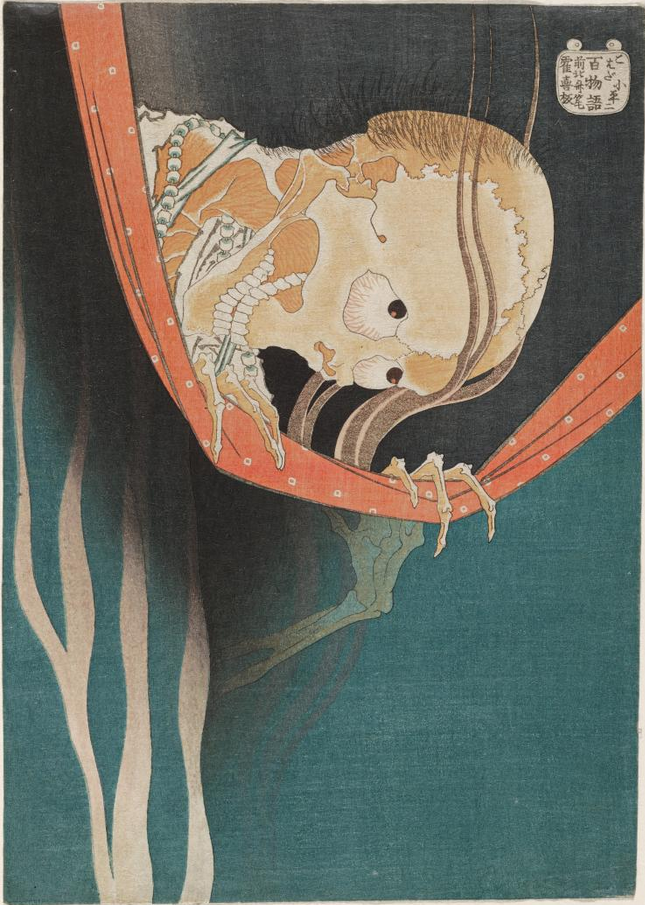 Hokusai, Kohada Koheiji
This print is also an absolute rarity as only eight Kohada Koheiji phantoms have appeared at auction since the 1980s. The last time one was presented for sale it fetched over $32,000 against an pre-sale estimate of around $15,000 at Sotheby's London. The other pictures in the ghost series elicit similar enthusiasm, with two new records this year: one for Memorial Anniversary Serpent which fetched nearly $42,000 – more than ten times its high estimate – at Beaussant-Lefèvre in Paris last April, and the other for The Laughing Demon (Démon féminin riant) which fetched $58,600 during the same session against a high estimate of $8,000. By deciding to bid more vigorously for these rare and extraordinary ghost prints, collectors are tempting them out of the shadows. The enthusiasm has gone hand in hand with an anticipated value inflation following the revaluation of Hokusai's entire œuvre, including three Great Wave off Kanagawa prints that have each fetched 7-digit results over the past three years.
All of this proves beyond any doubt that Hokusai's work remains very much alive. A superb film about his life was released last spring. We discover him as a relentless worker with crazy talent, highly impetuous, fiercely independent and with that famous Prussian blue… which he daubs on himself in the pouring rain.