Hong Kong Art Fair – East and West
[31.05.2011]

 

The ArtHK fair is impressive both in terms of size and diversity (260 galleries on three levels of the Convention & Exhibition Center and 38 countries represented) and is growing rapidly (this 4th edition is 30% larger than the previous one). The three levels are clearly identified: the first for the well-established galleries, the second for the young galleries and the third for Asian art.

Selling Western artists: a major challenge
The selection of galleries and artists makes the ArtHK fair a truly international event whose outward vision is clearly promoted: The prime slot in front of the first level entrance has been awarded to the White Cube gallery of London, Damien HIRST's and Marc QUINN's official representative. The first pieces visitors see as they come in are a massive Andreas GURSKY photograph, a sculpture by Antony GORMLEY, a skull by Andy WARHOL, an agglomeration of flies by Damien Hirst… i.e. works valued at between 400,000 and one million dollars. Hirst's repulsive and yet fascinating monochrome is not a common work at auctions: the last work of this kind fetched the equivalent of $380,000 (£190,000) at Sotheby's on 2 July 2008 (Loathing, 101.6 x 137.2 cm ).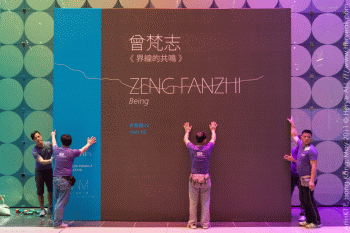 ©Herve All. www.herveall.com
Even in Hong Kong – a strategic megalopolis in the global art market with many of the world's most prestigious galleries (the Gagosian inaugurated the opening of its HK gallery with a Damien Hirst exhibition) – it is not that easy to interest local investors with Western signatures. That is why the fairs and galleries have approached the HK market with the most expensive, highest media-profile, heavy weights of Western art.
The well-established galleries are broaden the minds of visitors by exhibiting signatures other than ZHANG Xiaogang, ZHANG Huan, FANG Lijun, AI Weiwei or CAI Guoqiang… Indeed, the big Chinese names are today on show alongside Louise BOURGEOIS, Lucio FONTANA, Giuseppe PENONE, Takashi MURAKAMI, Xavier VEILHAN, Tony CRAGG, Juan MUÑOZ, Rudolf STINGEL, Roy LICHTENSTEIN and Bill VIOLA.
In terms of artist's nationalities therefore, this fair offers a particularly rich panorama, including young artists from Turkey (Nilbar Güres), Iran (Mohsen AHMADVAND) and Argentina (Tomas ESPINA).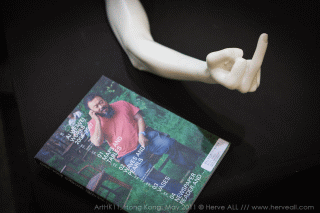 ©Herve All. www.herveall.com However the work attracting the most intense journalistic attention is not a multi-million dollar piece by Pablo PICASSO, or a 5-metre fresco by Yoshitomo NARA, but a sculpture placed on a low table at the stand of the Urs Meile gallery (Beijing and Lucerne): an ear with an outstretched arm and raised middle finger, the work entitled Marble Arm was created by the Contemporary Chinese art Ai Weiwei who was arrested at Beijing airport on 4 April 2011. A golden edition of the same work fetched the equivalent of $75,000 on 5 December 2010 at Beijing Council.
A shrine for the London sales
A few steps from the ArtHK entrance, Ravenel, Sotheby's and Christie's took advantage of the incoming flow of rich Asian investors. Christie's organized it Asian 20th Century & Contemporary Art on 28 May which generated $53.9m.
At the Hyatt, Sotheby's exhibited a selection of masterpieces to be sold soon in London, at the Impressionist & Modern Art sale on 22 June 2011 and at the contemporary sales on 29 and 30 June. These included paintings by Joan Miró and Picasso, Magritte and Richter, Renoir, Fernand Léger and Dubuffet.
The American and British auction leaders are putting much effort and energy into teaching Western art to Asian investors. Concurrently, Magnus Renfrew promoted his fair, putting forth the absence of importation and exportation taxes on works of art and the locals fluent English.