Léonor Fini returning to the limelight
Léonor Fini returning to the limelight
[25.07.2023]

At a time when collectors favor figurative art with a Surrealist tendency and when women artists are the focus of all attention, the work of Leonor Fini is being rediscovered in all its originality and power.

Self-taught, Leonor Fini paved her own way by working tirelessly. She also frequented some of the greatest thinkers and artists of the 20th century, including Jean Cocteau, Man Ray, Leonora Carrington, Salvador Dalí, Joseph Cornell, Dora Maar, Albert Camus, Jean Genet, Federico Fellini, Georges Bataille and Paul Éluard. She approached painting through an alchemy of science, magic, dreams and legends, which together underpin the mysterious atmosphere of her paintings.

Born in Buenos Aires in 1907, Léonor Fini was raised by a single mother in Trieste, Italy. A precocious talent, she exhibited her paintings in her hometown at the age of seventeen, then went to Paris in 1931 with an Italian prince who she left immediately after frequenting the Surrealist circle around André Breton. She shared with the Surrealists a belief in the veracity and logic of dreams, but she refused to formally associate with the movement because, as she said, "there were laws and constraints that I would not have tolerated". Her works reflect the Surrealist style well, but she disavowed its shackles to maintain the greatest possible independence in her professional life as well as in her personal life. Her œuvre was nonethelesse assimilated into Surrealist production in 1936, when her paintings were included in the exhibition "Fantastic Art, Dada and Surrealism" at the Museum of Modern Art in New York.

Her paintings are made up of vertigo. Abysses which, at first, seem to be evil, full of corpse-like dissolution. And yet, with a smile on her lips (…) Leonor invites those she finds worthy of her personal world to wander around in them. Max Ernst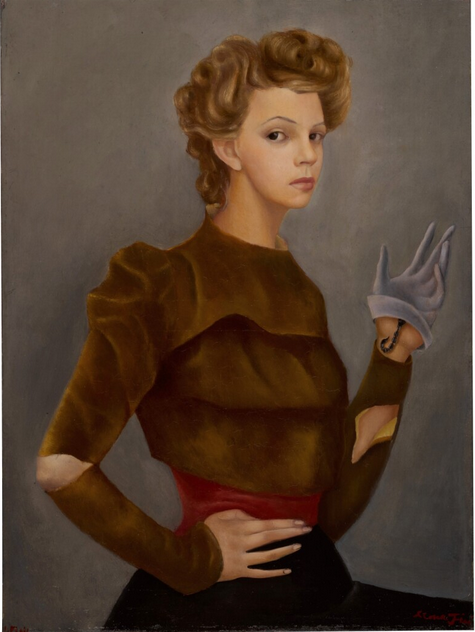 Leonor Fini, Autoportrait au scorpion
Paintings in line with current tastes
Leonor FINI (1907-1996) is well known in both France and Italy, the two countries she lived in for most of her life. But she has also been the subject of retrospectives in Belgium, Germany, Sweden, Japan and her work was exhibited in New York during her lifetime. Recently her paintings featured in The milk of dreams, an exhibition focusing on Surrealist women organized as part of the 59th Venice Biennale, and in Surrealism and magic: enchanted modernity, another Venetian exhibition hosted last year at the Peggy Guggenheim Foundation. At the beginning of this year, the New York gallery Kasmin devoted a remarkable solo exhibition to her in collaboration with the Minsky Gallery in Paris and the Leonor Fini Succession. Under the title Metamorphosis, this latest event covered seven decades of her work.
Collectors (American and others) are therefore rediscovering Leonor Fini at a time when the market is showing high demand for the Surrealist style, whether via historical works (Magritte, Max Ernst, etc.) or via the new generation of artists like Anna WEYANT (born in 1995) and Ewa JUSZKIEWICZ (born in 1984) to name just two. Weyant's uncanny atmospheres and Justzkiewicz's masked faces are today among the most appreciated Contemporary paintings and they can fetch auction prices beyond the million-dollar threshold.
Indeed, Leonor Fini's work appears to reflect a number of the qualities that collectors and institutions are currently looking for, both via her personality (i.e. what is known about her), and in what her paintings communicate. Firstly, she embodies the 'independent woman' at a time when museums and the art market are revaluing female artists. Secondly, her work also deals with or suggests subjects that are more topical than ever, such as feminism and gender fluidity. Fini did not tolerate any form of patriarchal (or other) control, hence her rejection of a 'mentor' like André Breton. She also refuted the notion of 'idealized femininity', arguing that "all people who seem either too masculine or too feminine are limited" and that "if people were free, they would all be androgynous".
From an aesthetic point of view, her paintings have not aged and even seem to have been made in our time, despite dating back a century. Her approach to the mysteries of the unconscious and of human impulses expresses a universal sensitivity and an imagination that today's collectors particularly appreciate.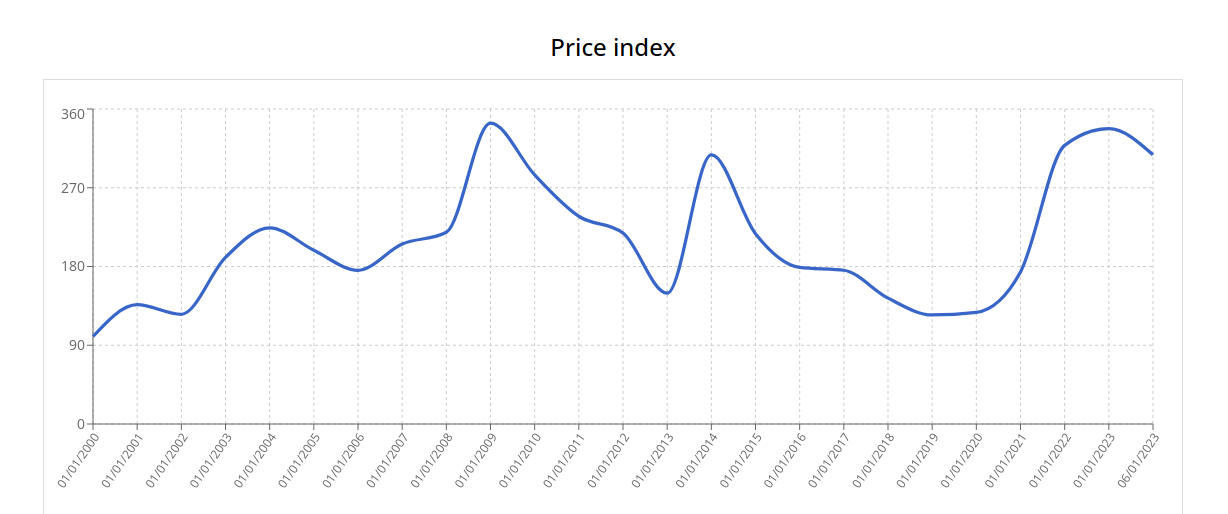 Leonor Fini 's price index at auction. Copyright Artprice.com
Rehabilitation and auction success
Leonor Fini's work is coming back into the limelight after being sidelined for many years. Towards the end of the 20th century, Fini fell somewhat out of favor in a climate dominated by younger, trendier, Pop art artists, Abstract Expressionism and Minimalism. She was also relatively forgotten compared with notable artists like Frida Kahlo and Leonora Carrington. But her market has recently become more buoyant. In 2021, a superb Fini canvas exceeded the symbolic threshold of $1 million at auction for the first time: Self-portrait with scorpion (Autoportrait au scorpion, 1938) fetched $2.3 million at Sotheby's in New York, three times its high estimate. A year earlier, another 1938 painting, Figures on a terrace, reached nearly a million ($980,000) versus an estimate of $400,000 – 600,000. The surge in her market is therefore very recent and palpable.
A painting is something like a spectacle, a theater piece in which each figure lives out her part. Leonor Fini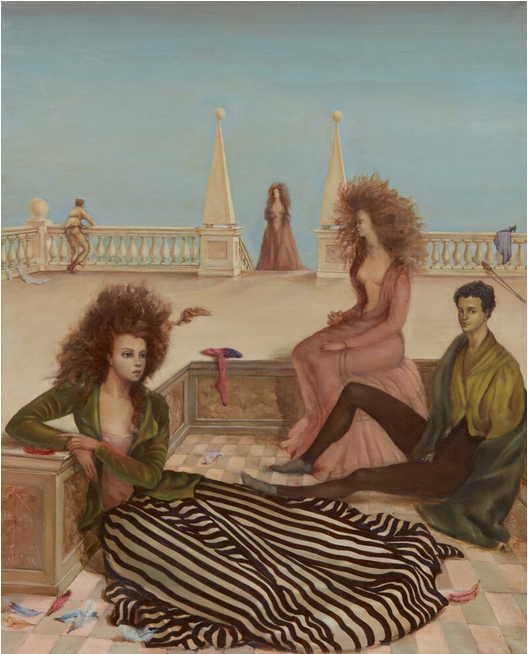 Leonor Fini, Figures on a terrace
Clearly, this kind of market phenomenon is interesting for new young collectors who in their quest for works at affordable prices usually focus on drawings rather than on paintings. Fini produced lots of drawings, notably for sets and costumes for ballets, plays and films. She  also created sets for the Paris Opera, for Maria Callas at La Scala in Milan and for more than seventy Parisian productions between 1946 and 1969, including The Maids and The Balcony by Jean Genet. She also designed and created costumes for films such as Renato Castellani's Romeo and Juliet (1954) and Frederico Fellini's 8½ (1963). Her costume drawings for the stage and for the cinema often exploit the powerful metaphorical motif of the mask and bear witness to the artist's relations with the fashion designers of her time, including Christian Dior and Elsa Schiaparelli. They are therefore crucial in Fini's artistic journey, while often being accessible for under $3,000, i.e. more or less the same price as drawings by young Contemporary artists.