New York auctions open with Old Masters
[18.01.2009]

 

The market is feverish, sellers are nervous, auctioneers are worried and yet…the purchase intentions recorded in our Art Market Confidence Index show a certain optimism ahead of the Old Masters sales at Christie's and Sotheby's.At mid-January 2009, 70% of market players (all segments) declared themselves "ready to buy" in the Artprice AMCI.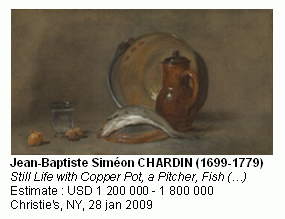 The catalogues for the three days of New York sales – 28 January at Christie's and 29 + 30 at Sotheby's evening sales – includes over 500 prestigious works. Indeed, the opening salvo of the 2009 auction season contains works of remarkably high quality and the price estimates are robust.
Faced with the current economic context and a particularly morose art market, the two auctioneers are offering a number of exceptionally important works in the hope of reaching new highs. A remarkable set of works by Francisco de Zurbarán (Francisco DE ZURBARAN) consisting of twelve paintings (the twelve sibyls) has new record potential at Christie's. The set is estimated at between $ 2 and 3 million and could fetch more than the $ 3.1 million paid in January 2007 for Zurbaran's Christ and the Virgin in the House of Nazareth at Sotheby's. Apart from Zurbaran, Christie's will be offering a still life by Jean-Baptiste Siméon CHARDIN (Still life with a copper pot) that carries a $1.2 to $1.8 million price tag – a bold estimate considering that nothing by the artist has sold above the million-dollar line since1992.
On the same day, several rarities have been tagged at around $700,000, including an exceptional full-body portrait of Anne Cavendish by Anthonius VAN DYCK (129.6 x 221.2 cm, $500,000 – $700,000). In last year's summer sales at Christie's, another work – A Rearing Stallion – by the same artist fetched no less than £2.7 million (approx. $5.3 million). Collectors of floral still lifes, particularly 17th century Flemish works, will be offered two paintings by Nicolaes VAN VEERENDAEL in a price range of $600,000 – $800,000.
The principal attraction of the Sotheby's catalogue is a number of old works that have remained in private hands for at least half a century. These include a Madonna with Child by Ambrogio di Stefano BORGOGNONE (c.1460-1523) offered at $400,000 – $600,000. Works by this artist are very seldom seen at auctions; however, Sotheby's is also offering a diptych by the same artist representing Saint Peter and Saint John the Baptist. The Madonna with Child could set a new price record for DA FOSSANO whose current record was set at Sotheby's NY in January 2007 by a painting of a virgin with child in a landscape that fetched $340,000. Going back even further in time, the enigmatic scene by Lorenzo MONACO, a painter who was active in Florence between 1389 and 1423, will be carrying an estimate of between $800,000 and 1.2 million dollars. Sotheby's will also be offering a superb floral painting by Ambrosius I BOSSCHAERT the Elder with a record price tag of between 4 and 6 million dollars and it has given a similar estimate to Bagpipes player (1624) by Hendrick TER BRUGGHEN which is reproduced on the cover of the sales catalogue.
In fact, underpinned by a small number of exceptionally high quality works and sustained demand for old masterpieces, there is no sign that the auctioneers have revised down price estimates for these prestigious sales.