New York's Latin American Art auctions are short on spice
[01.12.2002]

 

Although more lucrative than in 2001, November's auctions of Latin American art nevertheless produced mixed results. The price index for the Latin American movement had looked promising, rising by 5% between January and June 2002. But the USD14.3 million generated by sales at Sotheby's and Christie's between 19 and 21 November 2002 disguises a lack of enthusiasm among collectors: 39% of lots were bought in at Christie's and 28% at Sotheby's. Overall, nearly 50% of lots went for less than their low estimate. That said, a few artists did stand out.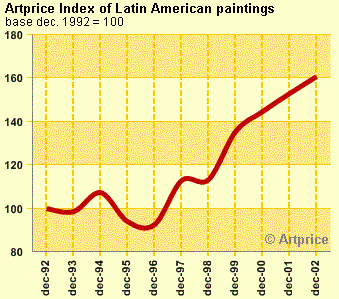 Nothing adds spice to a sale quite like high hammer prices. This year only one work went for more than a million, Chilean Claudio Bravo's oil on canvas Paquete Marfil (Ivory Package), which was knocked down for USD1.4 million in Sotheby's 19 November evening session. This was one of three records set that evening, the others being for work by Alfredo RAMOS MARTINEZ, Antonio RUIZ and Laura Anderson Barbata.
These and a few other good sales helped Sotheby's turn over USD1.76 million more than Christie's in the three days. Some pieces went for two or three times their high estimates. The Sotheby's auction got off to a flying start when Miguel Covarrubas's comical portrait of an old man, El Hueso, a 1940 painting on paper, was knocked down at USD65,000 compared to a high estimate of USD22,000. This was the first of several unexpected highs early on. But after the 16th lot the buy-ins started coming thick and fast and the next day at Sotheby's was also rather flat. Collectors bid up works by Helen Escobedo, Alfred Ramos Martinez and Diego Rivera, sometimes to double their estimates, but stuck to their reserves the rest of the time.
The success of works by Diego Rivera, especially his ink drawings, continued the next day at Christie's. Bidders disappointed at Sotheby's, when lively bidding took Hombre Con Pala (Man with Spade) up to USD35,000, three times its low estimate, had another chance at Christie's when a similar drawing, Cortador de Piedras (Stonecutter) from around 1930, went under the hammer. This much admired drawing, estimated at USD20,000-25,000, was finally knocked down for USD48,000. However, this was one of few exceptions to the rule. Of Christie's 157 lots only 20 reached their high estimates. Despite the enthusiasm for Rivera's ink drawings, the finest of his canvases offered in the three days of sales (with estimated prices of USD350,000-600,000) all went for less than their low estimates.