Phillips hammers second highest sales total in its history
Phillips hammers second highest sales total in its history
[17.11.2023]

In the wake of the major New York sales at Christie's and Sotheby's, Phillips' sales of Modern, 20th Century and Contemporary art generated a total of $155 million last Tuesday, (14 November), the second highest sales total in the company's art auction history. The first part of the sale offered Modern works from the prestigious collection of the Triton Foundation, generating $84.7 million, including $17.6 million for Fernand Léger's Le 14 juillet, and $14.7 million for Pablo Picasso's Femme en corset lisant un livre.

In the second part of the sale Phillips proposed one of Gerhard RICHTER's Abstraktes Bild (636) which fetched $34.8 million, better than the $32 million obtained at Sotheby's New York in November 2018, and once again demonstrating its sales strength compared with its competitors for very high-end works.

Another highlight came from the young British artist of Nigerian descent, Jadé FADOJUTIMI, whose work A Thistle Throb (2021) reached a new record at almost $1.7 million at Christie's last week. But Philips has just managed to raise her record to $1.9 million for a painting titled Quirk my mannerism (2021). This dazzlingly successful artist (her auction debut only dates back to 2020) is asserting herself all the more firmly in the upper echelons of the market with the support of the powerful Gagosian gallery since the summer of 2022.

 
Phillips, 14 November 2023
Lots sold: 96%
Sold by value: 98%
Best result: Abstraktes Bild (636) by Gerhard Richter for $34.8 million
New record: Jadé Fadojutimi at almost $2 million.
.
Focus on Fernand Léger, whose Le 14 juillet dominated the Modern session
There are few oil paintings by Fernand LÉGER on the market and the one offered by Phillips – Le 14 juillet (measuring 60 x 45.7 cm) – has a substantial bonus: a second painting on the back of the canvas which is an earlier work that was long believed lost. The main work on the front commemorates the storming of the Bastille (fortified prison in the heart of Paris) on 14 July 1789, which the French Republic celebrates as its founding date. Moreover, its period of execution – 1912/13 – makes it a work of remarkable importance, a testimony to Fernand Léger's profound contribution to the development of Cubism. Works from this period are the painter's most sought-after and most expensive on the market. The star work in Part I of the Phillips sale of works from the Triton Foundation, Le 14 juillet had all the qualities required to sell within its estimated range… which it did by fetching $17.6 million.
A good result for work by Amedeo Modigliani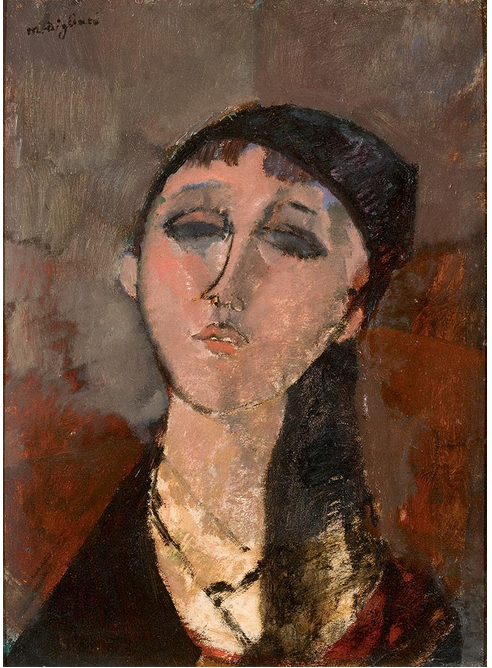 Another anticipated work, MODIGLIANI's Tête de jeune fille (Louise) (51 x 37 cm), had not been to auction for over 25 years: after reaching a little over a million in 1997 at Frasetti (Italy), Phillips managed to sell the work for $5.868 million, perfectly illustrating the overall progression of the artist's prices.
Painted in 1915 at a pivotal moment in Modigliani's career (when he returned to painting after a period devoted to sculpture), Tête de jeune fille (Louise) captures all the influences that eventually made his work so singular thereby illustrating the painter's stylistic development. We see the more stylized treatment of human features and the darker treatment of the eyes, which both became key characteristics in his future portraits.
The work will be included in the upcoming exhibition Modigliani: Modern Gazes organized by the Barberini Museum in Potsdam from 27 April 18 August 2024.
Among the other notable results from the Triton Collection sale there was an enhanced linocut from 1911 by Wassily KANDINSKY – Entwurf zu Komposition IV – that reached $889,000 despite its very small format (14 x 21 cm), and a drawing by Gino Severini triggered enthusiastic bidding up to $444,500 versus a high estimate of $120,000 (Mare = Ballerina, 1913, 64 x 46 cm). In a sale led by works that are particularly important in the history of some of the greatest Modern painters, Phillips can congratulate itself on a superb sold-through rate of 96% and an exceptional turnover total.