Recent trends ahead of the big November auctions of 2002
[23.10.2002]

 

Sommaire :Major impressionist and modern art auctions
They have never hit the million dollar mark
Growing popularity of the expressionists
Modern art takes centre stage
Are impressionists still the stuff of dreams?

Major impressionist and modern art auctions

Sotheby's and Christie's are holding two of the biggest auctions this year on 5-6 November (evenings) in New York featuring impressionist and modern art works. Within the space of only a few hours, wealthy collectors will snap up some of the finest works to come under the auctioneer's hammer. Usually, these two auctions account for 5-10% of the year's fine art turnover with the two auction houses offering only around a hundred lots between them. This year, the auctions will take place under much more favourable auspices than in 2001. In last year's poor economic climate Sotheby's posted fairly satisfactory results, selling 52 of the 57 lots on offer for a total USD 114 million. But Christie's results were more mixed. It sold only 13 of 46 lots for a turnover of just USD 88.4 million.

The signs point to a more classic sale in 2002. Prices have risen consistently over the last year. Artworks for sales are in short supply. If collectors turn out in force, many records are expected to fall.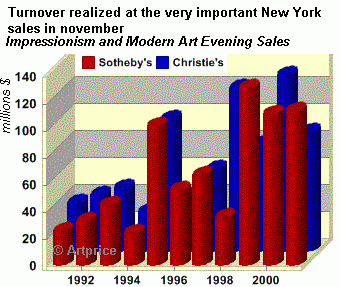 They have never hit the million dollar mark
Some works by artists riding a wave of popularity are expected to fetch very high prices. Works by Emile Othon FRIESZ (Attrib.) (at Sotheby's) and by Théo VAN RYSSELBERGHE (at Christie's) are estimated at over a million dollars, which, if reached, would be a first for either artist at auction. Sotheby's will be offering Le Port d'Anvers (1906), a work from Rysselberhe's best Fauvist period, and the estimate of USD 0.9-1.2 million reflects the doubling in price of Rysselberhe works since 1997. For enthusiasts of neo-impressionist artist Théo VAN RYSSELBERGHE, his painting, Voiliers sur l'Escaut (1892), to be auctioned at Sotheby's, is a fine example of the Belgian artist's perfect mastery of pointillism, acknowledged in soaring prices this year. Christie's expects Alexander ARCHIPENKO's Blue Dancer to attract a lot of attention. It is estimated to fetch USD 0.7-1 million—which would be an unprecedented record for any of the sculptor's works
Growing popularity of the expressionists
A portrait from the Cohen collection entitled Junges Mädchen mit den Grünen Augen (c.1910), by Alexej VON JAWLENSKY may fetch a high price for this artist. With a high estimate of USD 1.6 million, this painting comes up for sale barely a month after the artist set a record with Nude Half Figure, bought for USD 2.2 million when the Beck collection was auctioned at Sotheby's on 8 October 2002. This exceptional result should raise the price of the expressionist's works which has already risen 6% in the first half year. That said, only 41% of von Jawlensky's works put up for sale have found a buyer this year. next
Modern art takes centre stage
Among those represented at the two days of auctions, some modern artists are riding a particularly strong trend. With their price indexes on the rise, they have every chance of exceeding estimates which have been set at reasonable levels. Among them, Alberto GIACOMETTI, whose soaring price level (up by almost 80% since the beginning of the year) was confirmed by the success of the Paris auction on 28 September. Investors disappointed by the surprise interruption of the Giacometti inheritance auctions at the 24th lot, will relish Femme Debout, a bronze offered by Christie's with an estimated price tag of USD 1-1.5 million. One of the most eagerly awaited artists is Fernand LÉGER. His best work is still much in demand, and tends to overshadow his lesser canvases, leaving about half his paintings without a buyer. On the back of his recent record with Le Moteur on 6 November 2001, prices for his works have increased again. The current owner of this painting bid USD 15.2 million for it (it was estimated at USD 4-6 million). Enthusiasts can find Les Acrobates at Christie's, a painting from the same period, estimated at USD 6-8 million, higher than that for last year's record. In total, four of the artist's masterpieces will be on offer at these two auctions. There is also Sicile (Paysage en Sicile), a 1954 painting that could set a new record for Nicolas DE STAËL. Estimated at USD 1-1.5 million, it was painted the same year as the artist's priciest painting, Atelier Vert, which fetched USD 1.35 million on 15 November 2000. Giovanotto dai Capelli rossi, a very beautiful painting by Amedeo MODIGLIANI is up for auction at Sotheby's for USD 6-8 million at a time when the price for Modiglianis is soaring. Hopefully, this will be enough to spark the interest of investors. The painting was bought in last year, when it was offered with a low estimate of only USD 5 million. Also, it goes up alongside another of the artist's works, La Robe Noire (estimated at USD 9-12 million). Finally, another rare work, a superb painting by BALTHUS is to be auctioned at Sotheby's. No Balthus paintings have come under the hammer since the first Half 2000, when the artist posted a personal record for Nu au Bras Levés (USD 2.8 million). In the current climate of short supply and soaring prices, it is possible that l'Odalisque à la Mandoline (USD 2-3 million) could command a top price.
Are impressionists still the stuff of dreams?
Lot 66 at Sotheby's auction is one of the highlights of the evening: A Nymphéas by Claude MONET, estimated at USD 16-20 million. If the hammer comes down at the price paid in June for a similar painting in terms of size and estimate (almost USD 18 million) its current owner will suffer substantial losses. The owner paid USD 20.5 million (excluding costs) at Christie's London auction in November 1999. Moreover, enthusiasts will have the choice of a rather late painting on the same theme of bathing nymphs at Christie's the following day at USD 10-15 million. The sellers can only hope a recent upturn in the market for impressionists might yet make these Nymphéas profitable. Similarly, Bords de Seine à Bougival (USD 0.9-1.2 million) by Alfred SISLEY, on sale at Christie's, was bought for USD 600,000 by its present owner. At the time it had already been estimated at USD 0.9-1.2 million.
In price ranges as high as those reached by the impressionist stars, in the short term, artworks are safe haven investments rather than real investment niches.