Sotheby's: a week at $1.1 billion!
[23.11.2021]

Last Monday, a week after Christie's white glove sale of the Cox Collection (including a painting by Gustave Caillebotte at a record $53 million), Sotheby's offered part of the highly anticipated Macklowe Collection (generating $676 million!). The following day, the American auction house again made art news headlines with an extraordinary self-portrait by Frida Kahlo in its Modern Evening Auction (generating $282.8 million) before ending its week on 18 November with a superb Contemporary Evening Auction (taking $119.2 million) and the Now evening auction ($71,8 million).

The week's overall turnover total amounted to $1,1 billion.
Macklowe Collection: $676 million from 35 lots!
A huge success for Sotheby's: after guaranteeing all the lots in the Macklowe collection, Sotheby's posted its best-ever total for an evening sale.
The Macklowe Collection brought together masterpieces by the greatest names in Contemporary art. The first installment of this long-awaited dispersion (35 of the 65 pieces in the collection) generated no less than $676 million on 15 November. All 35 pieces found buyers, with four works fetching over $50 million (with Asian collectors playing a particularly active role).
This exceptional sale followed the divorce in 2018 of real estate developer Harry Macklowe and his wife Linda Burg, Honorary Administrator at New York's Metropolitan Museum. As the former couple were unable to agree on the value of their incredible collection, the courts imposed a sale.
Four works sold for over $50 million, including a new record for Jackson Pollock.
Four works from the Macklowe Collection fetched over $50 million each. The most expensive of the four was a painting (N ° 7) by the American Abstract Expressionist, Mark ROTHKO that sold for $82.4 million. Not far behind (in price terms) was Alberto GIACOMETTI's sculpture Le Nez which fetched $78.4 million. This enigmatic work by Giacometti is an impressive suspended bronze, of which there are two painted plaster copies and six bronzes. The two most expensive works of the evening were acquired by Asian collectors bidding remotely.
A new record was hammered for the American Abstract Expressionist Jackson POLLOCK when his Number 17 (1951) beat his previous auction peak of $58.4 million (at Christie's eight years ago) fetching over $61 million. The fourth work to cross the $50 million threshold during the same evening sale was a monumental canvas by Cy TWOMBLY that became the Abstract painter's third best-ever auction result at $58.8 million.
A series of nine black and white faces of Marylin Monroe by Andy WARHOL (Nine Marylins, 1962) sold for $47.3 million, while his Sixteen Jackies, a scaled-down portrait of Jackie Kennedy, found a buyer at $33.8 million.
Considered the most expensive collection ever to be auctioned, the Macklowe Collection does not stop at the 35 lots dispersed on 15 November. In the spring of 2022, Sotheby's will be auctioning an additional thirty works. If the market holds up until then, the 65 lots could beat the record total for a private collection, namely that hammered for the Peggy and David Rockefeller Collection that Christie's sold in 2018 for $835 million.
A brand new record for Frida Kahlo
Hammered down within its estimated range at just under $35 million, Frida KAHLO's magnificent Diego y yo set an impressive new auction record for the Mexican painter. The price fetched for his small self-portrait illustrates the powerful revaluation that has gripped Kahlo's work; her previous auction record was just $8 million for her Dos desnudos en el bosque (La tierra misma) at Christie's on 5 December 2016.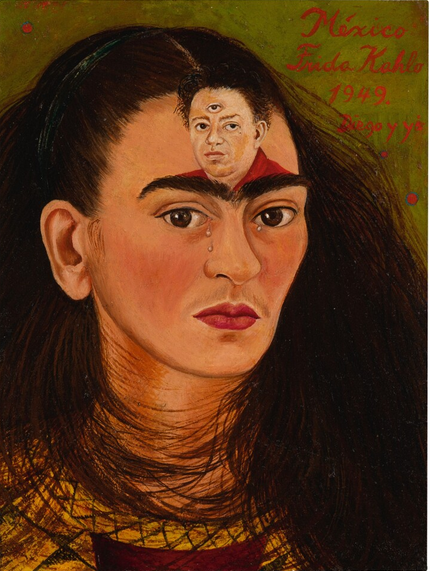 Between 2016 and 2021, Frida Kahlo's auction record has added $27 million!
Diego y yo is a magnetic self-portrait that focuses on the artist's relationship with Diego Rivera: Frida makes her dear Diego's name appear on the canvas before hers and alludes to herself simply as "I". She painted Diego's face on her own forehead providing it with a third eye. Diego dominates her face, as he does her name.
Both during her lifetime and after her death, Frida's work remained less valued than that of her protector and mentor. But the sale of this self-portrait has now completely turned the tide. No work by Diego RIVERA has yet reached the $10 million threshold whereas Frida's 30 x 22 cm canvas shows has just fetched $34.883 million, illustrating the market's passion for her work as well as for the character she embodied.