Sotheby's to host the 'sale of the year': the Landau Collection
Sotheby's to host the 'sale of the year': the Landau Collection
[22.09.2023]

Two years ago, in November 2021, Sotheby's recorded its best-ever auction total of $676 million at an evening sale of masterpieces from the Macklowe Collection, which attracted a strong participation of Asian collectors wishing to acquire leading American works.

The following year, in 2022, Christie's excelled with extraordinary results from its sale of works from the Paul G. Allen collection, which alone brought in $1.62 billion, including five unprecedented results above the $100 million threshold, all of which were new auction records for Seurat, Cézanne, Van Gogh, Gauguin and Klimt.

This year, it is perfectly clear that we will not reach the historic result obtained in 2022 and there will be no sales posting totals above the billion-dollar threshold in 2023. Nevertheless, on 8 and 9 November, Sotheby's will be offering a leading collection put together by Emily Fisher Landau, with an estimated value at between $400 and 500 million. Sotheby's has therefore won its standoff with Christie's, which was also trying to obtain the sale of the remarkable collection of around 120 works collected by the wealthy New York patron Emily Fisher Landau, administrator of the Whitney Museum of American Art, who died last March at the age of 102.
A Picasso expected to fetch over $100 million
The flagship lot of the Fischer Landau collection is a remarkable Pablo PICASSO painting expected to fetch around $120 million. The canvas, purchased in 1968 at the Pace gallery, represents one of the companions and muses of the Spanish artist, Marie-Thérèse Walter, in 1932. And… 1932 is a key year in the life and production of Picasso, a year so important that in 2018 the Tate Modern in London dedicated an entire exhibition to it.
Among the five works by Picasso that have already exceeded the 100 million mark at auction, two are dated from this famous year: Nude, Green Leaves and Bust, sold for $106.5 million in 2010 at Christie's (former Brody collection) and Nude, Green Leaves and Bust sold for $103.4 million in 2021, also at Christie's. If the painting offered in November reaches its estimated price – $120 million – it will become the second best-selling Picasso painting in auction history.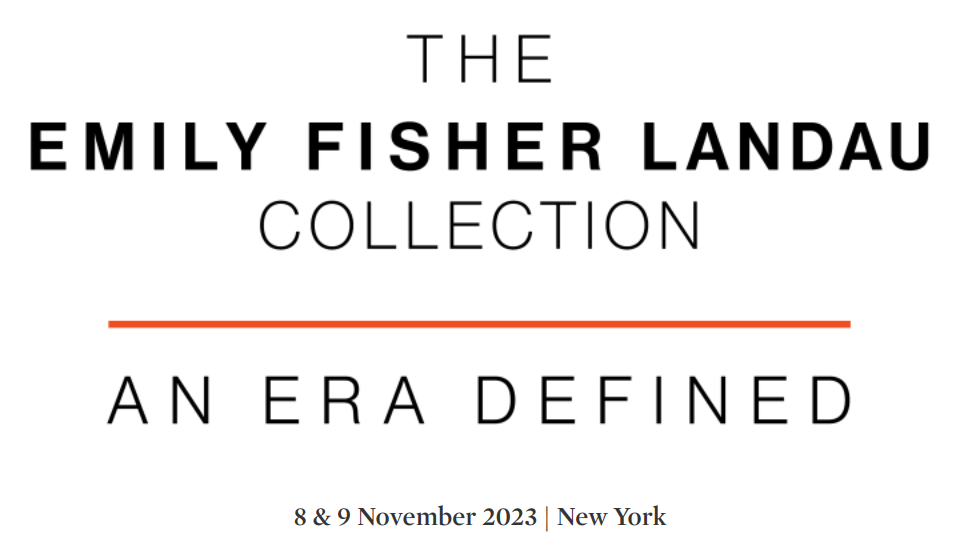 From the great Moderns to the leading figures of Contemporary art
Emily Fisher Landau began her collection by purchasing the main signatures of Modern art – Picasso, Léger, Mondrian among others – and subsequently diversified her acquisitions over time, becoming especially interested in the great American artists of the second half of the 20th century to the present day. The Sotheby's dispersal includes works by Jasper Johns, Willem de Kooning, Mark Rothko, Andy Warhol and Georgia O'Keeffe, as well as by Contemporaries like Nan Goldin, Mark Tansey and Ed Ruscha, with whom she was close. A Flag painting by Jasper JOHNS should sell for between $35 and 45 million and enter the artist's Top 3 auction results. A camouflage self-portrait by Andy WARHOL is estimated at between $15 and 20 million, while Georgia O'KEEFFE's Pink Tulip (1925) could sell for between $3 and 5 million.
In any case, the Landau Collection sale is likely to give the market an impetus that was lacking during the first half of 2023…