Testing times for photography
[15.10.2003]

 

While few segments of the art market have escaped the current depression some are being especially hard hit. This is particularly true of photography. After riding the speculative wave of 1997-2001, prices have crashed since the start of the year. The crisis is all the more striking as it comes straight after a boom in the sector.

Turnover was still holding up in the first half of 2003, thanks to some exceptional sales and a few records, such as the GBP 460,000 paid for a daguerreotype by JP Girault de Prangey on 20 May 2003 at Sotheby's London. But the number of prints sold at auction was down by more than half on the first season 2001. Behind this lay a sharp decline in supply and a rise in no-sales. The bought-in ratio rose to 47% in the second half of 2002! While paintings broadly-speaking held their value between January and October 2003, the price of photographs fell by 35%. That said, the slump did not affect all fields of photography.

Photography Price Growth
(December 1997 – July 2003)Base 100 in December 1997, currency: EUR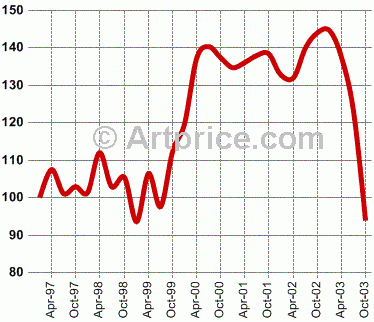 The segments that have done badly are those that led the 1999-2001 boom, namely vintage and contemporary photography. Both these vogue areas have achieved astonishing levels of growth over the last two years. Hammer prices for vintage photographs grew by an annual average of 16.7% in 1998-2002, then, after a speculative burst in the spring the supply of high-quality lots dried up taking the top off the market. Prices have dropped by 70% since January 2003 and as collectors have become ever more selective, high bought-in rates have become common. Nearly 54% of lots failed to find a buyer at the break-up of the Paul Benarroche collection on 10 October 2003 at Tajan. But, results were much better at the rival auction the same day at Beaussant-Lefèvre, mainly comprising prints from the personal collection of the Varin brothers. Only a third of lots were bought in and some such as Bombardement de Palerme – "Grande rue de Tolède" (EUR 7,200) went for five times their estimates.
In the contemporary market, German and American photographers no longer command the same appeal. Prices rose early in the year but, by October, had fallen back to their January levels. Some former stars were completely abandoned by bidders (see ArtMarketInsight du 4 August 2003). The contemporary photography market has not yet stood the test of time and remains deeply vulnerable to the vagaries of the market and the fickle tastes of young collectors. Prices for contemporary art remain very volatile. Phenomenal gains can be had. But the risks of losing money are equally high.
In contrast, our modern photography figures tell a more bullish story. Prices have been incredibly stable over the last five years and the moderns have often seemed the poor relations of the photography world. Their price level has only been disturbed by a few cases of forgery, particularly involving works by Man Ray (see ArtMarketInsight of 7 August 2002). Having been bypassed in the speculative boom, these works now offer potential upside, particularly when their origin puts their authenticity beyond question. Collectors are well aware of this and show up in droves for the big occasions, such as the break-up of prints at the Breton sale, when photographs steeped in history often sold for ten times their high estimates. So, despite the unfavourable market climate, modern photographs rose 35% in price between January and October 2003. More good news — the segment is also the deepest in the market, representing 65% of all photographs sold.
In October and November photography collectors have a vast range of prints to choose from thanks to the host of specialist photography auctions and to Paris Photo, which runs from 13 to 16 November. In the current climate, they must be more vigilant than ever. Prices for the work of artists such as Edward Henry WESTON, Walker EVANS, Anna HALLIN and MAN RAY have risen vertiginously this year, but the great names have seen sharp declines. Among them, Berenice ABBOTT, Irving PENN and Manuel ÁLVAREZ BRAVO, whose index rocketed after his death in 2002.