The Huge Success of Jonas Wood
[18.08.2020]

One of the most influential and exciting artists of our time. (Dallas Museum of Art)

.

There's no respite for Jonas WOOD's market. Even in the middle of summer his work remains highly visible and in substantial demand. In the United States, England, Japan, South Korea, Germany, Italy, Hong Kong… the artist's works are included in international sales catalogs almost everywhere, and collectors in Asia, Europe and the United States are snapping up his works in all media, from lithographs for a few hundred dollars, to major works worth millions.

In the month of July 2020 alone, two works crossed the million-dollar threshold:
Shio with Two Dogs (2014): sold for $1.26 million at Sotheby's on 07/09/2020.
M.S.F. Fish Pot #7 (2016): sold for $ 1.7 million during Christie's "One: A Global Sale of the 20th Century" sale on 07/10/2020.
Both results were hammered in Hong Kong, i.e. where everything really started for Wood's secondary market. Five years ago, the young Californian artist was offered an exhibition in the Hong Kong branch of the powerful Gagosian gallery. Supported by the art world mammoth, his auction record multiplied by 10 at Sotheby's London when his Studio hallway (2010) sold for more than $556,000 on 10 February 2015. A few months later, it was Christie's turn to hammer a new high at nearly $840,000 on 16 October 2015 in London, once again well above the high estimate. The piece sold was Untitled (MV Landscape), a large canvas nearly four metres wide that was shown at the Saatchi gallery in London during the exhibition Abstract America: New Painting and Sculpture, in 2009.
Attention from museums has raised demand.
Exhibitions – Wood's market accelerated thereafter, fuelled by a constant flow of works: 92 lots were sold around the world in 2019. In the meantime, the artist put on a number of high-quality, impactful exhibitions which included participations in group exhibitions like Human Interest: Portraits from the Whitney's Collection at the Whitney Museum in New York (2016) and One Day at a Time: Manny Farber and Termite Art at the Los Angeles MOCA. He also benefited from a first major museum retrospective in 2019 at the Dallas Museum of Art (DMA), which presented him as "one of the most influential and fascinating artists of our time". Indeed, the attention Wood has received from institutions has driven up demand and allowed higher prices. And those prices could rise further as his reputation increases within the circles of international cultural institutions.
Market Position – Unknown to auction catalogs 10 years ago, Wood is today ranked among the 100 most successful artists in the world (all eras and categories of creation combined) based on his annual auction turnover. In fact his auction history really only started five years ago when he instantly became an Art Market phenomenon. All the lots proposed in 2015 found buyers, a total of 33 works. Likewise in 2016! His success perfectly illustrates the 'globalization of demand'.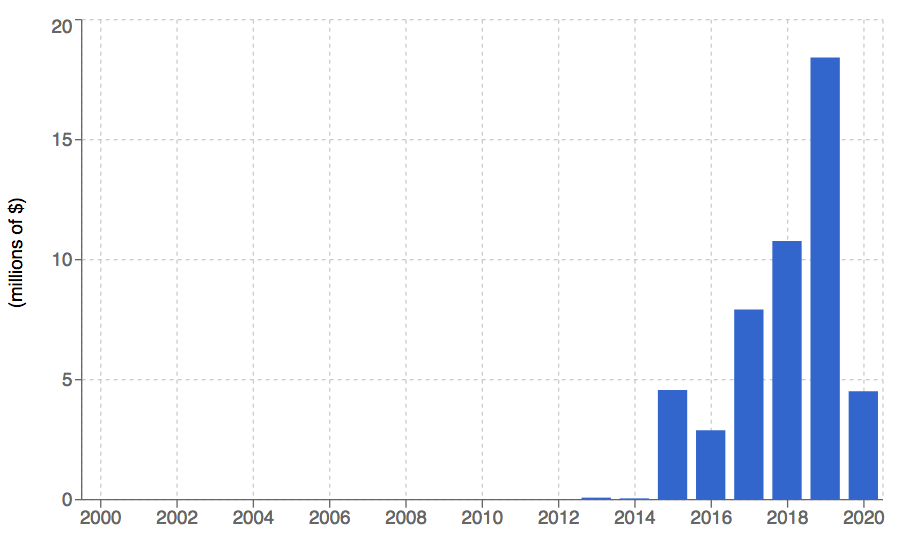 Jonas Wood. Turnover: chronological progression at auction (copyright Artprice.com).

.
An optimistic oeuvre with multiple references
Lots of light, vivid colors, clean shapes, graphics, rich and decorative compositions, a pronounced taste for motifs … Wood's works are 'delicious to the eyes' and have those Californian accents that are so prominent in the work of David Hockney. In fact, Hockney is an artist Wood admires a lot, particularly for his capacity to 'revive life' on the canvas, in an immense inventive way. "Hockney was a huge influence on me," says Wood. "But I love Picasso and Braque and Matisse and Vuillard….", all artists he deliberately references in his works… direct tributes. His figuration also borrows from the saturated colours of 60s pop art and the "flat" aesthetic of illustration.
"I love Picasso and Braque and Matisse and Vuillard".
Another important iconographic reference in his work comes from Japanese-origin ceramicist Shio KUSAKA with whom Wood shares his studio and indeed his life. Shio Kusaka's vases often appear in his paintings and the two artists sometimes exhibit together. The ceramist is famous. Her work has been shown around the world and she is supported by Blum & Poe, and, like her husband, by the Gagosian Gallery. Several of her prints have been acquired by the MoMA.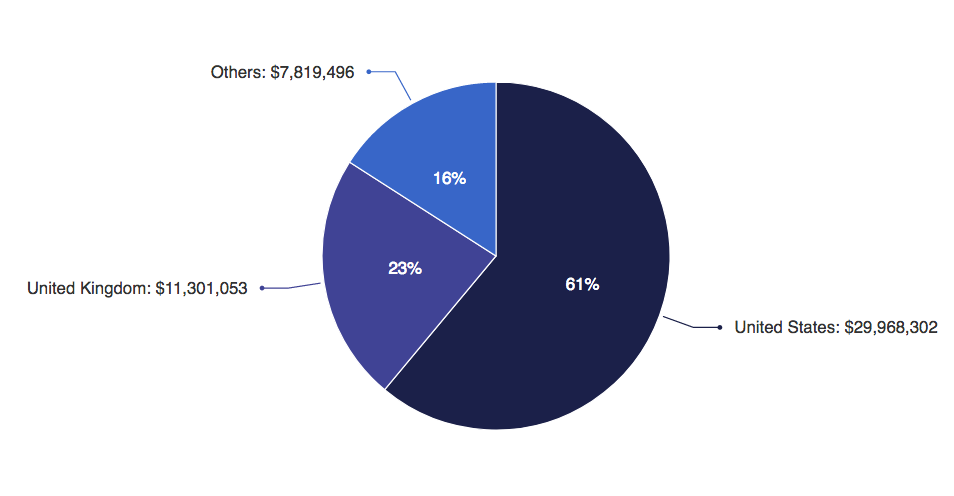 Jonas Wood. Geographical turnover (copyright Artprice.com).
Key dates in Jonas Wood's career:
2003: Installation in Los Angeles with his partner Shio Kusaka. Kusaka finds a job in the studio of sculptor Charles Ray and Wood in that of Laura Owens.
2010: Solo exhibition at the Hammer Museum, Los Angeles.
2015: Exhibition at the Gagosian Hong Kong
2017: Creation of a huge fresco on the facade of the Los Angeles Museum of Contemporary Art, based on a work first exhibited in 2015 at the Gagosian Hong Kong (Still Life with Two Owls)
2019: Exhibition at the Gagosian New York