The new MoMA: bigger… more rotation… and greater diversification
[29.10.2019]

One of the world's most important artistic institutions, the MoMA, came into being at the end of the 1920s after a small group of rich New York benefactors, the famous Daring Ladies (Lillie Bliss, Mary Quinn Sullivan and Abby Aldrich Rockefeller), made an initial gift of eight prints and a drawing… almost nothing. Nevertheless that initial donation was inspired by a progressivist reaction against the highly conservative raison d'être of museums at that time. One of the primary goals of the prestigious museum's latest renovation has been to revive its original 'reformist' spirit. Although the 'new' MoMA has raised its entrance prices, it clearly hopes to be more accessible to the public with an extension allowing visitors to enter a number of street level galleries free of charge, and currently hosting six installations by Yoko ONO.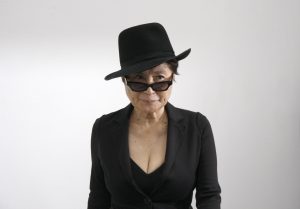 Yoko Ono
The MoMA – which had three different addresses before moving to the heart of Manhattan in 1939 – reopens this week after work (at a cost of $450 million) designed by Diller Scofidio + Renfro / Gensler. The 2019 version of the prestigious institution adds 40,000 square feet to its previous surface, an additional space that will mainly be used to show more of the museum's permanent collection (more than 200,000 artworks, all media combined). Before the renovation, the museum exhibited around 1,500 works on average. Now the museum plans to present nearly 2,500 works permanently, which should attract more visitors (more than two million a year) and may well stimulate the market as well. In addition, the museum plans to rotate a third of the exhibited works every six months, giving air to lots of works that are usually kept in an overcrowded storage space.
Another important decision… the museum has decided to take liberties with the chronological presentation and introduce a more theme-based approach in the framework of a new policy that aims to promote a healthy diversification of genres and origins. The new 'transversality' will allow, for example, Pablo Picasso's Demoiselles d'Avignon to be hung next to a large canvas by American artist Faith RINGGOLD. Within this dynamic, the opening exhibitions will propose The Legends of Black Girl's Window of Betye SAAR and a focus on performances by William POPE.L. There will also be a solo show – Handles – by Korean artist Haegue YANG, whose market is accelerating rapidly (recent auction high of over $57,000 at Sotheby's Hong Kong for « Novice Clown – Manganese Carbonate »).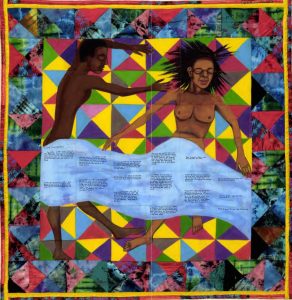 Faith Ringgold (1930).  Sleeping: Lover's Quilt #2
An institutional leader on African art
The museum's diversification involves acquisitions of course, but also private donations, sometimes very substantial. One of the biggest recent donations – to the tune of $100 million – came from music /movie mogul David Geffen. There was also a major injection from the Rockefeller family– no doubt in memory of their grandmother's involvement in the museum's creation – after the historic sale of the David and Peggy Rockefeller Collection in May 2018 at Christie's NY, which generated $832 million.
In addition, donations of artwork play an essential role in collection diversification. The donation made by collector Jean Pigozzi earlier this year should have a strong impact on museum audiences' knowledge and perception of Contemporary African creation. Jean Pigozzi donated 45 Sub-Saharan Contemporary artworks to the MoMA, making the New York museum a unique institutional leader in the segment. According to the museum's director, Glenn D. Lowry, "this donation will play a very important role in the reorganization of the MoMA's permanent collection" and "will have a real impact on the MoMA's exhibition programs". For his part, Jean Pigozzi said he was "proud" and hopes that his gift "will open the eyes of millions of art lovers to an important area of creativity that deserves greater attention." The donation includes works by some of Africa's most famous artists including Romuald Hazoumé, Bodys Isek Kingelez, Moké, Chéri Samba, photographer Seydou Keïta, Ambroise Ngaimoko and Frédéric Bruly Bouabré.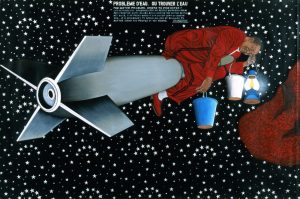 Chéri Samba (1956). Water Problem, 2004. The Museum of Modern Art, New York. CAAC-The Pigozzi Collection. Photo courtesy CAAC – The Pigozzi Collection
In 2018 Jean Pigozzi provided support for the MoMA in the framework of the first American retrospective dedicated to the Congolese sculptor Bodys Isek Kingelez (Bodys Isek Kingelez: City Dreams, 26 May 2018 – 1 January 2019). Not surprisingly, the retrospective, in such a prestigious museum, had an immediate impact on the artist's prices and Artcurial in Paris hammered a new record ($81,000) for a work by Kingelez titled Pacific Art (1989) during the show's last days (30 December 2018). Pigozzi's latest donation may well have an inflationary effect on the prices of works by sub-Saharan artists which are already attracting growing interest from international collectors. Spotlights by major museums almost always have a virtuous impact on demand… and growth in demand means higher prices.