The photography market's top sales… from Paris to New York
[22.11.2019]

Every November Paris hosts a multitude of special events dedicated to photography. This year the core fair, Paris Photo, was accompanied by numerous "off" fairs and auction sales, as well as a whole series of special exhibitions at Parisian cultural institutions. The result was a rich and highly diverse program attracting a record number of visitors, and confirming the French capital's leading role in the photography market… even if New York posts much higher turnover at its specialised photography sales.
Genuine market enthusiasm
Paris Photo is a meeting point for all photography professionals and artists and it remains the only event offering such a complete and diverse panorama of the market… from the medium's timeless classics to a whole range of highly singular and unusual works. The 23rd edition of the fair ended on Sunday 10 November with a new attendance record: more than 70,000 people visited the fair's stands under the glass roof of the Grand Palais over four days. The world's biggest event showcasing 'old' and 'contemporary' photography, Paris Photo hosted 213 exhibitors including 33 publishers from 31 countries (29% French and 19% Americans, the market's two leading nationalities). The debut participation of no less than 38 galleries also proved that Paris Photo has maintained its attractiveness and, indeed, is constantly renewing its appeal.
World : Top 10 artworks sold in 2019*

Rank
Artist
Artwork
Hammer Price
Date
Sale
1
Helmut NEWTON

Sie Kommen (1981)
$1,820,000
04/04/2019
Phillips, NewYork
2
El LISSITZKY

Self-Portrait (1924)
$1,246,570
06/03/2019
Christie's, Londres
3
GILBERT & GEORGE

Bugger (1977)
$1,009,120
26/06/2019
Sotheby's, Londres
4
Cindy SHERMAN

Untitled Film Still #21 (1978)
$808,370
05/03/2019
Sotheby's, Londres
5
Edward Henry WESTON

Circus Tent (1924)
$788,000
04/04/2019
Phillips, NewYork
6
Tina MODOTTI

Telephone Wires, Mexico (1925)
$692,000
04/04/2019
Phillips, NewYork
7
Edward Henry WESTON

Shell (Nautilus) (1927)
$678,060
06/03/2019
Christie's, Londres
8
Andreas GURSKY

May Day V (2006)
$650,400
07/03/2019
Phillips, Londres
9
Richard AVEDON

Dovima with Elephants (1955)
$615,000
02/04/2019
Christie's, NewYork
10
Thomas STRUTH
Mailänder Dom (1998)
$551,700
06/03/2019
Christie's, Londres
©2019 artprice.com
* from January 1 to November 12, 2019
By the end of the fair, the overall feedback was very positive. Lots of galleries indicated the presence of new collectors who had never attended the fair before. There were 'significant' sales in all five sectors of the fair… the 'Main' sector, Publishing, Films, PRISMES and Curiosa (the latter dedicated to the emerging scene under the curatorial guidance of Osei Bonsu, recently appointed Curator of International Art at the Tate Modern). More than 60% of the acquisitions were made by international institutions and museums and lots of galleries said it was their most profitable Paris Photo. The New York Pace/McGill gallery, for example, said it was their best opening, having sold works by all of their featured artists, including Richard AVEDON (responsible for the best Fine Art photography results in the France this year. cf graph) and a photo by Robert FRANK at more than $137,000 (the recently deceased photographer was the subject of numerous tributes during the fair). Of the 29 solo shows, the Gagosian and the 1900-2000 galleries focused on MAN RAY illustrating the growing interest of Contemporary galleries for the medium's 'historic' artists. Indeed, their museum-quality selections contributed to the success of this edition.
Focus on budding collectors…
At the carrousel du Louvre, the Fotofever fair provided another perfect opportunity for fans of contemporary photography to commence collections, offering a selection of works under €1,000 and a special Start to Collect initiative featuring a 'home placement simulator'. The 8th edition of this international contemporary photography fair hosted a hundred galleries mainly from Europe, as well as galleries from South Korea (the Mug gallery), China (24p Studio) and Mexico (Flux Zone). There was a special focus on French photography to celebrate the 180th anniversary of the invention of photography in France and – for the second year running – a 40-booth "La Ruche" section was organised in order to allow young galleries first-time access to a Contemporary Art fair and to accompany and support young artists. Fotofever is also the first contemporary art fair to achieve a perfect gender parity goal (with 50% of the artists represented being female), reflecting the growing number of women among the younger generation of photographers.
During the fair's four days, the programme In Paris during Paris Photo listed a selection of exhibitions in the capital, including Carte Blanche for Hassan Hajjaj at the Maison Européenne de la photo, the Photographic Infamies of Sigmar POLKE at Le Bal, an exhibition of work by Sebastiao SALGADO entitled Déclarations at the Musée de l'Homme and a show of work by Denis BRIHAT at the BnF titled Photographies: de la nature des choses.
Sold!
Naturellement, Parisian auction houses held a series of photography sales during the capital's artistic and commercial focus on the medium. First off, Christie's – just a few days before the launch of Paris Photo – offered 150 iconic images, including one of the first ten prints of Richard Avedon's legendary black and white portrait of Marilyn Monroe, actress, New York city, 6 mai 1957. The photo fetched a record price of $383,000 beating the artist's best French auction result of $293,700 for the large-format Dovima with Elephants, Evening Dress by Dior, Cirque d'Hiver, Paris at Christie's. The value of Irving PENN's famous Bee photo also rose (model Estella Warren pictured with a bee on her mouth), doubling its high estimate to reach $125,700, and Constantin Brancusi's Le Coq, La Muse Endormie from the artist's studio quadrupled its low estimate, reaching $207,590. Christie's sale, which also contained a number of fashion photos now considered iconic, generated $3.1 million, a total that clearly reflects growing interest in the photography medium.
Sotheby's Parisian sale (106 lots) on November 8 would have been a huge success had it not been marred by two substantial failures: Cindy Sherman's Untitled Film Still #16 featured on the catalogue cover and estimated $331,100 – $552,000, and a superb daguerreotype of Cathédrale Notre-Dame De Paris by Vincent Chevalier. On the other hand, the majority of the works estimated below $10,000 far exceeded expectations, such as Liu Bolin's "Construct Harmonious Society Together (Hiding In the City No.50)" which fetched over $17,000, four times its low estimate. A number of other works above that price threshold sold within their estimated ranges including Richard Avedon's double portrait of Francis Bacon, Artist, Paris (which reached $41,300), Irving Penn's Poppy: Showgirl, New York and Peter Lindbergh's portrait of model Linda Evangelista, Paris. Two photos, one by Thomas STRUTH and the other by Cindy SHERMAN reached 6-digit results (>$100,000) that count among the Top 10 auction results for photographs so far this year.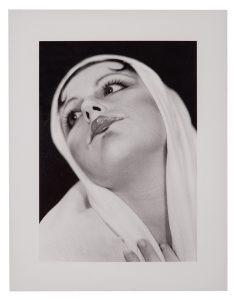 Cindy Sherman, Ohne titel (Madonna) (1955/77)
Paris – New York
The global photography market has contracted in recent years. In 2014, the segment generated a global turnover of $220 million compared with just $135 million in 2018. However, while the fall in turnover may look severe, it doesn't appear to reflect a decline in collector interest. In fact, the figures suggest that more and more people are buying photography with 2018 posting a record number of transactions (more than 17,000). So far this year, a little over 13,000 photographs have sold publicly (generating just over $100 million), so this year's figures are unlikely to be so good… However the market has not yet closed as Christie's has scheduled an exceptional sale in New York (December 10) that will offer over 100 photographs by the great Ansel ADAMS (Adams and the American West: Photographs from the Center for Creative Photography) and could well add a million dollars to the global total.
In fact, New York's share in the art photography market is likely to grow in the future with the first edition of Paris photo scheduled for April 2020. The ambition is to reach American galleries and collectors who do not travel to Paris. According to the Director of Paris Photo Florence Bourgeois, the New York outlet could strengthen the dominant position of its parent company in Europe and give Paris a stronger lead over the UK fair, Photo London. However, for the time being, New York and London are still generating the best auction results on the segment, although Paris remains a reference in the sector.
France : Top 10 artworks sold in 2019*

 Rank
Artist
Artwork
Hammer Price
Date
Sale
1
Richard AVEDON
Marilyn Monroe (1957)
$383,100
05/11/2019
Christie's, Paris
2
Richard AVEDON

Dovima with Elephants (1955)
$293,761
19/06/2019
Christie's, Paris
3
Andy WARHOL

Statue of Liberty (1976-1986)
$238,260
19/06/2019
Christie's, Paris
4
Herb RITTS

Stephanie, Cindy, Christy, Tatjana, Naomi (1989)
$224,200
19/06/2019
Christie's, Paris
5
Irving PENN

Harlequin Dress (1950)
$224,200
19/06/2019
Christie's, Paris
6
Peter LINDBERGH

Cindy Crawford, Tatjana Patitz, Helena Christensen… (1991)
$210,200
19/06/2019
Christie's, Paris
7
Constantin BRANCUSI

Le Coq, La Muse Endormie (1924)
$207,590
05/11/2019
Christie's, Paris
8
Irving PENN

Woman in Moroccan (1951)
$196,200
19/06/2019
Christie's, Paris
9
Helmut NEWTON

Sie Kommen (1981)
$196,200
19/06/2019
Christie's, Paris
10
Herb RITTS

Versace Dress (1990)
$154,200
19/06/2019
Christie's, Paris
©2019 artprice.com
United States : Top 10 artworks sold in 2019*

 Rank
Artist
Artwork
Hammer Price
Date
Sale
1
Helmut NEWTON

Sie Kommen (1981)
$1,820,000
04/04/2019
Phillips, New York
2
Edward Henry WESTON

Circus Tent (1924)
$788 000 $
04/04/2019
Phillips, New York
3
Tina MODOTTI

Telephone Wires, Mexico (1925)
$692 000 $
04/04/2019
Phillips, New York
4
Richard AVEDON

Dovima with Elephants (1955)
$615 000 $
02/04/2019
Christie's, New York
5
Edward STEICHEN

Heavy Roses (1914)
$524 000 $
04/04/2019
Phillips, New York
6
Barbara KRUGER

Untitled  (1999)
$519 000 $
16/05/2019
Christie's, New York
7
El LISSITZKY

Pelikan Tinte (1924)
$462 500 $
05/04/2019
Sotheby's, New York
8
Margaret BOURKE-WHITE

"Flood Refugees, Louisville, Kentucky"(1937)
$400,000
04/04/2019
Phillips, New York
9
Helmut NEWTON

Panoramic Nude (1989)
$399,000
02/10/2019
Christie's, New York
10
Andreas GURSKY

May Day II
$399,000
16/05/2019
Christie's, New York
©2019 artprice.com
* from January 1 to November 12, 2019