The relationship between Chinese artists and Western culture
[24.12.2019]

After World War I, China implemented a major program of sending young talents to the other end of the world… and, very often, to the other end of the silk road, with the objective of 'acquiring new knowledge'. The arts were just one of the many disciplines that these talented young Chinese students came to study. Initially scattered in various major European cities, mainly in France, the artists quickly understood that Paris was the place to be…

Son of a painter, XU Beihong studied traditional painting in Shanghai. He moved to Tokyo for a while and then briefly taught in Beijing, before leaving for France in 1919, where he trained in drawing and Western painting. Back in China, in 1927, he taught in several schools until reaching the prestigious post of President of the Central Academy of Fine Arts in Beijing. However, the influence of the great masters of Western painting remained very present in his work, notably that of Rubens and Delacroix, whose work he probably admired during his long stay in Paris.

The fate of PAN Yuliang was both very close and yet very different from that of Xu Beihong. An orphan, she was sold when she was only thirteen to a brothel, but she was bought five years later by a rich civil servant who fell in love with her. After that she was admitted to the Shanghai's School of Fine Art and she subsequently enrolled in the European exchange program and went to France in 1921. At first, she joined the Sino-French Institute in Lyon, then went to the Beaux-Arts in Paris where she met Xu Beihong. Pān Yuliang's drawings were noticed very quickly and she was awarded the prestigious Prix de Rome. In 1929, she returned to China but her depictions of female nudes received such a mixed reception that she eventually returned to France in 1936.

Like her, SAN Yu was successful in Europe and, like her, he was very happy in France, especially in Paris. Arriving in the French capital in 1919, he lived there until his death in 1966. It took Asian collectors many years to appreciate the full poetry and languid line of his inks. Today – as with many of the first generation of Chinese painters who came to study in France – his best works can fetch between $10 and 35 million in Asia.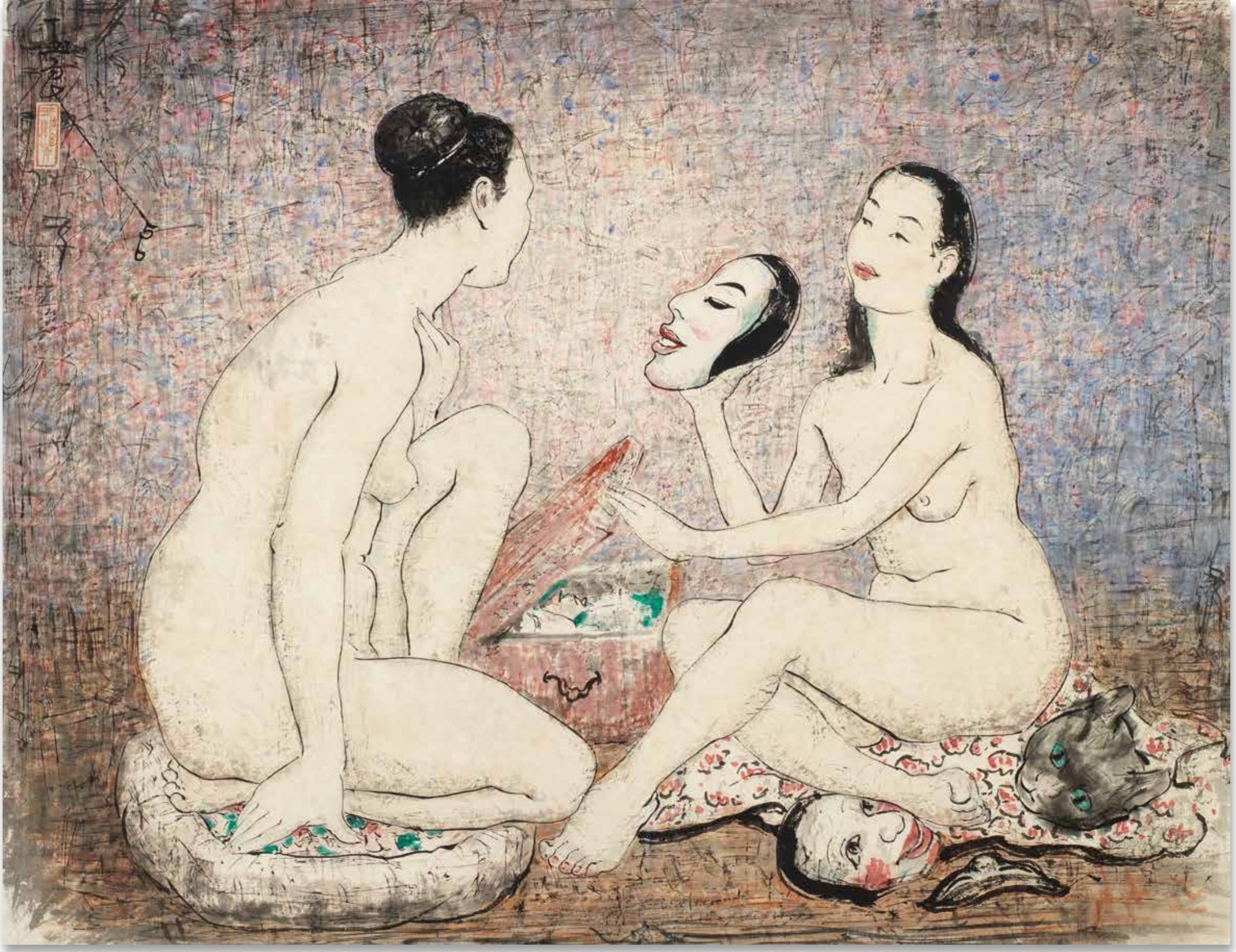 Pan Yuliang, Nudes and masks (1956)
LIN Fengmian also studied in Europe (1919 to 1925). After spending time in Dijon, Paris and Berlin, he returned to China to teach at the Beijing Central Academy before founding a new art school in Hangzhou, which would become the famous Chinese Academy of Arts. Along with Fang Ganmin and Yan Wenliang, who also visited Europe, they educated a new generation of artists, including Chu Teh-Chun, Wu Guanzhong and Zao Wou-Ki, to whom they certainly imparted a desire to discover a completely different approach to art in Europe. At the time, this distant continent – and Paris in particular – was at the center of a formidable artistic revolution and an effervescence that would probably have survived much longer but for World War II.
Long neglected by Asian collectors, the work of ZAO Wou-Ki was rediscovered in China around 1983. Today, he is the most emblematic of the Chinese artists who came to study in France. A perfect synthesis of two conceptions of the world, two conceptions of art, his work has a singular and universal quality, and, as the art market has become increasingly globalized, his works have acquired enormous value. Since his death in 2013 and with the rapid emergence of Hong Kong's as one of the planet's key art marketplaces, Wou-Ki's prices have soared. He is now the top-selling Chinese artist on the global secondary market, ahead of Zhang Daqian himself. For the first semester of 2019, only Claude Monet and Pablo Picasso generated higher auction turnover totals.
Exchanges between China and the West continue
The first two waves of Chinese artists into Europe and the United States had a decisive impact on the development of the arts in China. Sometimes direct, as with Zao Wou-Ki's influence on Wang Yancheng, there was also an indirect effect via the introduction of Western techniques (above all oil painting) into China's Fine Arts. At the same time, Chinese artists have continued to study in the West and the West has continued to inspire them with new ideas. For example, Zhang Dali was particularly impressed by graffiti during a stay in Italy around 1990. He returned to live in China, but other visual artists, like YAN Pei-Ming, who arrived in Dijon in 1980, continue to live in the West. Initially known for his portraits of Mao. Pei-Ming says he started his career "making propaganda for Mao, and then the image of Mao made propaganda for me!"… He's right… his Mao paintings enjoyed a major price increase during the sharp growth of the Chinese Contemporary art market in the early 2000s. Moving away from Mao portraits towards other themes, Yan Pei-Ming has become an internationally recognized Contemporary artist. His latest results illustrate the globalization of his market: the United States, China and France each generate a quarter of his total annual auction turnover (since January 2018).
Nowadays the history of Western art is taught in China's principal art academies and the country's Contemporary artists are very familiar with all the movements that have shaped Western art over the past two centuries. There can be no doubt for example that ZENG Fanzhi and YUE Minjun – two "stars" of Made in China art – were deeply marked by the Expressionist movement, although they never studied in the West. Today, lots of young Chinese artists are working with a variety of techniques and subjects from various sources and cultures. This diversity and breadth of horizon represents a major asset for China's artists, and their paintings often appeal to Asian collectors as well as Westerners.