The rise of the German art market
The rise of the German art market
[27.06.2023]

After reviewing the state of the art market in France and in the United States, Artprice by Artmarket takes a look at the condition of the German art market, the world's fifth largest by national art auction turnover.

In view of recent strong results, Germany's high-end art market seems to be gathering momentum. The number of new auction records has accelerated significantly since 2020 for artists like Ernst Ludwig Kirchner, Georges DE LA TOUR, Karl SCHMIDT-ROTTLUFF, Pablo Picasso and Albert OEHLEN… all internationally sought-after artists who have provided the German market with results of several million dollars. Indeed, 2022 was a historic year for the German art market which posted its highest-ever annual total at $379 million, up 6% versus the previous year, on a perfectly stable transaction volume. Like its French neighbor, Germany's annual art auction turnover total has doubled over the last decade.

Before the end of the first semester of 2023, the German art market had already generated $147 million, an encouraging total that augurs well for the second half of the year. Germany is still substantially behind France (with approximately $353 million over the same period), but it is much more dynamic than Italy ($88 million), Switzerland ($60 million), Austria ($41 million) and Belgium ($35 million).

Germany's annual art auction turnover (copyright Artprice.com)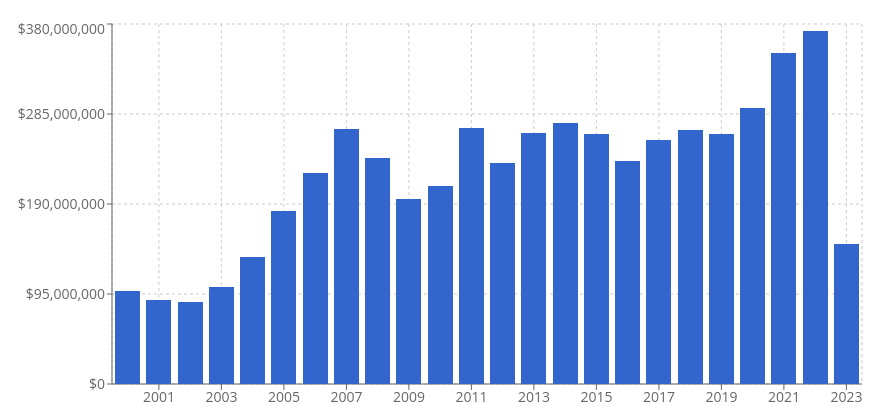 Today, German auction companies Ketterer Kunst and Grisebach are members of the privileged club of European art auctioneers that have hammered million-dollar results. Considering the stiff competition from other market places like London, Paris and New York, this is quite an achievement. In 2023, Ketterer Kunst has clearly dominated the German art market with a turnover total of more than $41 million before the end of the first semester. The second strongest art vendor was Van Ham Kunstauktionen with a total of $29 million, and Grisebach was in third place with $19 million for the same period (January to mid-June).
The best result hammered by Ketterer Kunst since the beginning of the year was for Mädchen mit Zopf (1910) by Alexey VON JAWLENSKY (1864-1941) which fetched $6.8 million on 9 June. It was the third-best result ever hammered for a painting by the German expressionist, but it was, above all, a record for Jawlensky painting on German soil and the second-best art auction result ever hammered in Germany after Max BECKMANN's self-portrait fetched $24.4 million in December 2022 at Grisebach in Berlin (Germany's first-ever art auction result above the $10 million threshold).
Top 3 for artworks sold in Germany between January 1 and June 15, 2023

Germany's Top 10 art auctioneers in the first half of 2023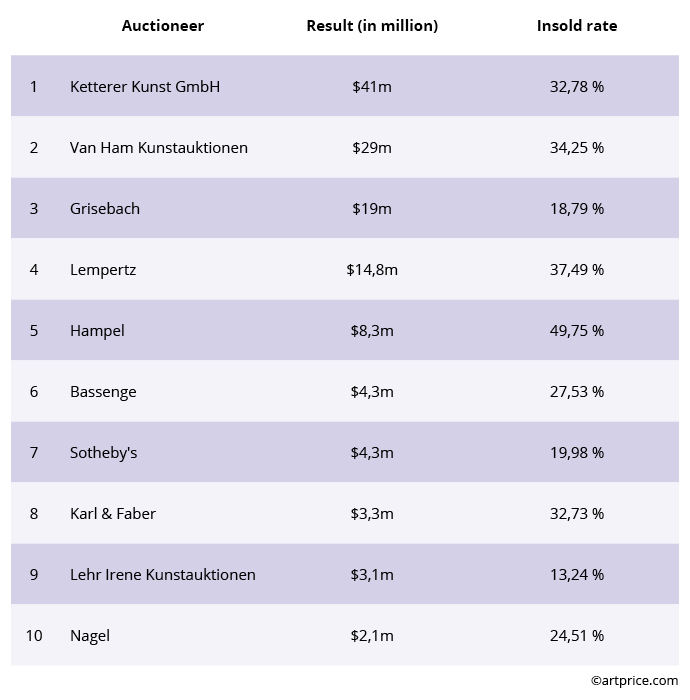 The record result for the Max BECKMANN work at Grisebach marked a pivotal moment for the German art market and it substantially consolidated the momentum gained over recent years. In addition to more robust sales than usual, the establishment of Sotheby's, which returned to the country in 2021 after a break, is another favorable sign confirming the confidence of major players in the potential of the German art market. Sotheby's decision probably also owes quite a lot to Brexit, which has made cross-channel import and export operations much more cumbersome.
Germany's art auction results clearly show that German collectors have a strong preference for Modern and Post-War art, especially works by their compatriots, as well as for Old Master paintings. Remember that these categories of works may be subject to the German law on the protection of cultural property ("Kulturgutschutzgesetz" – KGSG) which came into force in 2016 and stipulates that any cultural property qualified as "a national treasure" can only leave German territory temporarily and subject to authorisation, regardless of its age or value. Germany also limits exports to member states of the European Union for artworks over 75 years old and valued at the equivalent of $300,000. These restrictions de facto benefit the growth of Germany's domestic art market.