What's coming in July?
[23.06.2023]

Before the art market's traditional summer recess, the major auction houses plan to end their seasons in style. Here is a selection of the most anticipated sales and works during the month of July, from Singapore to London.
2 July – Sotheby's lays deeper roots in Singapore
In August 2022, Sotheby's made what it called a "triumphant" return to Singapore with its first sale in the island city in 15 years. The sale was a resounding success, exceeding the overall estimate, setting new artist records and a new sales record for Sotheby's in Singapore. This year, Sotheby's is celebrating the 50th anniversary of its activity in Asia and intends to strengthen its position in Singapore with a new sale devoted to Modern and Contemporary Art scheduled for July 2. The sale, which focuses on artists from the 20th and 21st centuries, highlights the work of a number of well-known female artists like Georgette Chen, Christine Ay Tjoe, Jane Lee and Kei Imazu, alongside Contemporary 'stars' like Javier Calleja. Among the highlights in the catalog there is Jeune fille à la fleur (est. $193,000 – 280,000) by LE PHO, a Vietnamese painter whose prices are literally exploding at the moment, and a very large masterpiece (Pounding Rice) by LIU Kang estimated $280,000 $370,000, which should generate one of the Singaporean artist's top 3 auction results.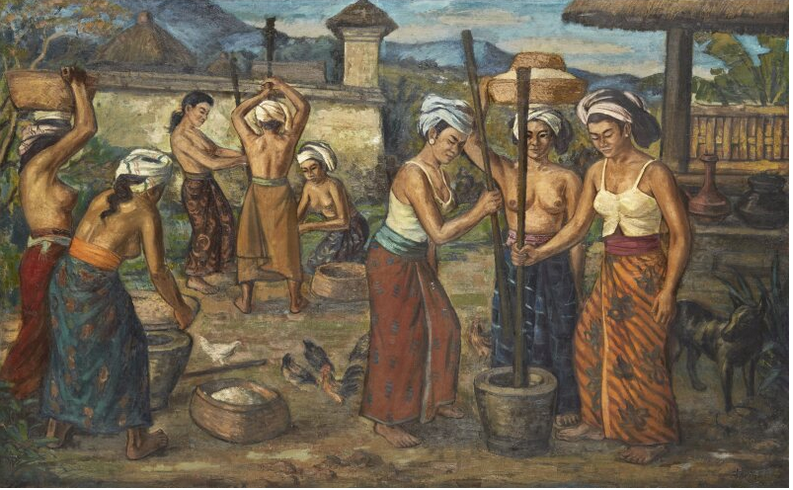 Liu Kang, Balinese Women in Village (Pounding Rice)
.
Evolution of Le Pho's price index (copyright Artprice.com)

5 July – Focus on Old Masters at Sotheby's
A splendid work by the THE MASTER OF THE BARONCELLI PORTRAITS holds the highest estimate ($8.8 million – $13 million) in Sotheby's upcoming Old Masters evening sale in London. This Pentecost scene is by far the largest and most important work among those recognized as being by the Master of the Baroncelli Portraits, who was active in Bruges at the end of the 15th century after having been the presumed pupil of Hans Memling. Extremely rare on the market, the Master's prestigious works can be appreciated in a very small number of museums, such as the Louvre in Paris and the Courtauld Institute in London.
Probably painted around 1490, the imposing panel being offered by Sotheby's has spent more than three centuries in the collection of the Rapaert de Grass family in Bruges and has changed hands only three times in more than 400 years. In remarkable condition, the work should exceed the price of a superb Saint Sebastian tended by two angels by Peter Paul RUBENS that is expected to fetch between 5 and 7.5 million dollars.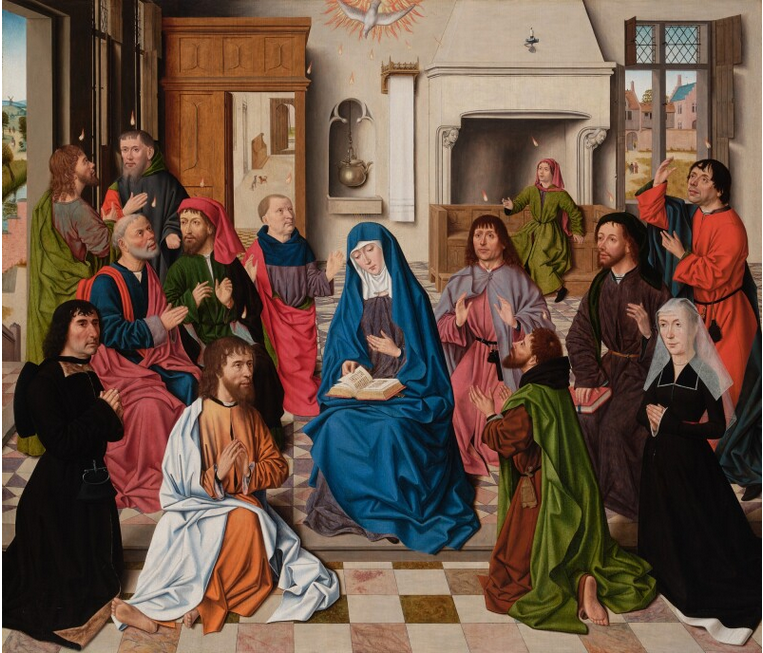 Master of Baroncelli Portraits, Pentecost. Oil on panel, 106 x 122 cm
6 and 7 July – More Old Masters at Christie's London
The flagship lot in Christie's Old Masters sale is the first canvas by REMBRANDT VAN RIJN offered at auction this year. The last known pair of portraits by Rembrandt to remain in private hands, but also the smallest known portraits by the artist who at the time received commissions, notably to paint married couples, via his dealer, Hendrick Uylenburgh. Treated as two oval-shaped pendants, signed and dated 1635, these portraits were painted in a year of transition in Rembrandt's career (the end of what is generally referred to as his "first Amsterdam period") and are expected to fetch between $6.3 and 10 million. This pair of portraits was last seen in public in June 1824 when it was offered for sale at Christie's and acquired by an ancestor of the current owners. The portraits have remained in the same collection ever since, so the provenance is perfect.
There will be 39 other lots in this Old Masters sale, including rare works by El Greco, Hans Memling, Brueghel and Rubens. A crucifixion scene by FRA ANGELICO is particularly anticipated as the opportunity to acquire a work by the Florentine master only occurs once or twice every ten years. The work is estimated between $5 and 7.5 million.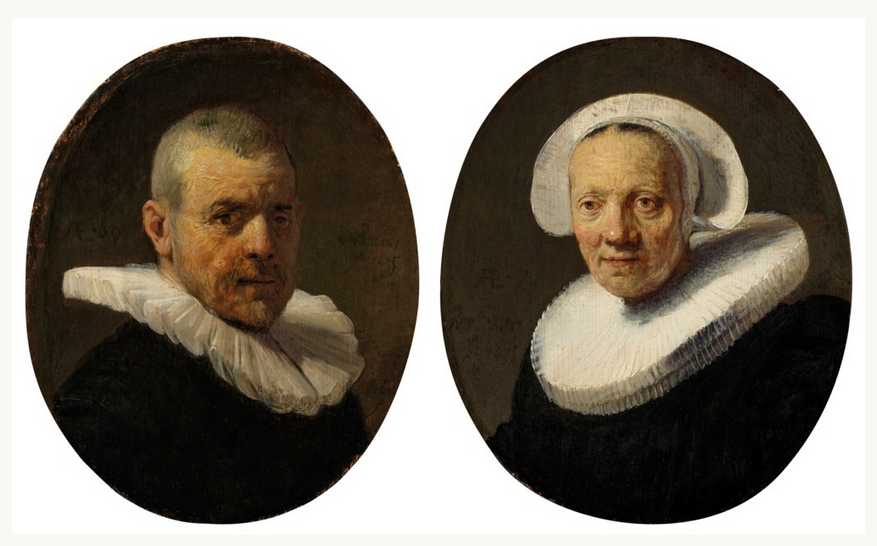 Rembrandt, Portrait of Jan Willemsz van der Pluym (circa 1565-1644) and Portrait of Jaapgen Carels (1565-1640). Two oils on panel, the first measuring 20.8 x 16.7 cm, the second measuring 19.9 x 16.7 cm.
After the Old Masters sale, art buyers will get the chance to acquire more recent works, notably on July 12 with the "Contemporary Discoveries" sale for which Sotheby's has chosen to focus on 'diversity', deliberately bringing together paintings, prints, photographs, digital art and sculptures from the 1960s to the present day. Sotheby's has indicated that this new 'auction formula' meets the expectations of contemporary collectors who, according to the auction house, already transcend traditional categories. The following day (July 13) Phillips in London will be hosting a sale of Ultra-Contemporary art in its NEW NOW sale. A full catalog has not been published, but certain works in the sale can already be viewed on their website, including Shara Hughes' Fits Just Right (2016).