XVIIth century still life paintings – the golden age of Northern Europe
[19.12.2007]

 

The XVIIth century was a golden age for still life painting in Northern European countries from which two themes emerged: table settings and floral compositions. The paintings of the XXIIth century Northern Schools have proven a profitable refuge, with price levels rising by +85% in a decade. It is also a field of informed collectors who are hugely selective.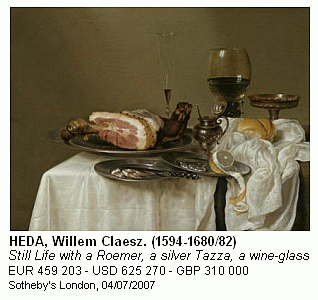 The breakfast pieces, known as 'ontbijt', appeared in Haarlem and Antwerp around 1610 with Pieter CLAESZ, Willem Claesz. HEDA, Nicolaes GILLIS, Floris Claesz VAN DYCK or Floris Gerritsz. VAN SCHOOTEN.
The handful of works by Pieter Claesz and Willem Claesz Heda to change hands at auction every year go for between USD 100,000 and 800,000 on average. The significant variation in prices arises not so much from size as from the overall harmony of the composition and the quality of the light in which the work is bathed. Thus, despite its large format (105.9 x 136.4 cm) a dark ontbijt by Pieter Claesz, depicting a table overflowing with food, was purchased at Kroller for just SWF 150,000 or around USD 127,000 in September 2007. Two months later, a small painting by him, Still Life with an overturned silver Tazza, a silver Plate (39.8 x 56 cm), stripped of objects but in which the light is skilfully handled, effectively setting off texture and material, was snapped up for GBP 420,000, nearly USD 850,000 at Sotheby's on 4 July 2007.
After this successful sale, the record for Pieter Claesz since 1999, the auction house presented a sombre still life by Willem Claesz Heda estimated at GBP 80,000-120,000, which remained unsold. Collectors were keeping their fire power for the following lot: a still life by the same artist, smaller in scale but more luminous and depicting a more sumptuous banquet, entitled Still Life with a Roemer, a silver Tazza, a wine glass, which changed hands for GBP 310,000, close to USD 625,000.
Frans SNYDERS so excelled at fruit and vegetable settings that Rubens often asked him to paint the still lives in his paintings. The dexterity of Still Life of a Hare, Pheasant, Partridge, Birds, Melon, Asparagus, a work rich in vibrant colour offered by Sotheby's Amsterdam in November 2006, saw the bidding reach four times the pre-sale estimate, the hammer finally coming down at EUR 400,000 (around USD 510,000). However, the reputation of these artists is not always enough and, despite the scarcity of works for sale, a number still fail to find buyers despite several attempts at auction. This was the case for Knabe in der Vorrsatskammer (150 x 200 cm), a still life by Snyders with an abundant setting of game as its main subject and a young boy in the background. At an estimated range of USD 365,000-470,000 (ATS 3,500,000-4,500,000, HassFurther), the work was bought in for a first time in Vienna in 2001 and again shunned three years later at the same auction house despite a reduced estimate (around USD 315,000-400,000).
In addition to the banquet settings, the floral bouquets are highly prized. The record for those by Ambrosius I BOSSCHAERTI has stood at GBP 1.9 million, or over USD 2.9 million, since the Sotheby's London sale in July 2002 of a bouquet of roses, measuring less then 30cm (Roses in a Berkemeijer Glass, with Butterflies and a Snail).
The smaller-scale flower pieces are not always million-sellers. Those by Osias I BEERT are accessible for below USD 100,000, like the five painted tulips on a copper plate measuring 21.5 cm which went for EUR 43,000, close to USD 63,000, at Hempel Munich in December 2007. However, his more complex works can achieve ten times this sum.
A major old master like Willem VAN AELST achieves six-figure results. His command of chiaroscuro gives his bouquets a certain theatricality, like Peonies,Carnations, Thistles and other Flowers in a glass Vase, which sold for USD 450,000 dollars at Sotheby's NY in January 2005.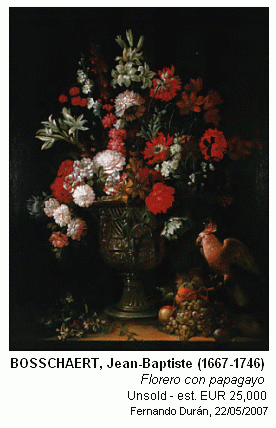 A myriad of artists are still accessible for under USD 10,000, including Willem VAN AELST, Guilliam VAN DEYNUM or Abraham Hendricksz VAN BEYEREN. For vigilant collectors, finds at the auction houses in Munich, Stockholm, Vienna, Amsterdam, Zurich, Paris and so on are by no means rare. For example, in March 2007, a lively and colourful still life measuring more than a metre, the paint coming to life under the brush strokes of Abraham Hendricksz van Byeren, changed hands at Hampel Munich for just EUR 8,000, or around USD 10,000 (Stilleben mit Früchten, Hummer, Pokalen und Uhr).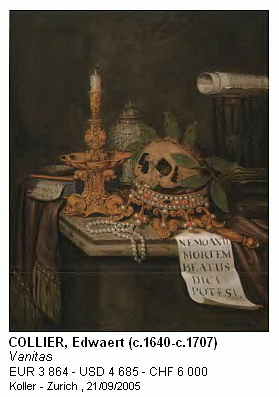 Another still life genre painted by Dutch and Flemish artists was the vanitas, for which prices rarely reach the heights of the table or floral settings. This theme is a reminder of the ephemeral nature of things and the works are so many meditations on the emptiness of worldly pleasures, composed as they are of symbols of time and death.While the XVIIth century Dutch school was not principally known for the vanitas, a master of ontbijt like Pieter Claesz was tempted by the genre and his fine quality vanitases are as popular as his banquet settings. The last vanitas to come up at auction, a veritable synthesis of the genre combining the realism of the human skull, the fragility of glass, the ephemeral pleasure of music (instrument), material wealth (coins, jewels) and references to humanist culture (globe, open book), proved a major success in January 2001 when it sold for USD 380,000 compared with an estimated range of USD 100,000-150,000 (Sotheby's NY).
For painter Edwaert COLLIER the vanitas became his favourite subject. A half dozen paintings come up annually at auction for which collectors would need between USD 30,000 and 200,000 on average. At the London sales in December 2007, a Vanitas still life with Books and Manuscripts was accessible, for example, at GBP 25,000, or USD 51,000 (Sotheby's).
A number of lesser-known minor old masters such as, for example, Willem VAN AELST, Guilliam VAN DEYNUM or Abraham Hendricksz VAN BEYEREN change hands for between USD 2,000 and 5,000. Works by the latter rarely come up at auction and a Vanitas-Darstellung achieved just EUR 3,000, a little under USD 4,000, in December 2006 in Vienna (Palais Dorotheum). The painting depicts the vanity of the artist's own existence, with a palette and brushes emerging from the shadows. In the foreground is a skull serving as a paper weight and bearing a two-word message: Memento mori or Remember your death.