Building the Chinese Art Market
Growth in the global art market held steady in 2018, with a fine art auction turnover of $15.5 billion (including commission) – a 4% increase on 2017's results. However, there was a certain amount of contraction in the Chinese fine art auction market this year. Out of the 176,325 lots up for auction, 81,020 sold for a total turnover of just under $4.5 billion – a drop of 12.11% from the previous year. This equates to a market share of 28.96% of the global total, a 5.21% reduction compared to 2017.
Evolution of the Chinese fine art auction market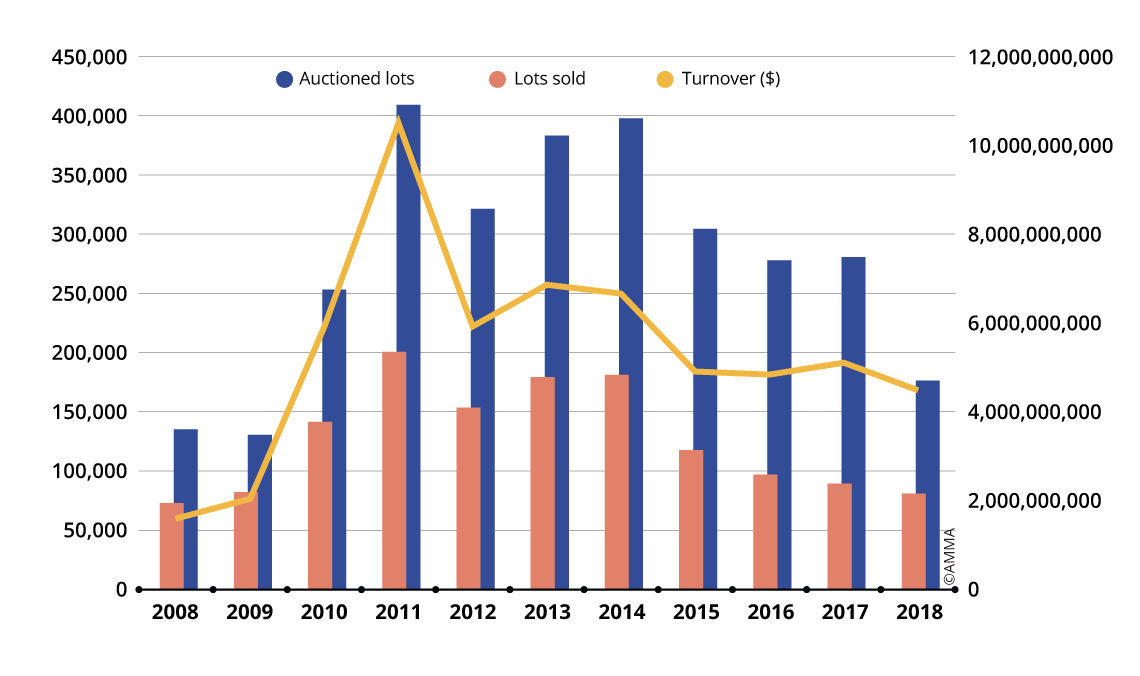 In 2018, 32 pieces sold for $10 million or more, a 15.78% reduction compared to the year before. Among these high sellers, 11 were oil paintings and 21 were calligraphy and paintings. The two items that sold for over $50 million were Zao Wou-Ki's Juin-Octobre 1985, auctioned by Sotheby's Hong Kong for $67,560,000, and Su Shi's Wood and Rock scroll sold by Christie's Hong Kong for $62,430,000. The price range data shows that enthusiasm for high-end, big-ticket items has cooled somewhat in 2018.
Distribution of Turnover in China by Price Range (2018)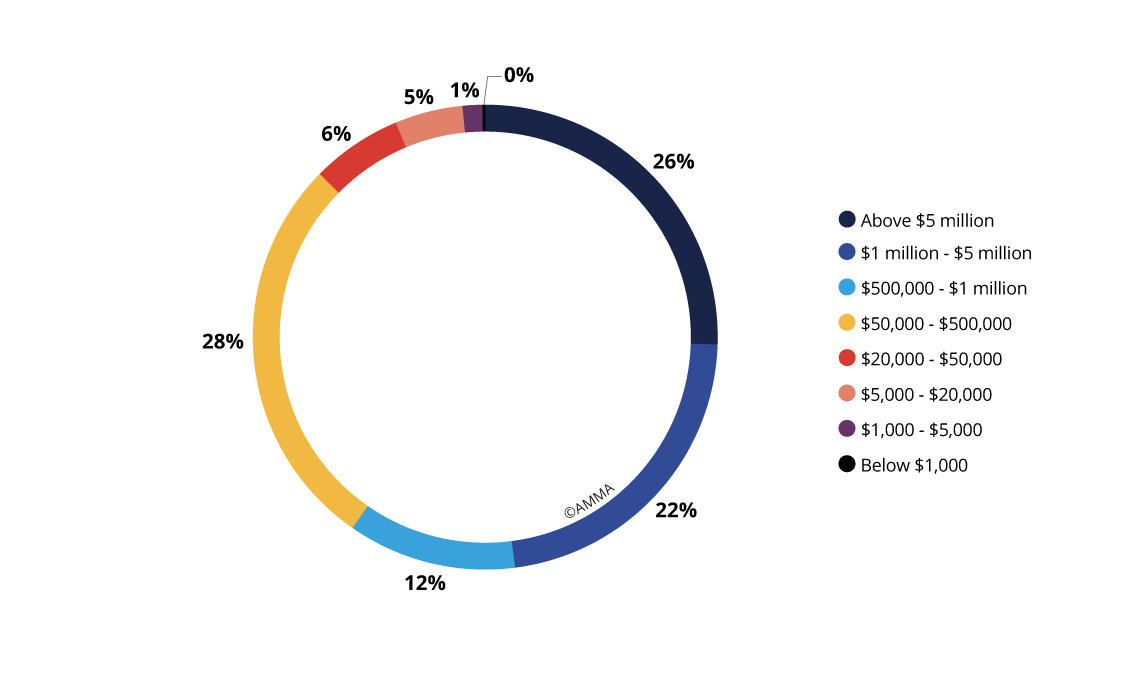 Distribution of sold lots in China by price range in 2018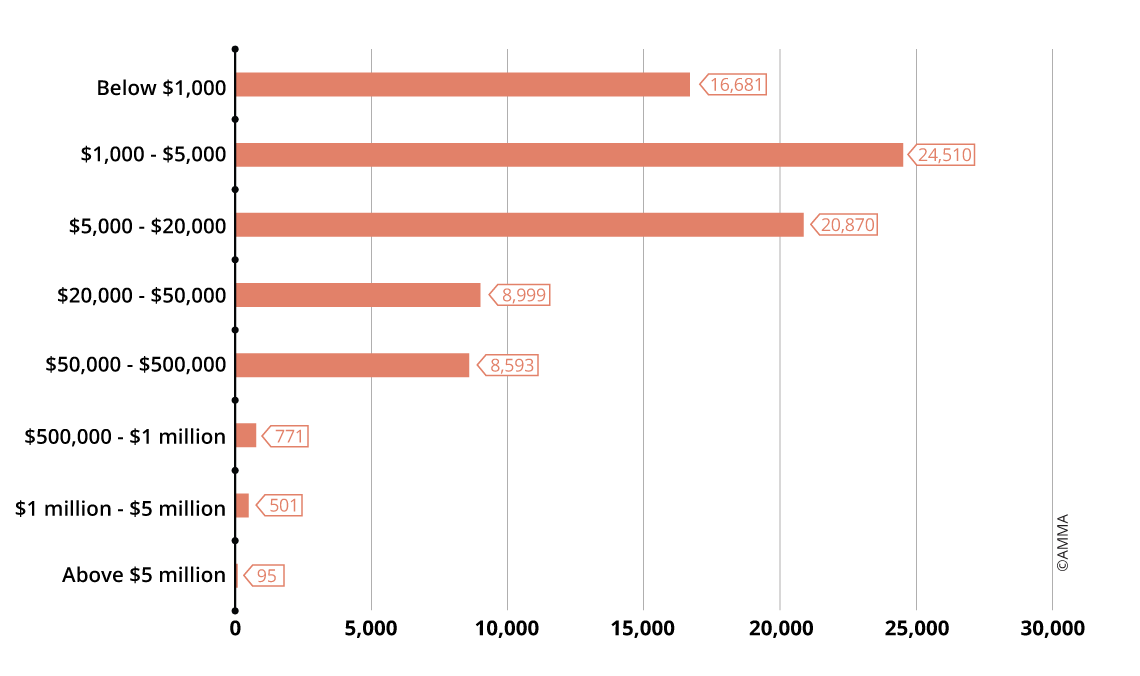 Chinese calligraphy and painting market share from 2010 to 2018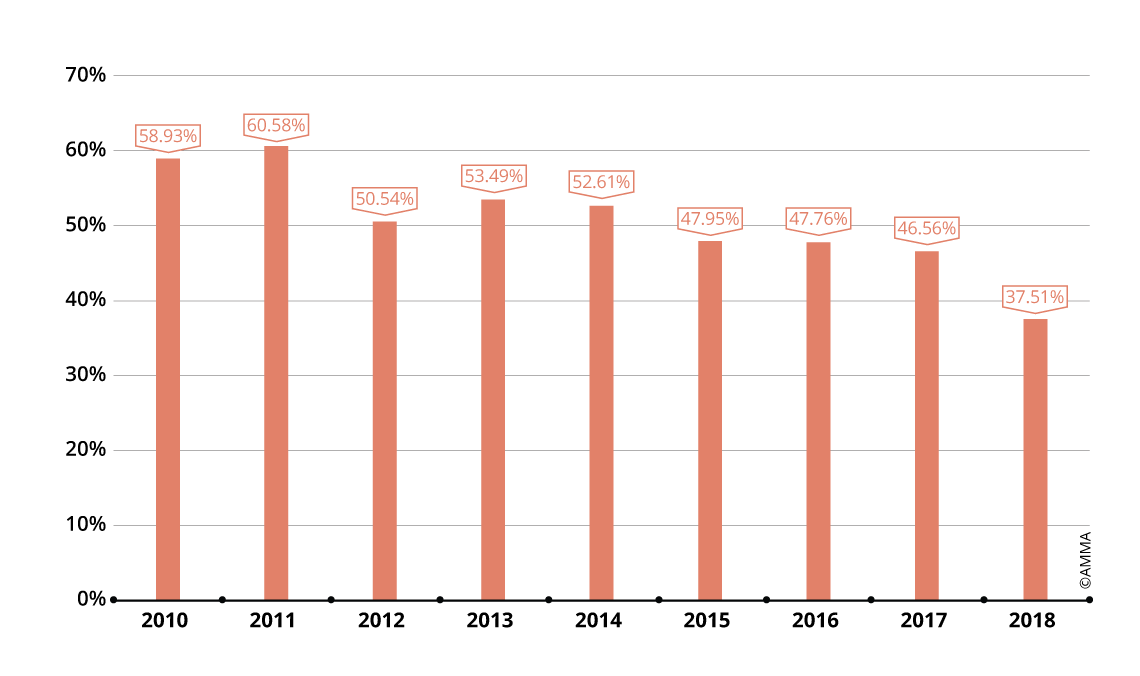 Calligraphy and painting sink while market confidence continues to seesaw
In 2018, the Chinese calligraphy and painting market share dropped 9 percentage points to its lowest point in the past 5 years. 73,670 calligraphy and painting lots sold this year for a total of $3.24 billion, which is a drop of 22.4% compared to 2017. The market share held by the calligraphy and painting sector has been shrinking consistently since 2015. The 2017 autumn auctions were the first time Chinese calligraphy and painting market share fell below that of porcelain, thus breaking the pattern of this sector's dominance in the auction market. Although four calligraphy and painting items sold for over $20 million each this year, this did little to increase the overall size of the market or reverse its decline.
Trends in Chinese calligraphy and painting auction sales from 2008 to 2018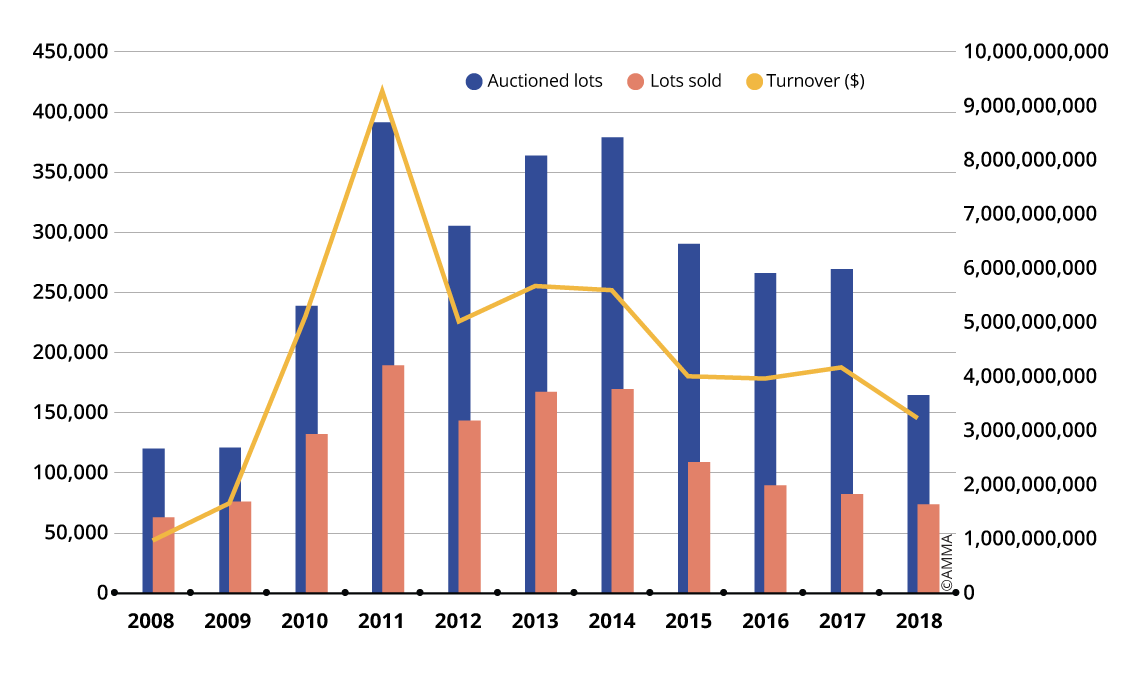 In the top 100 artworks sold at auction in China in 2018, 22 were classical calligraphy and painting pieces, with the highest valued being Su Shi's Wood and Rock at $62,430,000. Wood and Rock is a textbook work of art, and had never before been seen on the market. This year saw two modern pieces sell for over $20 million, one of which was Pan Tianshou's View from the Peak ink painting, which fetched $43,650,000 and broke the record for its auction house, as well as making it the highest-selling modern painting of 2018.
There were eight contemporary works in the 2018 top 100, three of which sold for over $10 million. The vitality demonstrated by the contemporary calligraphy and painting sector is slowly converting into market potential. As the art market continues to sift through contemporary artists and their works, and as the aesthetic standards of old and new collectors continue to change, it is inevitable that the market value of contemporary artwork will grow to align with its artistic value.
Steady progress for Chinese oil paintings and contemporary art, with clear potential for market growth
Auction market trends in oil paintings and contemporary art between 2008 and 2018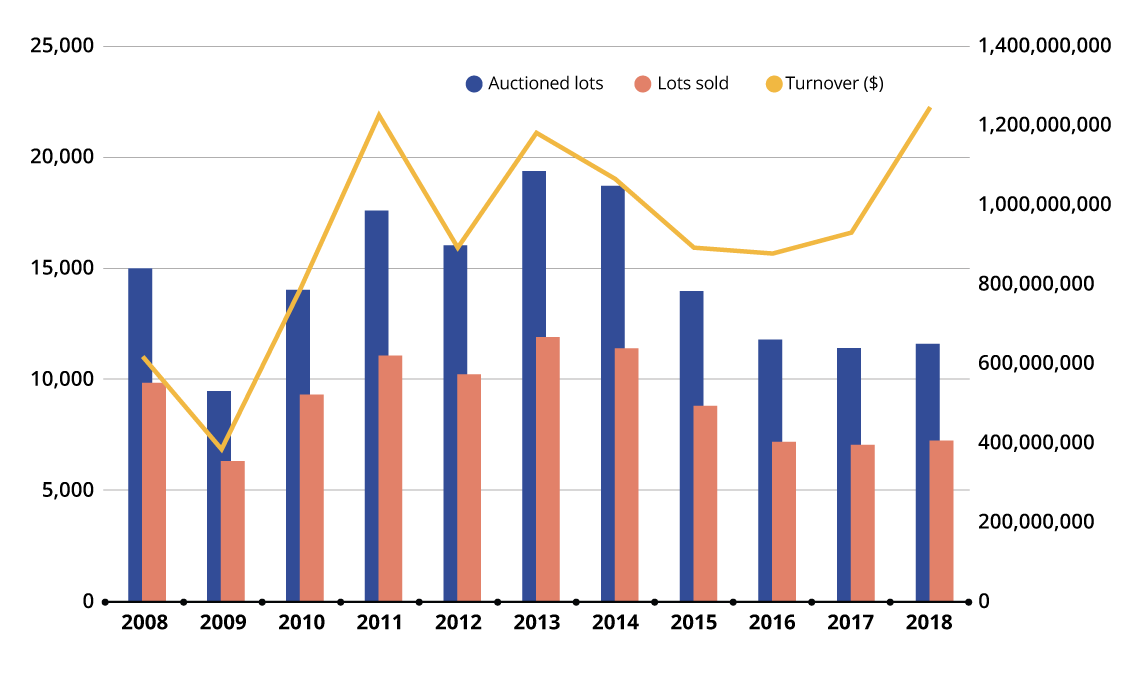 2018 proved to be the best year for Chinese oil paintings and contemporary art since the global financial crisis. This year's sales figures show that the market for Chinese oil paintings and contemporary art is starting to bounce back after a long period of adjustment, and is now making steady progress. A total of 7,092 lots were sold this year for a combined turnover of almost $1.25 billion. Not only is this an increase of 34.12% compared to last year and higher than the last peak in 2011, but it is also a 10-year record high.
Oil paintings and contemporary art account for 36 of this year's Top 100. Oil paintings performed steadily and with an upward trend in the 20th century. This year, there was no doubt that the star of the show in the oil painting and contemporary art sector was Zao Wou-Ki.
Chinese oil paintings and contemporary art have the advantage of a young market, and although sales figures in these sectors are far below those of calligraphy and painting, there is far more room for academic and marketing expansion here in terms of the sector itself and its total sales volumes. Furthermore, modern and contemporary art is more relatable and appealing to young new collectors who are familiar with Western media and contemporary art.
Inhalt
Building the Chinese Art Market