From New York to Beijing
The top three national marketplaces of the global Art Market account for 85% of global auction turnover, generated from 44% of the total global transactions. Nevertheless, in terms of nationalities, Artprice's Top 500 artists by annual auction turnover contains artists from 40 countries. Artworks are circulating and changing continents more than ever before, exposing, as they move, the mechanisms and stakes of the soft power competition between major nations.
Geographic Distribution of the 2018 Fine Art auction turnover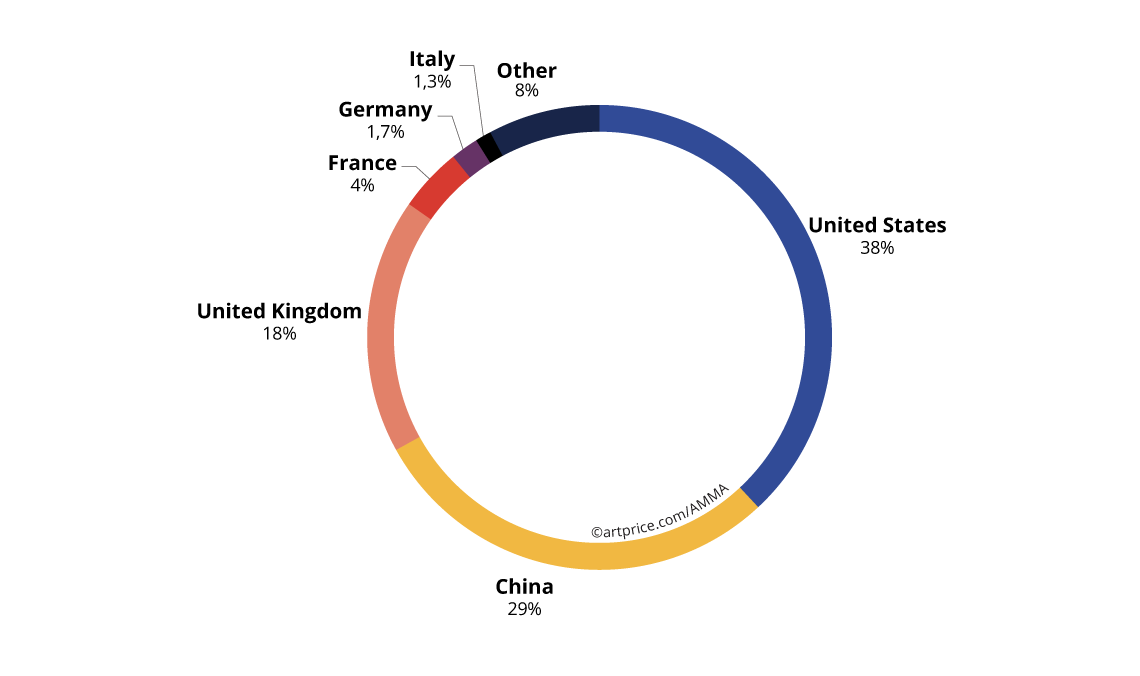 The Anglo-Saxon model versus the Chinese model
London and New York dominate the Western market conclusively, with each city accounting for 98% of its respective country's auction turnover. For the time, being London controls Europe's high-end market, but Manhattan is a stronger magnet for the best works on offer and for international demand. In 2017, Christie's London failed to sell Francis Bacon's Study of Red Pope (1962) estimated $130 million. The British capital, in excellent health last year, could well be affected by Brexit. The whole of Europe may have to find a new equilibrium or, possibly, be even more exposed to New York's domination.
In geographical terms, China ($4.5 billion in turnover) has a more evenly spread art market, built around four major poles: Beijing (45%), Hong Kong (29%), Shanghai (7%) and Guangzhou (6.7%). This structure allows a highly complementary combination of the country's dense internal market with its highly active international market. The Anglo-Saxon giants Christie's, Sotheby's and Phillips have all managed to set up in Hong Kong, but the Chinese auction houses reign over the continent. Few Western galleries have settled there (Pace and Continua in Beijing, Perrotin in Shanghai), while many are content with one-off events, such as Art021 and West Bund Art in Shanghai.
In return, Chinese collectors actively participate in New York's and London's prestige sales and contribute to the Museum Industry just like the major Middle Eastern buyers. In 2018, however, Chinese bidders were relatively discreet in Western auction houses, possibly because of recent political tensions.
China's contribution to the Global Auction Revenue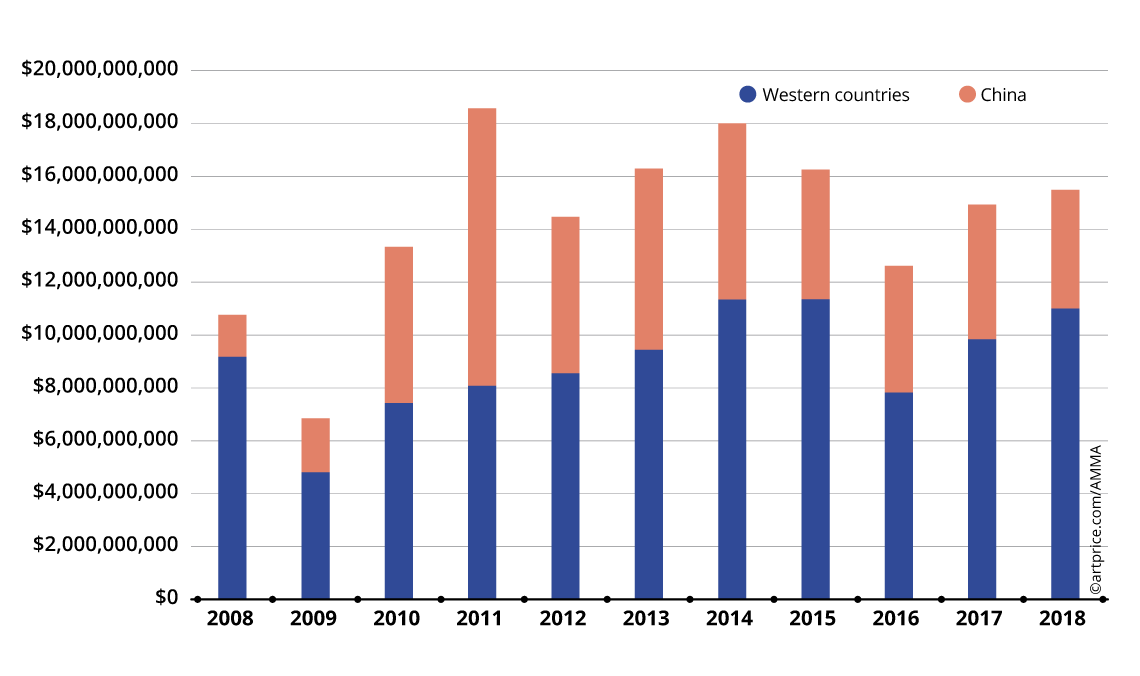 The appeal of New York
With the exception of the Old Masters market (centered on London), the best of Western Art History, from 19th century art to Contemporary creation, now changes hands in Manhattan. New York has proven it is more than ever the primary market hub for masterpieces by Monet, Corot, Van Gogh, Matisse, etc. In 2018 New York hammered the year's top nine auctions results.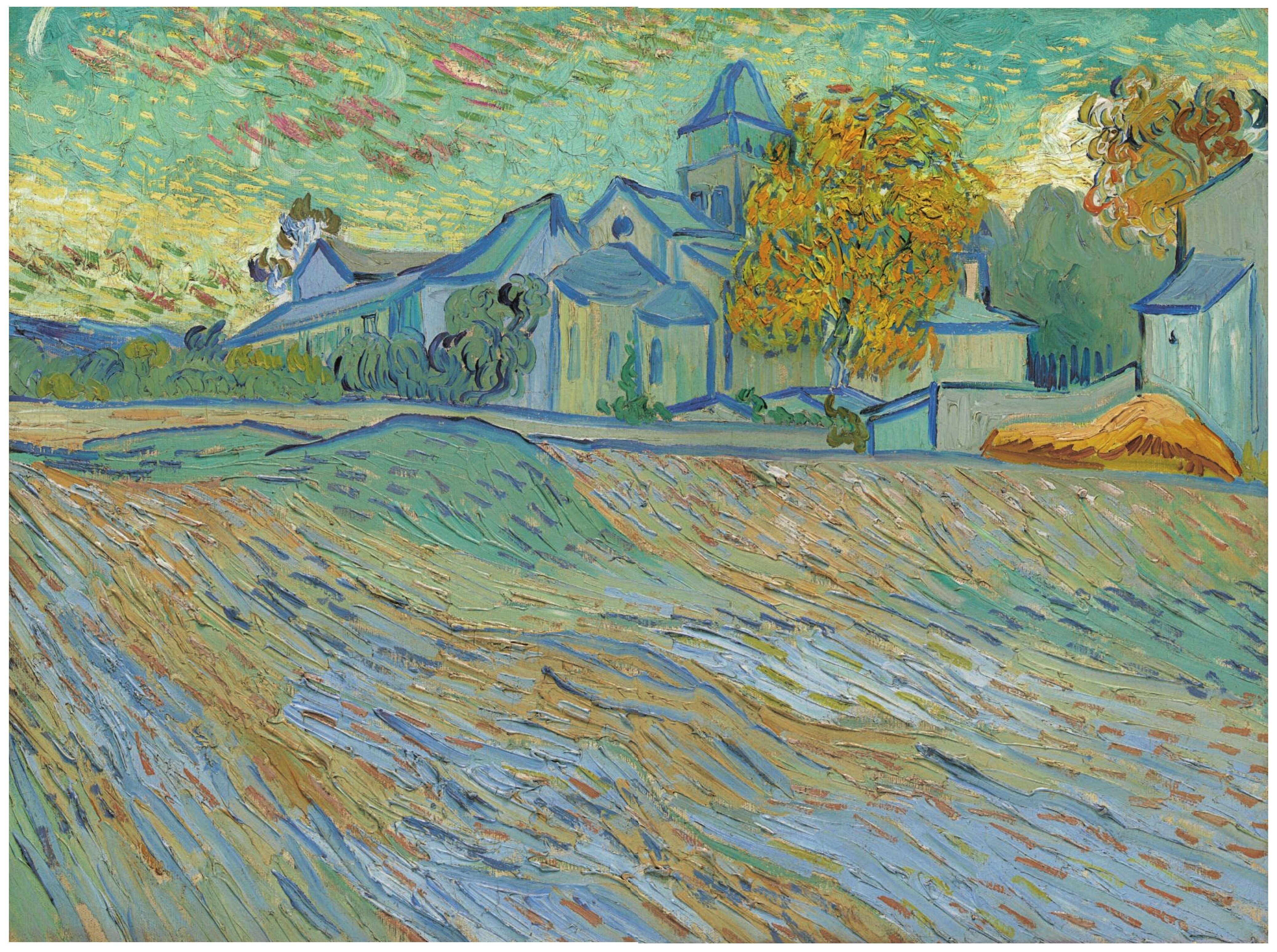 Vincent Van Gogh (1853-1890)
Vue de l'asile et de la Chapelle Saint-Paul de Mausole (1889)
New York's domination is based on its position as the international capital of the Art Market, but also on its internal network of collectors, galleries, museums, etc. Since the end of the Second World War, America has managed to place its artists at the centre of Art History, notably via Abstract Expressionism and Pop Art. Today, many of the most ambitious young artists from America, Europe, Africa and Asia are revealed in New York auction rooms.
Top 15 artists under 40 in New York in 2018
Artist
Turnover
Lots sold
Top auction result
1
Njideka Akunyili CROSBY (b. 1983)
$3,325,000
2
$1,932,500
2
Avery SINGER (b. 1987)
$1,848,500
4
$735,000
3
Oscar MURILLO (b. 1986)
$898,750
7
$250,000
4
Nate LOWMAN (b. 1979)
$877,750
7
$350,000
5
Josh SMITH (b. 1978)
$825,750
17
$212,500
6
Harold ANCART (b. 1980)
$627,500
9
$237,500
7
Shara HUGHES (b. 1981)
$503,563
9
$137,500
8
Aaron GARBER-MAIKOVSKA (b. 1978)
$491,250
8
$156,250
9
Cory ARCANGEL (b. 1978)
$463,500
3
$399,000
10
Adam PENDLETON (b. 1984)
$377,250
7
$203,500
11
Nicolas PARTY (b. 1980)
$332,500
2
$330,000
12
Hernan BAS (b. 1978)
$304,250
6
$112,500
13
Ella KRUGLYANSKAYA (b. 1978)
$232,500
4
$100,000
14
Christina QUARLES (b. 1985)
$225,000
1
$225,000
15
Idris KHAN (b. 1978)
$225,000
5
$81,250
© Artprice.com
Artists without frontiers
Few artists experience global success. But international recognition is one of the best indicators of their place and their importance in Art History. Monet, Picasso and Basquiat enjoy this type of world recognition. However, today, a growing number of Contemporary artists are also generating strong results in many different countries simultaneously. Having established demand for their works in New York and London, they enter the Asian market (via Hong Kong, of course, and sometimes via Seoul).
Top 10 international artists in 2018 (selection)
Market shares
Artist
Total
China
USA
Europe
1
Roy LICHTENSTEIN (1923-1997)
$66,455,586
11%
69%
19%
2
George CONDO (b. 1957)
$63,330,085
12%
56%
31%
3
KAWS (b. 1974)
$34,061,302
26%
45%
22%
4
Cecily BROWN (b. 1969)
$32,480,908
19%
42%
39%
5
Tsuguharu FOUJITA (1886-1968)
$31,738,628
23%
10%
44%
6
Takashi MURAKAMI (b. 1962)
$31,301,739
49%
32%
13%
7
Louise BOURGEOIS (1911-2010)
$24,616,761
50%
19%
31%
8
Jonas WOOD (b. 1977)
$13,158,477
20%
58%
22%
9
Anish KAPOOR (b. 1954)
$12,095,316
22%
24%
46%
10
Sean SCULLY (b. 1945)
$11,206,059
14%
37%
48%
© Artprice.com
Illustrating this new dynamic, the best-ever auction result for a work by Louise Bourgeois was hammered on 1 October last year in Hong Kong for her Quarantania, a 2-metre bronze statue, acquired for $8.6 million.
Even more impressively, the street artist Kaws enjoys a global reputation which has driven an extraordinary international demand for his works: his 21 best-ever auctions results were all recorded in 2018 and were divided between New York, London, Hong Kong and Seoul.
An increasingly efficient market
In response to the Art Market's globalisation, new strategies have emerged to sell important works outside major capitals. As soon as a work possesses an export license and is likely to attract major buyers, and as soon as these buyers possess all the information they require, all that remains to be done is to stage a sale so that buyers can compete for the work's acquisition.
This strategy was perfectly executed for the sale of Raden Sjarief Bastaman SALEH's The Wild Bull Hunting (Banteng) (1855). Found in the cellar of a private property in Brittany, the canvas was shown to potential buyers around the world before returning to Vannes (Brittany) to be auctioned by the company Ruellan on 27 January 2018. Far from the major capitals of the Art Market, with a starting price of just $230,000, the work was finally acquired by an Indonesian collector for $11,110,000… the best French result of 2018.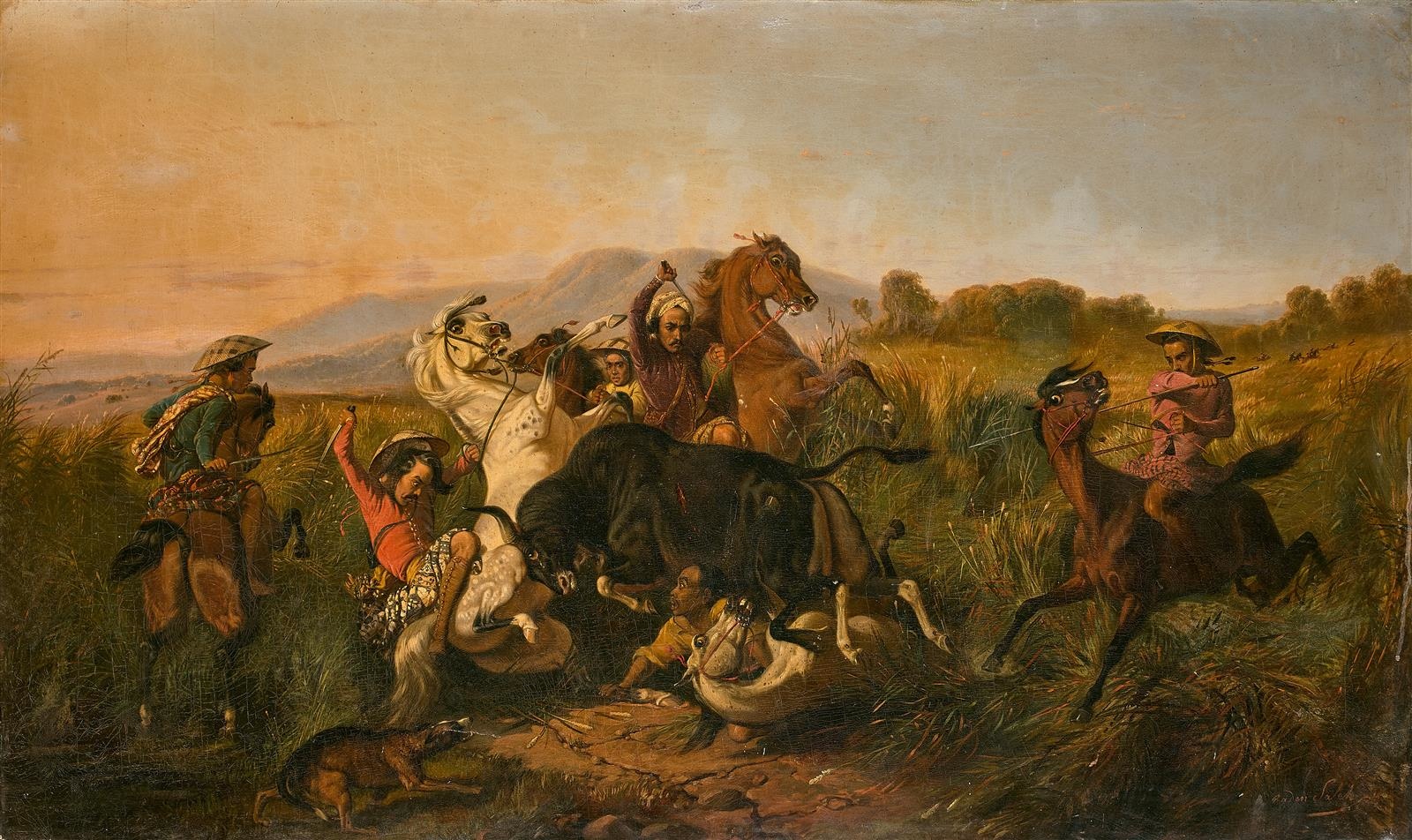 Raden Saleh (1814-1880)
The Wild Bull Hunting (Banteng) (1855)