What's changing?
The Covid-19 pandemic forced the art world to a screeching halt. To minimize their losses, auction operators focused their efforts on digital solutions that became the only viable vector for the promotion and sale of artworks after the freeze on face-to-face contacts. In short, an emergency situation pushed the Art Market into an unprecedented digital revolution.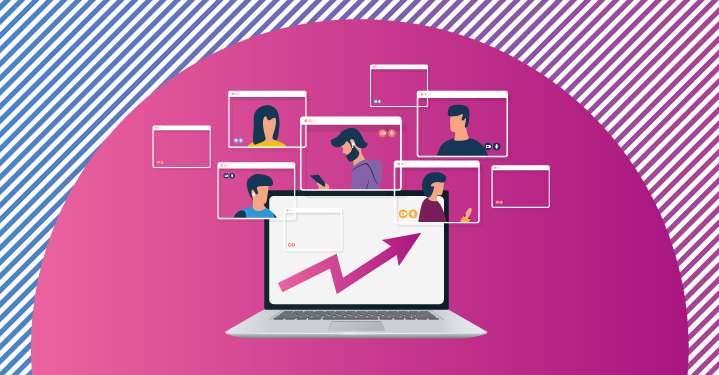 A pivotal year for online sales
In 2020, "remote" auctions became the new norm, with some vendors going the whole distance by offering "Online only" sales (i.e. without an auctioneer). Many buyers were already used to bidding remotely, but during the first lockdown there was a sharp increase in connections with a larger, younger audience and an influx of new bidders. Naturally, the more there are online connections, the greater the competition. The very positive sales rate (76%) resulted from this renewed audience base coupled with attractively priced estimates.
In 2020, Christie's generated a 262% increase in online sales and Phillips' online sales rose by 134%. However, the "transition prize" goes to Sotheby's, which reacted very quickly to the pandemic under its new management team set up in 2019 by Patrick Drahi. Its online sales had already increased 25% in 2019… but the increase announced at the end of 2020 was around +440%, all segments combined. Over 70% of the auctions hosted by the American auctioneer took place on Internet last year (versus 30% in 2019), with over 40% of their online bids placed by new bidders.
Sotheby's took a substantial lead already in April, with a Contemporary Art sale in China Hong Kong that was originally planned as a live sale but subsequently switched to online. The sale was remarkably successful generating almost double its combined-lots high estimate. Nearly half the works were priced under $5,000, with ultra-popular signatures such as Kaws, Fairey and Murakami represented in lots involving little risk (but generating little margin). A few days later, Sotheby's obtained the highest price ever paid for a painting in one of its online sales: $1.3 million for a work by George CONDO (Antipodal Reunion, 2005). With that sale Sotheby's proved that online sales are also suitable for the high-end market.
Live and / or online: what are the differences?
Live sale

This is the most common auction format: a classic sale in an auction room, very often broadcast live on the Internet. Buyers can bid on the spot, by telephone and, increasingly, "online".

Live, behind-closed-doors sale

A sale hosted by an auctioneer, but not open to the public. The works cannot be viewed physically and all bids are made online.

Online only sale

In this format, there is no auctioneer; everything is automated on the Internet. The bids rise gradually until the end of the allotted period when the highest bid wins the lot. The process is relatively relaxed because it takes several days.
Artprice: Due to the lockdown and quarantine triggered by the COVID-19 pandemic, many auctions are conducted online. Compared with 2019, could you estimate the total online auction turnover in 2020?
Gong Jisui – Consultant of Artron Art Market Monitor of Artron (AMMA): Since there is no systematic and reliable data yet, it is difficult to assess. But it is clear that, since last year, the total online auction turnover has accounted for an increasing proportion in the overall art market. The Internet has created a new purchasing channel and changed consumption habits, impacting more effectively the sales of luxury goods and the low-end art market. However, the high-end art market still relies on a combination of online and offline sales. The main reason is that an artwork is not a standard industrialised product. Paintings differ from one another by their techniques, materials and way of expression, as well as their provenance. Their extremely unique nature as non-standardised commodities has created obstacles to online only sales. However, due to the long running pandemic and the participation of younger generations, who are used to online shopping, the sales of luxury goods and mid-to-low end artworks will likely grow greatly among the total online sales.
The most successful auction houses
Despite their speed of reaction, the main auction operators were unable to completely offset their earlier losses. Sotheby's Fine Art sales activity ended the year down 29% with $1 billion missing from its books versus 2019. Christie's, ended down 41%, with a shortfall of $1.5 billion versus 2019.
Top 10 auction houses by auction turnover (2020)
Auction house
Auction turnover
Sold Lots
1
Sotheby's
$2,553,382,892
14,235
2
Christie's
$2,157,577,683
12,214
3
Poly Auction
$526,822,218
3,376
4
China Guardian
$472,473,047
8,516
5
Phillips
$464,592,613
4,183
6
Yongleauction
$362,402,244
1,096
7
Zhongsu International
$234,082,193
244
8
Holly International
$163,480,326
671
8
Bonhams
$143,541,006
8,221
10
Beijing Dongxing Hanhai
$113,604,044
674
© Artprice & AMMA
Christie's performance was strongly affected by a lack of prestige works, but also by a slower adoption of online sales compared with its rival under Patrick Drahi's direction. By the end of the year Christie's volume of transactions was down 20%, with a shortfall of 3,000 lots versus 2019.
With a total $2.5 billion of artworks sold around the world, Sotheby's has regained the advantage over its principal competitor. The firm has benefitted from the speed with which it switched a maximum number of sales to the online format and its volume of Fine Art transactions remained stable versus 2019 (more than 14,000 lots sold). Sotheby's also hammered the best result of the year with a work by Francis Bacon fetching over $84.5 million.
Despite a 20% drop in turnover, Phillips ended the year not far behind China Guardian and consolidated its place in the high-end market. The high point of the year for Phillips came on 7 December – a historic day for its Contemporary Art Department – with a sale that took $134.6 million, including $41 million for a David HOCKNEY landscape (Nichols Canyon, 1980).
The transformation of auction houses: technology and diversity
Auction houses have been developing digital tools and content to promote their works and expand their reach for quite some time, but faced with the pandemic and social distancing they have substantially accelerated the movement. Among the most common tools nowadays are virtual 3D tours along with high performance videos and applications that allow potential bidders the chance to view the smallest details of the lots offered via ultra high definition images (at Christie's, Sotheby's, Phillips, Artcurial among others). In sum, the auction world has dramatically improved its online shopping experience and has taken a huge leap into the future.
Another area of innovation has been the broadcast of live sales from several countries. Christie's innovated with its ONE sale during which four auctioneers took bids simultaneously in China Hong Kong, Paris, London and New York (the sale generated $420 million on 10 July 2020). Various other 'relay' sales took place during the autumn with broadcasts from London-Paris and China Hong Kong-New York. These first sales without live audiences actually attracted very large audiences, and they also successfully maintained the adrenaline despite their remoteness.
Other changes adopted during the pandemic have also impacted the economic model of auction houses. For example, they have reduced the production of one of their primary historical tools: paper catalogues. Sotheby's actually stopped the production of catalogues in 2020, thus saving a lot of printing and mailing costs. Another corner that has been cut is in the field of art transport; works are travelling less. In the absence of physical exposure, they no longer need, a priori, to be gathered in the same place before being dispersed. The sale of a work consigned in Milan could, for example, be organized by a London branch. In short, a more flexible organization is beginning to take shape, and it should allow time to be saved and a natural reduction in very high transport and insurance costs.
Saving time and money… winning new customers and enhancing interactivity… a whole series of evolutions that could possibly lead to online purchases supplanting physical sales and even cause the disappearance of auctioneers? Not yet, of course, Although equipped with all the tools to fully digitize transactions, most auction operators are still hosting live auctions. For the time being, most seem to be targeting a hybrid model.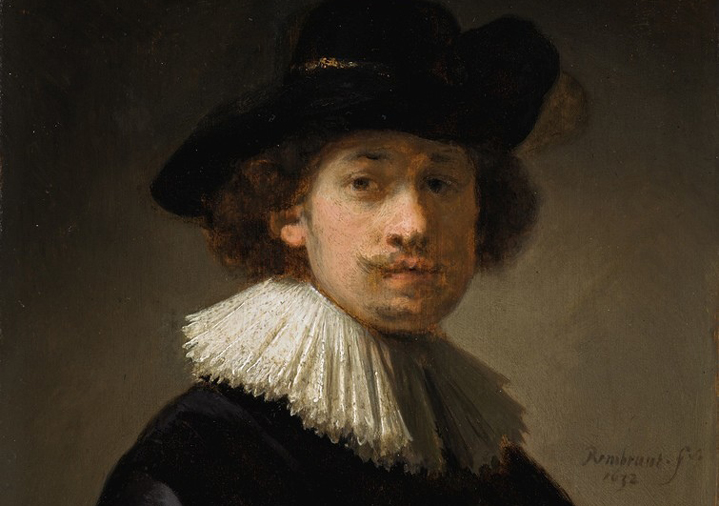 Rembrandt
Self-portrait of the artist, half-length, wearing a ruff and a black hat
1632 (detail)
Indeed… the notion of hybridity appears to be playing a role in various aspects of the art market. We can see it for example in new partnerships; that of Sotheby's with art galleries (Gallery Network), that of Christie's with China Guardian for a series of sales in Shanghai, or that of Phillips with Poly Auction (which posted a sold rate of 94% on 3 December). Then there are the sales themselves which have become hybrid by mixing the traditional categories (periods) of the art market. If the recipe is not new (da Vinci's Salvator Mundi fetched $450 million during a Christie's Contemporary Art sale in 2017…), the mixing of genres and eras has never been quite so 'uninhibited' or quite so 'code-breaking': Christie's ONE sales covered all 20th century art in July and December. Sotheby's From Rembrandt to Richter mixed literally all eras in July. A dinosaur (T-Rex) named "Stan" appeared in a prestigious Christie's art sale in October and three Alfa-Romeo prototypes were offered in a Sotheby's Contemporary Art sale the same month. Auction companies are therefore mixing categories in order to appeal to a greater diversity of interests and buyer profiles and to promote market flexibility and optimize their sales.
Artprice: Auction companies now offer more online auctions and thus exposure has increased due to the Internet. Has this helped auction companies to attract new collectors? If so, are they all from China or partly from other countries as well?
Gong Jisui – Consultant of Artron Art Market Monitor of Artron (AMMA): Online auctions in China mainly rely on the purchases made by local collectors. It is difficult to attract overseas collectors. This is because there are several restrictions, taxations and policies on the cross-border circulation of Chinese artworks. In particular, the export of a traditional Chinese artwork – that is old and important – is prohibited. Therefore, auction sales in Mainland China are not as convenient for international exchanges as those in the Region of China Hong Kong due to cultural policies, customs and taxes. This is because China Hong Kong is a free-trade port, where no import or export taxes are imposed. However, since last year, the United States have imposed a 10% tariff on the imports of Chinese artworks. No matter where the goods are imported from, as long as they are made in China the tariff regulations apply to enter the United States. Therefore, foreign buyers are concerned about taxes, whether they buy Chinese artworks from Mainland China or the Region of China Hong Kong.