Armenia Art Fair
(01.06.2019 - 03.06.2019)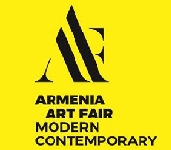 Armenia Art Fair
After its successful 2018 debut, Armenia Art Fair is back for its second edition with more artists representing more countries. We're also introducing our new Art Week platform, offering an exciting cultural program that gives visitors a chance to see renowned international artists and curators. Organized in conjunction with the Armenia Art Fair, we aim to contribute to the increased diversity and cultural enrichment of the republic's art scene. Find out more at the ART WEEK page.
The Armenia Art Fair continues its mission to deepen public access to art at home and abroad.
Highlights
Supporting Artists, Building a Market and Developing Art Education 
The opening ceremony of the Armenia Art Fair takes place on 31 May 2019. The fair will be open to the public between 1 and 3 June 2019
Armenia Art Week 2019 will open from 25 May- 2 June 2019
Exhibitions
Burned Archives by Asymetria gallery from Poland
Goethe-Zentrum Eriwan will present The Border (Die Grenze). This group exhibition curated by Thibaut de Rutyer and Inke Arns, reflects on the geographical and cultural border between Europe and Asia
Art and Technology
A focus on the impact of new technologies on the cultural and creative sectors
A workshop by Przemyslaw Jasielski from Poland.
The resulting artwork – created with local artists – will be presented at Armenia Art Fair during Art Week. (DATE?)
           2 May:  Pau Garcia, Founding Partner of  Domestic Data Streamers Studio,
presents
A Love Story Between Data, People and Art
Pau Garcia will talk about perceptions of data in politics and history, exploring through a series of examples how the arts and data physicalization can help people access the meaning behind the number.
Art Talks
26 May: Berlin-based artist  Olaf Nicolai, Wiebke Wilms, and Thomas Kirchner
(special presentation in partnership with Goethe and ARe  Festival)
1 June:  Dr. Iain Robertson, Head of Art Business Studies at Sotheby's Institute of Art on New Art and New Markets in Iran, India, China, South America, and South East Asia.
2 June: Art expert, Alisa Prudnikova, on the development of the contemporary art scene and creative industries in the post-Soviet arena, and how this fits into global art trends.
 Workshop
Armenian calligraphy workshop by Ruben Malayan, an award-winning creative director and visual artist.
"New Names "
Juraj Carny – founding director of Kunsthalle Bratislava and the President of AICA – presents New Names, an exhibition of young artists from Slovakia.
Open- studio: presentation 
4Plus  collective of Armenian women photographers hosts an open studio where you can meet the four main members of the team and learn about their aim of promoting documentary photography that empowers women in Armenia and beyond.
ARé Performing Arts Festival Events